A Miners Recollection of the early days at Andamooka Opal Field
Ross Coghill mined for opal for a short time at Andamooka in 1959 with his father Ben. After a few weeks Ross returned to Sydney, but his father stayed on. Ross has kindly written down his story so I can share it with the readers of this web page. This is a true account as narrated by Ross. This is the first installment and hopefully Ross will tell us more of his father's time at Andamooka.
How we discovered Andamooka
" Around August 1959, Dad and I were sitting under a tree having lunch and talking about what we were going to do now our contract for work on the Dingo Fence at Muloorina Station was to finish at the end of the week.
A cloud of dust in the distance told us we had a visitor. Sure enough it was the vermin inspector who patrolled the Dingo Fence and reported any damage to the fence, or properties along the line.He had his lunch with us and said "what are you going to do now this job is finished". He also said " Why don't you go down to Andamooka and try your luck at opal mining". Dad and I both said together " What is opal". We didn't have a clue what opal was but after a few hours talking to him we decided to go and see Andamooka.
At the end of the week we said our goodbyes to the Station Owners and crew who were a wonderful bunch of people and headed off to Andamooka.
On arriving at Pimba, near the gates to Woomera, we discovered we had about 80 miles to go on a very bad road. It was a stinking hot day and we decided to get cold drinks at the Servo. The Servo was a tin shed and the bowser was a pump up fuel tank. For all you young folk, a pump up bowser was a glass bowl that sat on top of the bowser . The bowl had markings on it which showed the amount of fuel. You would grab a handle and pump the amount of fuel you wanted into the bowl. You then released another handle and the fuel fed into your tank under gravity.
We went into the shop (tin shed) and there was a stand up fridge full of drinks. We called out but there was no reply, so being city slickers we helped ourselves. This didn't go down too well with the owner. She returned to see us drinking our drinks and all hell broke loose. "This is not a bloody self serve shop, you know. What do want anyway apart from stealing my drinks." " Fuel" we said. " What a bloody surprise" she said. " It's a bloody surprise you haven't helped yourselves to that as well".
She was about sixty years old or so but you couldn't really tell because of the long hair and daggy rags she wore. When she filled our car Dad handed her a note. Her hand went up her dress and and she pulled out a wad of notes to give us some change. I said to Dad " Thank God she did not have to give us any coins. Hell knows where they would have come from".
We told her we were heading for Andamooka. After getting directions we headed off around Woomera Rocket Range. Since it was a restricted area we were not allowed to drive through it. "Boy o Boy Road" they called it. Sandhill after sandhill. We couldn't drive over them so we had to drive around them.
Two days later we arrived at Andamooka. O boy, what a shock. Andamooka was a thriving town of about 30 people. It had a post office, a kind of store and that was about it. Dad and I decided to have an icecream. Two shillings each. (that was a real lot in those days)
The next thing for us to do was to see this gemstone and see what it was all about. We were sent to a buyer and he was very helpful in explaining it all to us. He then showed us a tray of opals. My heart jumped into my mouth and from that moment until this day I still marvel at the beauty of this stone.
After settling in we had lunch and a cuppa, and dad suggested we drive around and see what was what. One thing we noticed was the shallow holes up to about seven feet deep (2.5 metres). We discovered later this was as deep as the opal level was. Dad said this was great as it was going to be easy work.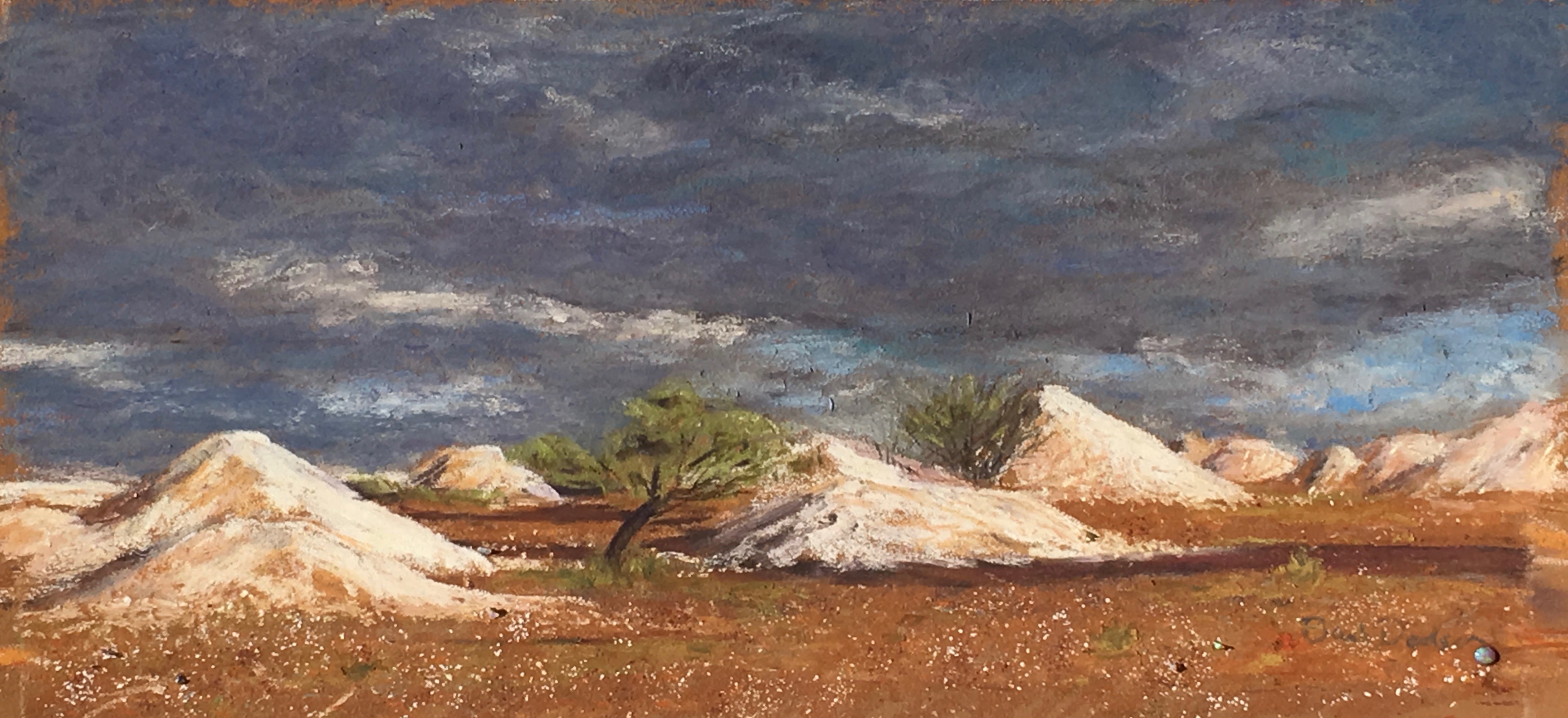 Pastel Painting of Andamooka Opal Fields by Barbara Dodson
The above pastel drawing by Barbara Dodson is typical of the opal fields where the ground is covered with mullock heaps left by the opal miners.
We decided to try around old diggings, and on the fourth day I was down a shaft and noticed a piece of opal sticking out of an old pillar. Now I was warned about removing pillars. (Dad was a gold miner once), so I just dug a hole big enough for my hand to fit and dug out about a four pound (2kg) flour bag full of opal.
All excited we headed off to the buyer to sell it. What a shock when he offered us thirty pound (sixty dollars ) for the bag. This was peanuts as I had been earning ten pounds a day doing fencing.
After about four weeks I decided to go back to Sydney. Dad said "Not me. I am staying for about eighteen months". Dad decided to buy some dugouts and rent them out as there were a lot of people coming down from the sapphire fields. Dad went on to have quite a lot of cabins known as " Ben Coghill's Cabins". One cabin was famous as it was known as "The House of Doors". It was made entirely of doors".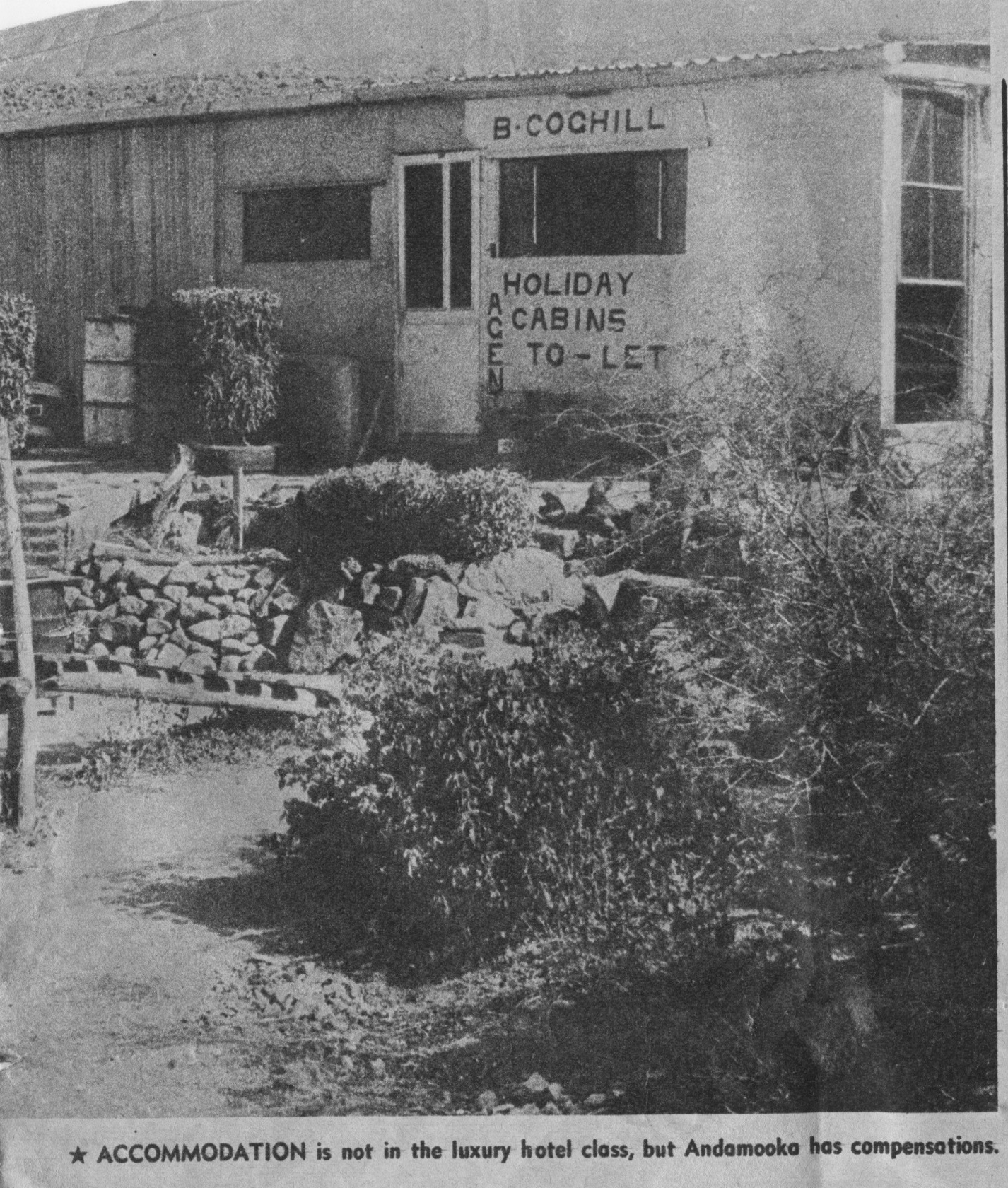 B Coghill's Holiday Cabin in 1965
This photograph was published in 1965 and provided by Ross Coghill. Accommodation was quite basic in the opal fields and these cabins would have been among the more luxurious places to stay from what I have seen.
To be continued.
I hope you have enjoyed this story. Today it is easy to drive to Andamooka along a beautiful sealed Road and it is hard to realise just how difficult and different it was in 1959. Thanks Ross for sharing your story and please tell us more about your fathers exploits at Andamooka.
Johno
---