Crystal Opal
Crystal opal is so named because you can see right through it when you hold it up against a bright light. You can't see any of the colour play when you do this but let the light reflect off a good crystal opal and you will see a play of colour right through the opal that is incomparable.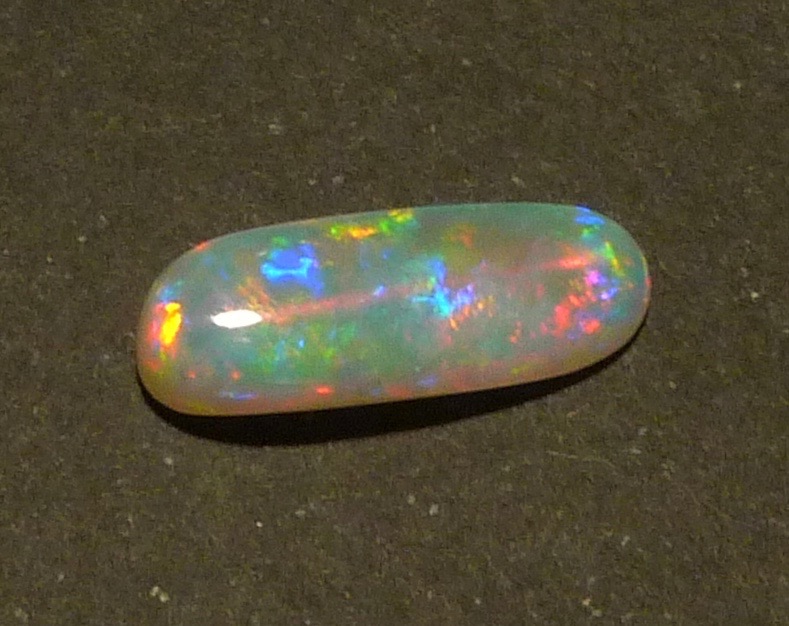 Lightning Ridge Crystal Opal
The picture above shows an opal I have cut from Lightning Ridge. Hold it up to the light and you can see right through it but let the light reflect off it and you will see a brilliant array of colour.
Base Colours
Crystal opal can have a clear background base colour but also you can get black crystal opal and also background colours of yellow and red. It depends on what other chemicals were around when the opal was formed. Iron, Nickel, carbon and Aluminium in minute quantities in the silica mix will affect the background colour.
Mexican Fire Opal has a red background and is often used as a gem even without a play of colour.
The crystal opal I like the best is the one that is colourless and quite clear. It looks just like a piece of glass but with brilliant flashing colour right through it.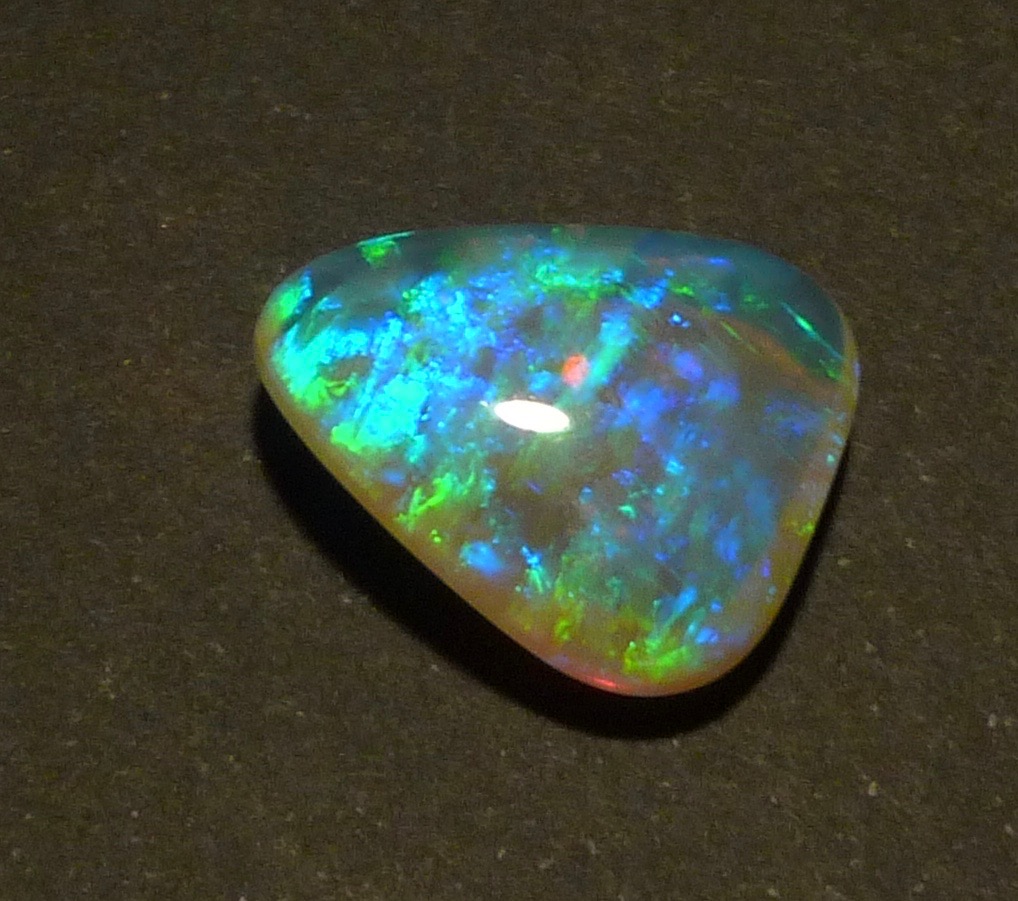 Crystal Opal from Coober Pedy
The opal above was cut from a piece of Coober Pedy opal I was lucky enough to buy from a a miner about 30 years ago. Note the beautiful patterns of green and blue that exist right through the opal.
Structure of Opal
Many black opals have a thin band of colour through the black potch but a gem crystal opal has colour from the top to the bottom of the stone.
Crystal opal does not have a crystalline structure like quartz, topaz or diamond. It is what they call "amorphous". Hit it with a hammer and it shatters just like glass. I suppose that is logical as it is made of silica as is glass.
Some people prefer the white opal of Coober Pedy and Andamooka and others prefer the black opal from Lightning Ridge. They all have their supporters but I still feel the most vibrant colours are found in the crystal opal. The best boulder opal has a thin band of crystal that has been formed in cracks within the ironstone. Some of these specimens are brilliant in colour and would be hard to surpass.
Check out some of the photographs of boulder opal in the boulder opal photograph site.
More Examples of Gem Crystal Opal
Over the years I have visited most of the opal towns such as Coober Pedy, Mintabie, Lightning Ridge, Andamooka, Yowah, and White Cliffs. I have sought out the local miners and in many cases have been able to purchase a small parcel of rough to play with. I don't have a lot of money so the parcels are small but every now and then there is a gem in them. The photos below are of opals I have been lucky enough to source over the years. They are not all that big but they are beautiful.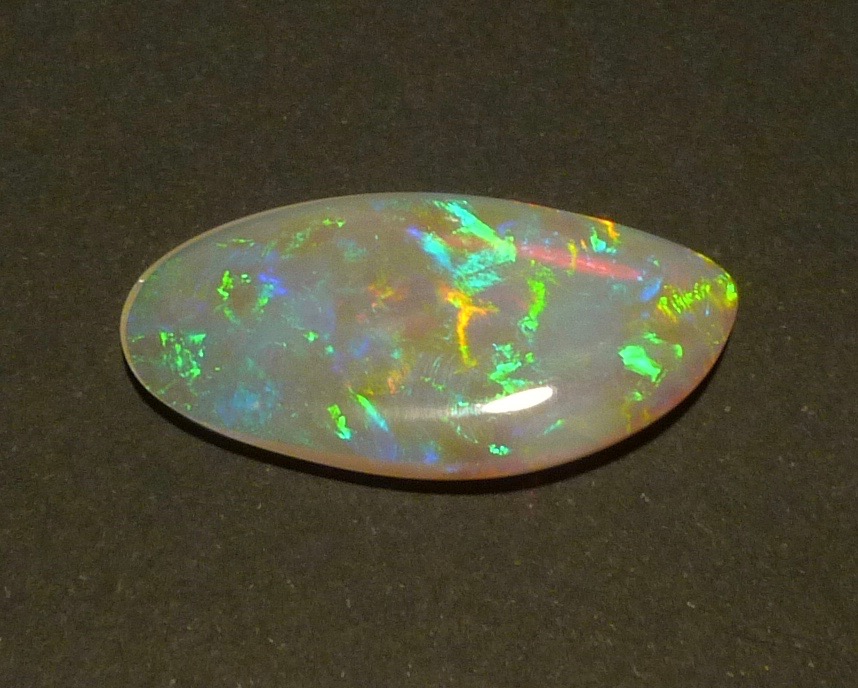 Crystal opal from Mintabie
The first is a large crystal opal from Mintabie. It has a lovely array of colours.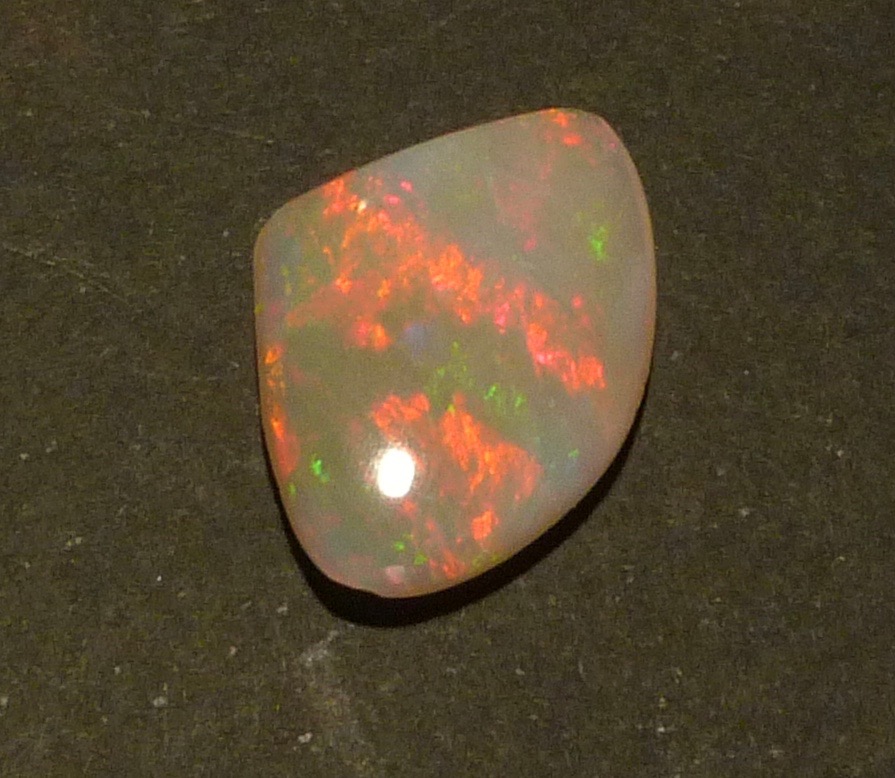 Crystal Opal from White Cliffs
The second photograh is of an opal I purchased in the rough from Bill Finney from White Cliffs. Bill used to be in charge of the solar power station that used to serve White Cliffs years ago. See my post on White Cliffs Solar Station.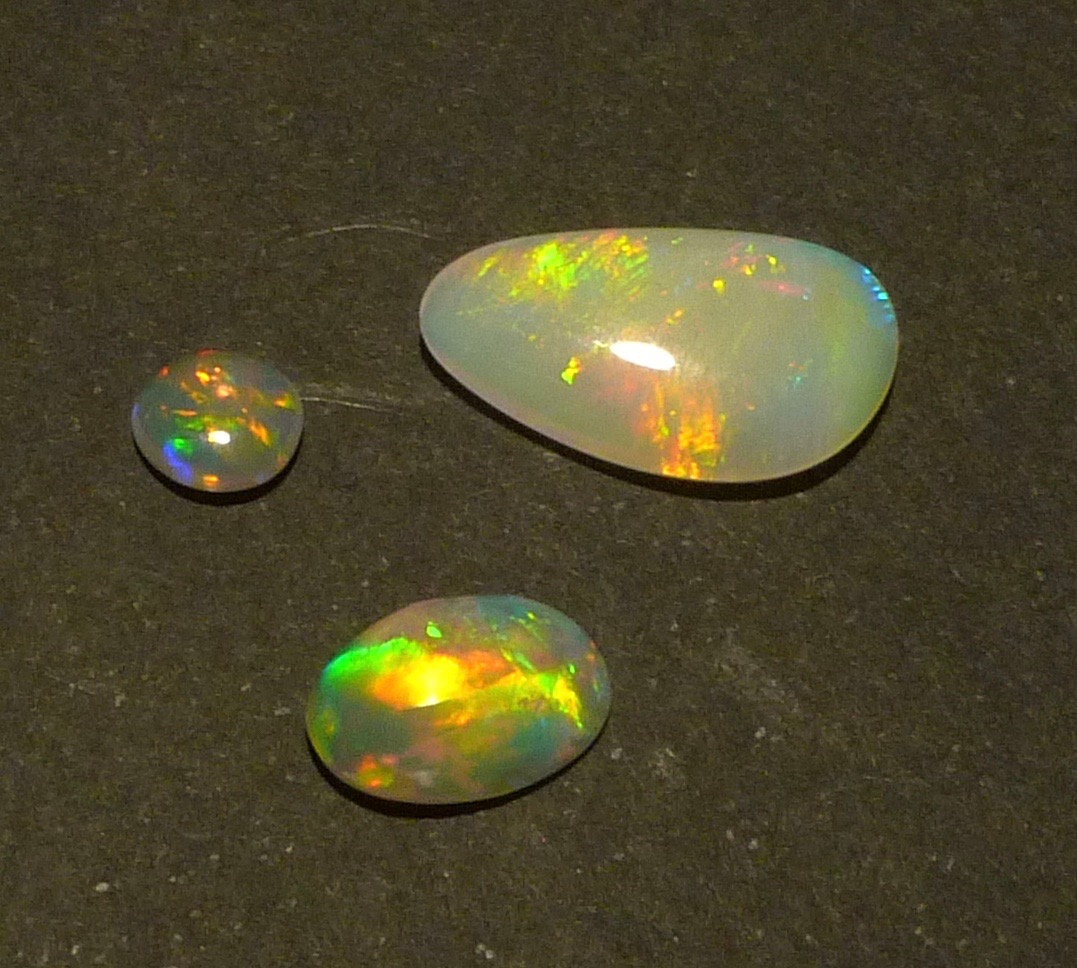 Three Crystal Opals from Lightning Ridge
The third photograph in this series is of three crystal opals from Lightning Ridge. They vary in size with a magnificent array of colour. Very hard to beat.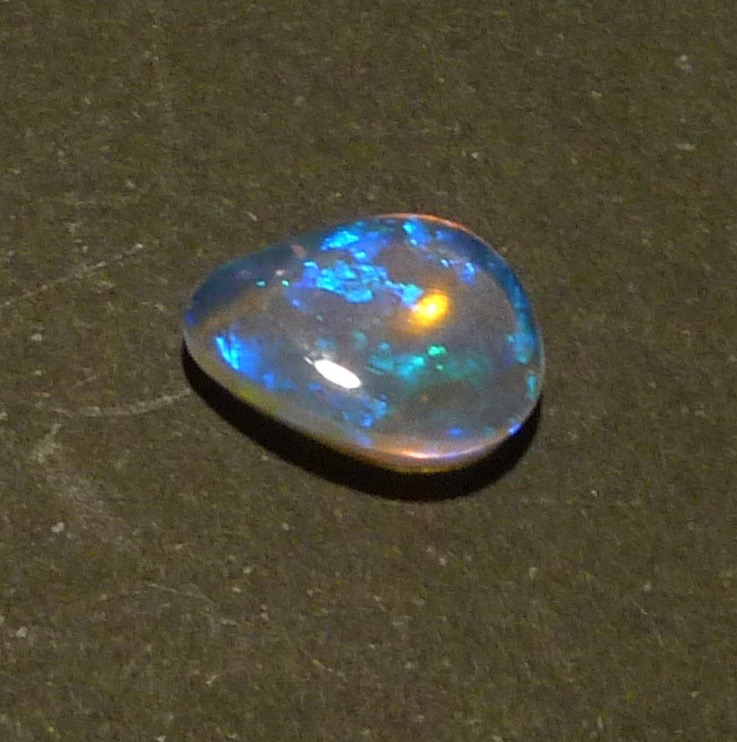 Blue Crystal Opal from Lightning Ridge
This next photograph is of a blue crystal opal from Lightning Ridge purchased in the rough from a miner at Lightning Ridge in 2015. Opals of this clarity make very good doublets but it is better to keep them as solids if they are thick enough as this one is.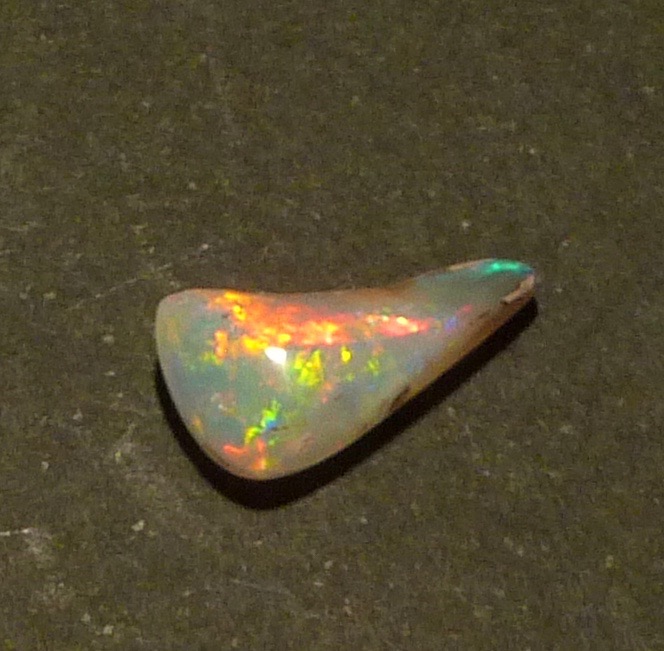 Crystal Opal fro Lightning Ridge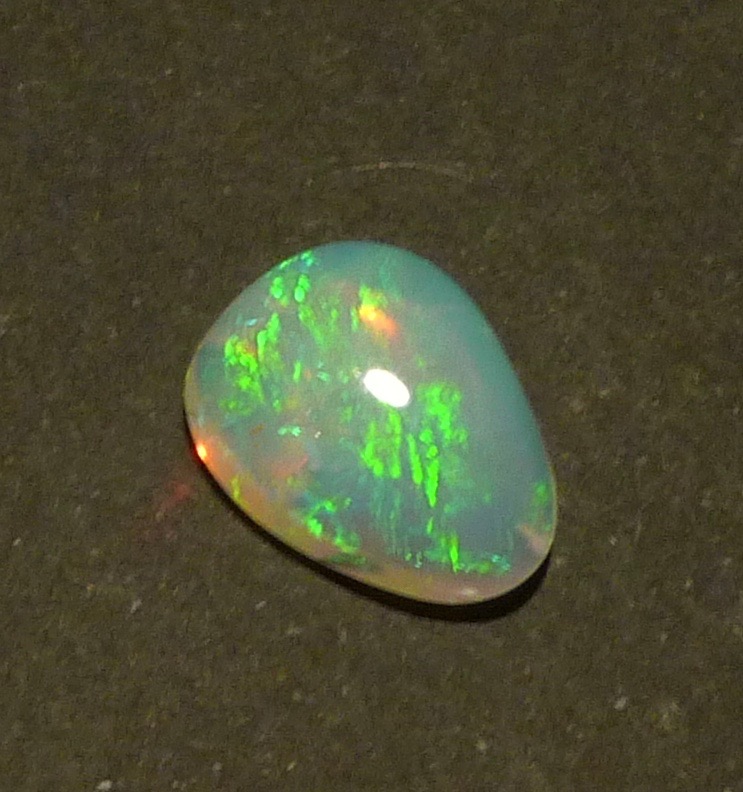 Green Crystal Opal from Lightning Ridge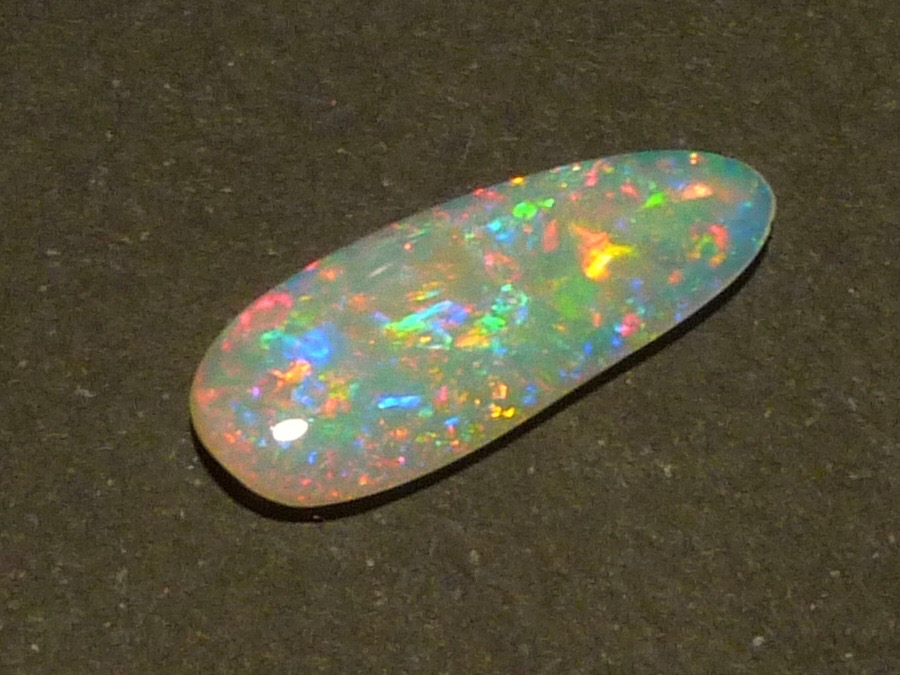 Multi-coloured Crystal opal from Lightning Ridge
These last three photographs are also of opals from Lightning Ridge. The colours vary but the intensity of colour is very bright in all cases.
If you are looking for the brightest coloured Australian opal it is very hard to go past crystal opal. White opal, black opal and boulder opal all have special attributes but it is hard to beat a good crystal opal for bright and vibrant colour.
Johno
---