Barbara and I love to travel in the outback. We don't go in for the arduous 4 wheel drive trips, crossing sand dunes and putting ourselves at risk, but we do love to head off and see where our travel takes us. In 2004 we set off up the Oodnadatta Track because it was somewhere we hadn't been before.We were driving a 1996 Toyota Hilux and towing an old off-road camper trailer. Having reached Coward Springs, an old railway station site on the original Ghan Rail line with a lovely hot artesian spring, we were told of a wonderful place to visit called the Painted Desert. So, after reaching Oodnadatta we set off for Painted Desert and were not disappointed as the colours of the hills were amazing with reds, whites and yellows abounding. As we were so close now, only about 200km, we, or maybe I should say, I, thought we should call in at Coober Pedy again as we hadn't been there for a while. This tends to happen a lot whenever we get close to an opal field. Barbara agreed and off we went.
Travel in these areas is over unmade desert roads so is not all that comfortable but we made it alright and set up camp in the caravan park nearest the Stuart Highway. We were lucky to get in as the park was nearly full but not with your normal cars and vans, but rather with tractors. All of them were Chamberlain 9G tractors engaged in a desert run. Apparently they had just come from Coolgardie in Western Australia across the Great Victorian Desert.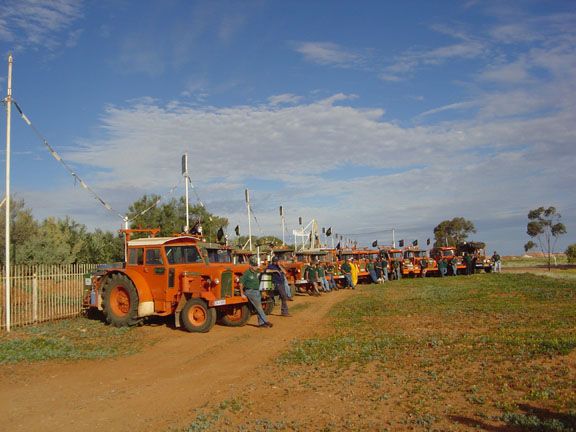 This is a photograph of many of the tractors lining up in the camp ground. These tractors , I was told, travel up to 45 kph on the highways and can make their way over very rough terrain. The tractors are followed by a large group of support staff and friends travelling in 4 Wheel Drives and towing trailers. They do this every 2 years or so and have criss crossed Australia through incredibly rough areas, Some of these tractors have real character as some of the following photographs by Barbara show.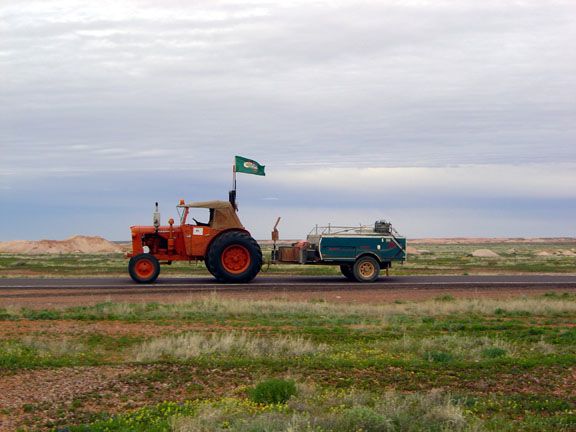 What way to travel!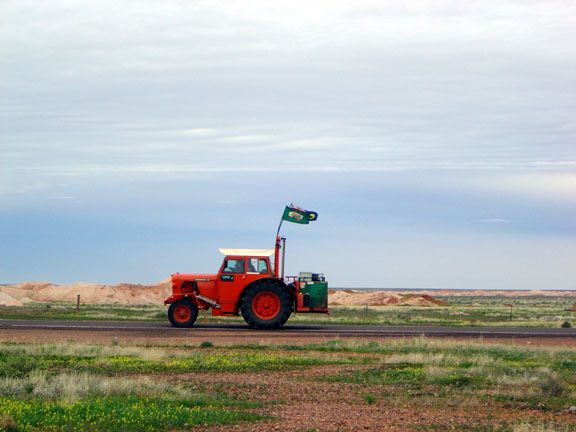 OOPs- Lost my trailer or maybe someone else has it.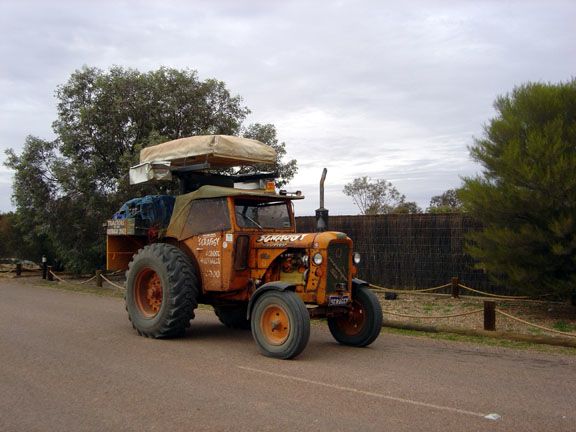 They carry all they need for the trip on top.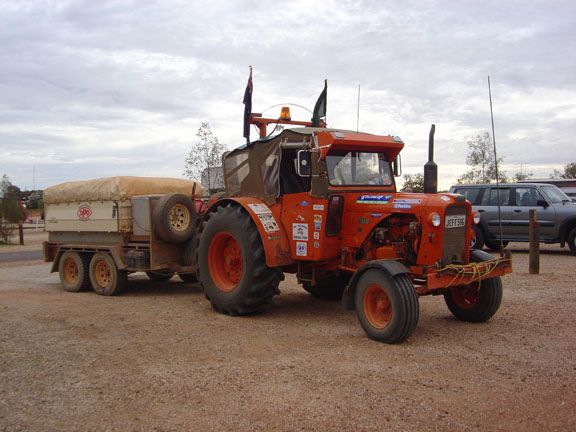 If they have too much stuff they just tow it behind. They are great tractors and very durable.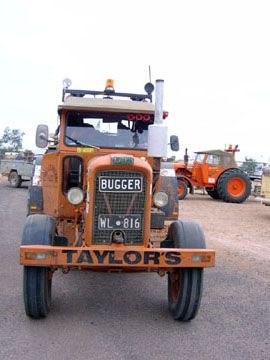 And they have a sense of humour.
The people on these Desert Runs collect money for charities whiile travelling. Usually it is for the Royal Childrens Hospital and the Royal Flying Doctor Service. They were a really friendly group and were willing to include us in their festivities.
It is not always fun as it was related to us how one of the tractors bent an axle in an iso;ated area of the desert. The only way to fix it was to heat the axle and straighten it out. So the bush mechanics in the group built a forge in the sand, made up a set of bellows and got the temperature up the amount needed to straighten it. They were quite successful and so all tractors made it safely to Coober Pedy. They have to be able to repair anything on the tractors and other vehicles as they go as there are no mechanics out there in the desert.
When they hit town they also know how to party and there was loud noise and happy laughter well into the night but next morning they were off again. Some people sure know how to have fun.
If you want some more details of the Desert Runs see Chamberlain 9G Tractor Club
The 1st Chamberlain tractor, designed by Bob Chamberlain, rolled off the production line in Western Australia in 1939. In 1955 the kerosine powered engines were replaced with diesel engines. In that same year a special Chamberlain tractor was fitted out with a different drive train and entered in the famous "Redex" Around Austarlia Car Rally. It was known as "Tail end Charlie" as it came in last every day. There were moves to have it removed from the rally but when it came in one day towing six other vehicles that had broken down, the Committee relented and it was allowed to finish. They are a very popular and reliable tractor.
John Deere bougt into the Chamberlain Company in in 1970 and the tractors were called Chamberlain- John Deeres from then on. These Desert Runs only use the old Chamberlains.
Johno
---