Yowah is a small town in south west Queensland and is famous for the Yowah Nut which is only found here and nowhere else. The yowah nut is a relatively small, hollow ironstone concretion in the shape of a nut. They occur in closely packed horizontal layers with sandstone overlaying these beds of nuts. In some cases the centre can be filled with gem quality opal but in most cases they are filled with air, powder or some other non valuable material. Yowah also has some really beautiful matrix opal which is the same ironstone concretion often with small flecks of precious opal interspersed through the ironstone.See my post on Yowah Nuts post for more details.
This post is mainly about the town and the attractions it has for us opal fossickers.
There is a sealed road all the way to Yowah so it is very accessible as long as you don't mind travelling long distances. Yowah is situated 938 km west of Brisbane and 132 km west of Cunnamulla.
Opal was discovered north of Thargomindah around 1873, well before any of the major fields in New South Wales and South Australia. There is no record of when the Yowah field was discovered but the first recorded lease in the area was in 1883 and was taken out by Herbert Bond on behalf of a syndicate. Opal is still being mined at the field today.
Yowah is only a small town but it does have it's own airport and a Tourist Transaction Centre which incorporates a Tourist Information Centre, Cafe, Public Library and Internet access. There are also two caravan parks, one where you have to pay and the other which is more basic, but free and which is quite popular. It is a common sight to see groups of campers gathered around a campfire at night telling stories of the opals they have or have not found. This camping ground has showers and toilets but you do have to pay for a shower. The photograph below is not of the free campground but it looks very similar.
The other caravan park has better amenities as well as organized sausage sizzles etc but you do have to pay to stay there and camp close to your neighbours. It also has an artesian bath-house where you can lay back in an old bath filled with hot artesian water and soak away the aches and pains of a hard days fossicking; that is as long as you can stand the sulphurous smell of the artesian water. It is actually very relaxing.
The main reason to go to Yowah is to fossick for Yowah Nuts and Matrix Opal. While the fossicking area has been well picked over there is still the chance to find some nice opal if you are very careful. While there on one of our trips, I came across a young English fellow who was meticulously sieving through a selected area and carefully washing each sieve-ful. He found several pieces of beautiful matrix, one of which was locally valued at over $3,000. Others around him were not so meticulous and finding nothing. Below are a couple of photographs of the fossicking area with people ffossicking for Yowah opal.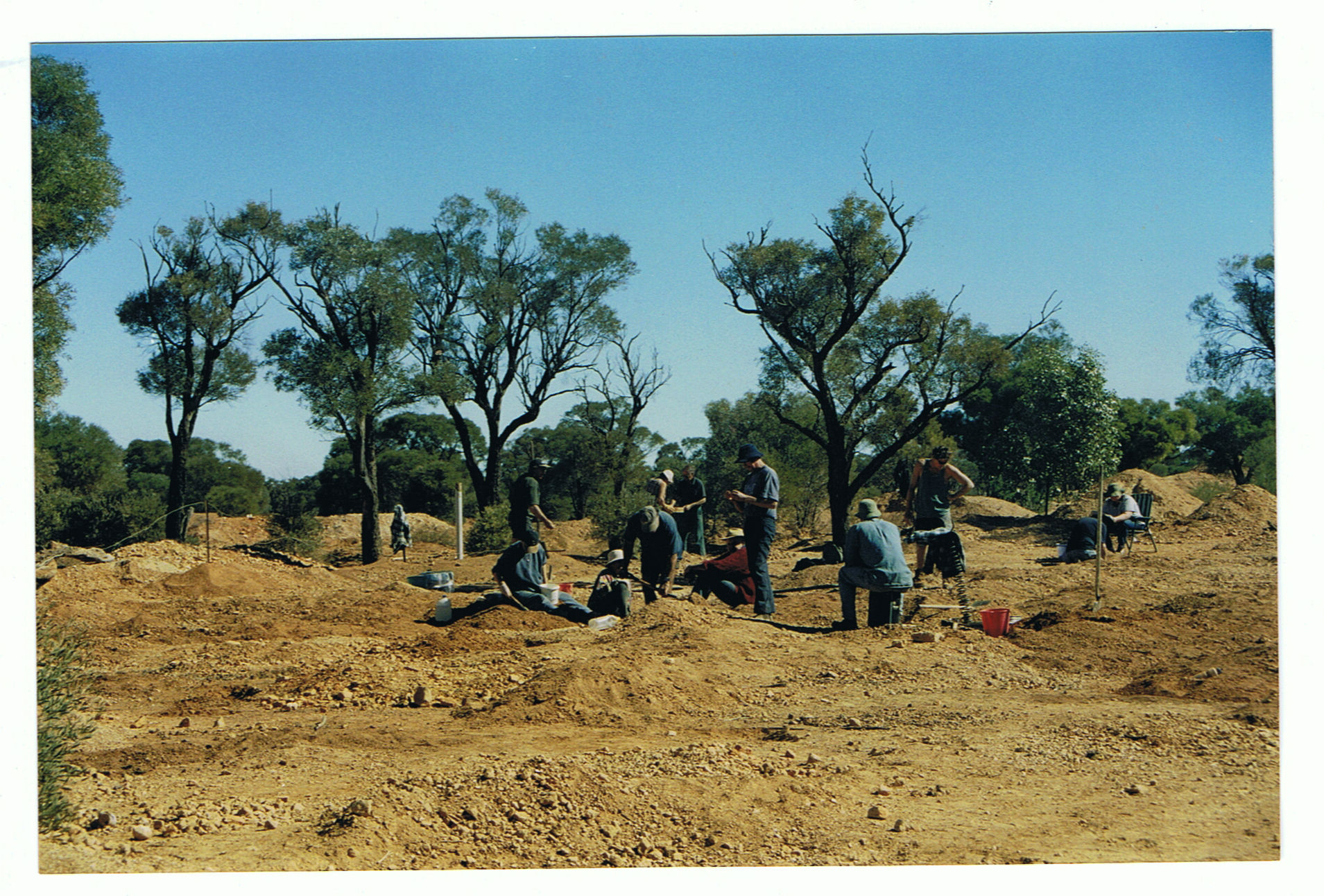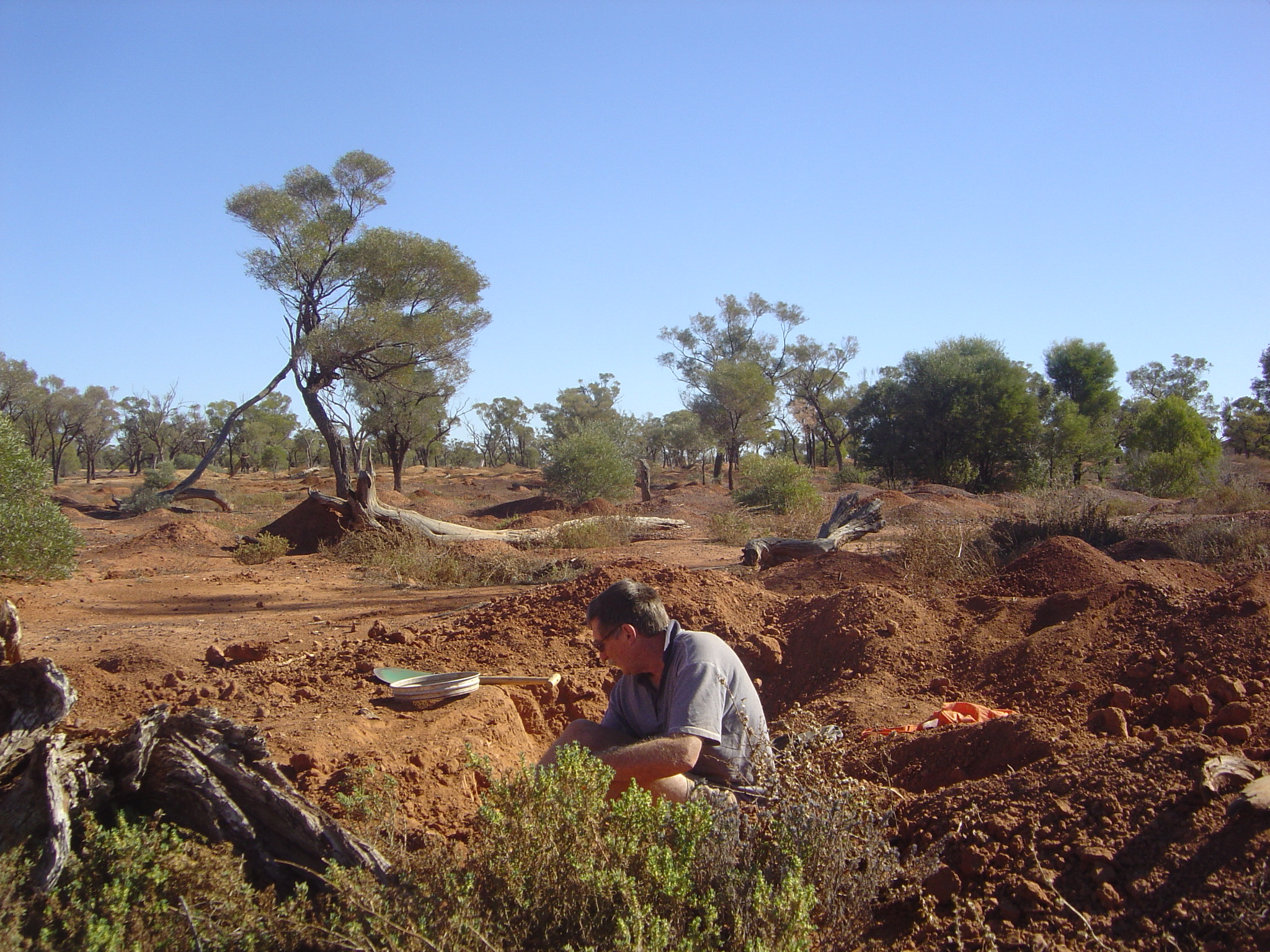 The latter photograph is of me. You are right if you think it is like looking for a needle in a haystack. There is a lot of dirt between the opals but luckily you only have to look in the top 300 mm of dirt. I have had a few good finds here. I have found two nuts full of gem opal, one of which has been made into a ring. I have also found some nice matrix, but it did take a lot of work.
If you can't find any yourself then there is always the Sunday market if you are in town when it is on. A lot of the locals set up a market to sell opal they have found and cut and polished. You can buy some really beautiful matrix at these markets. Below are some photographs of the market on the one day we were lucky enough to be at Yowah.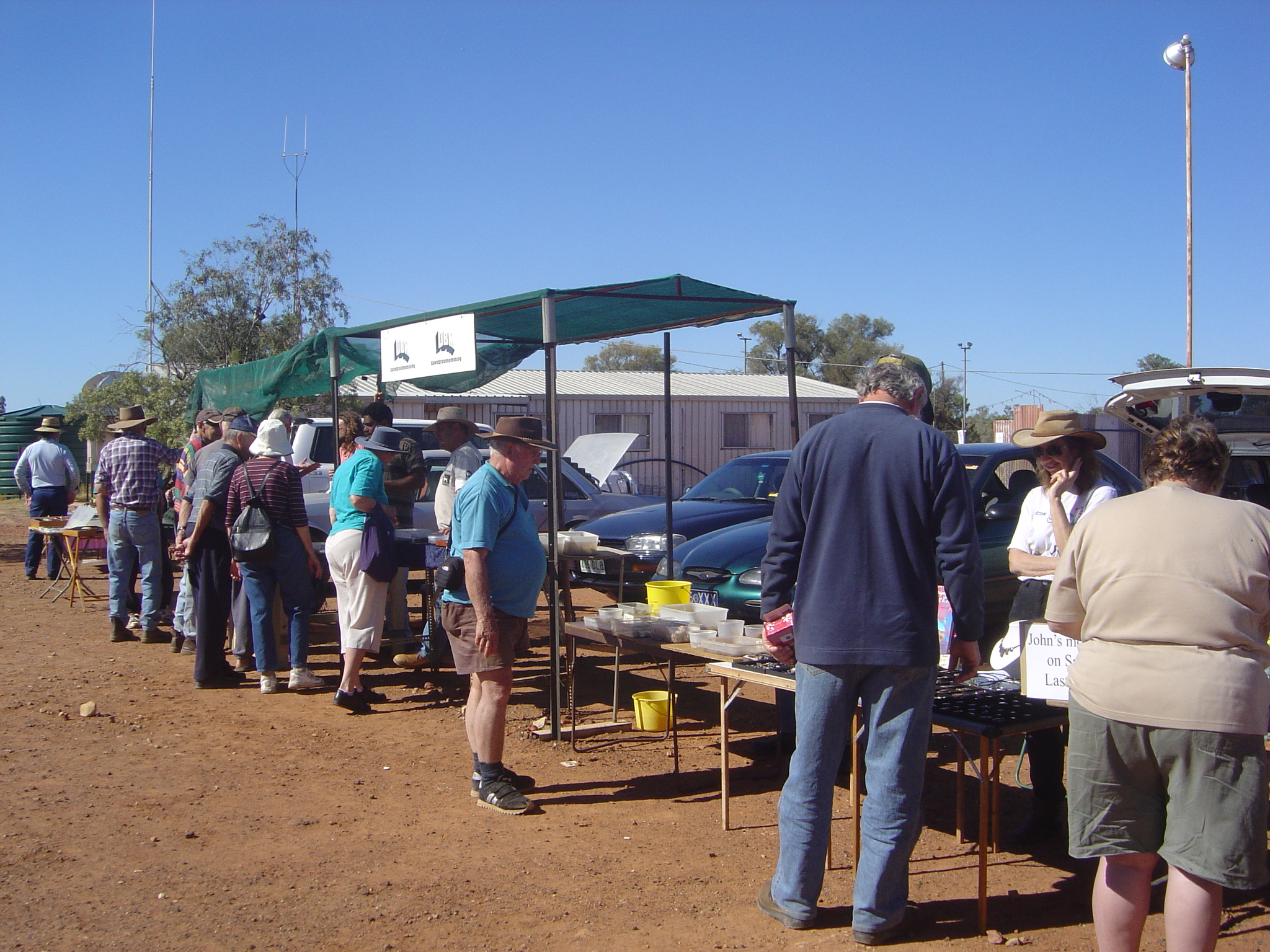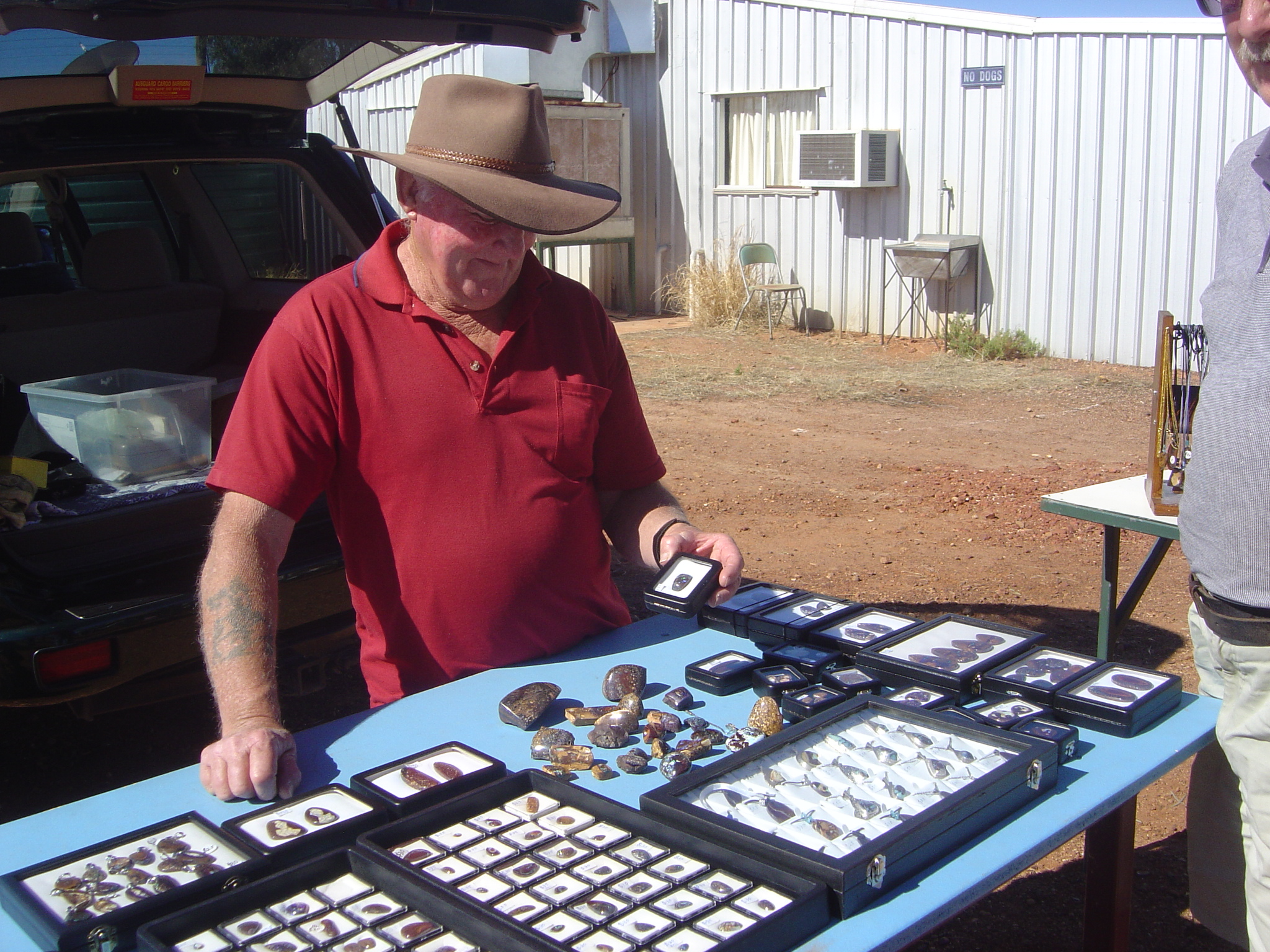 This latter photograph shows a selection of opals this trader had for sale.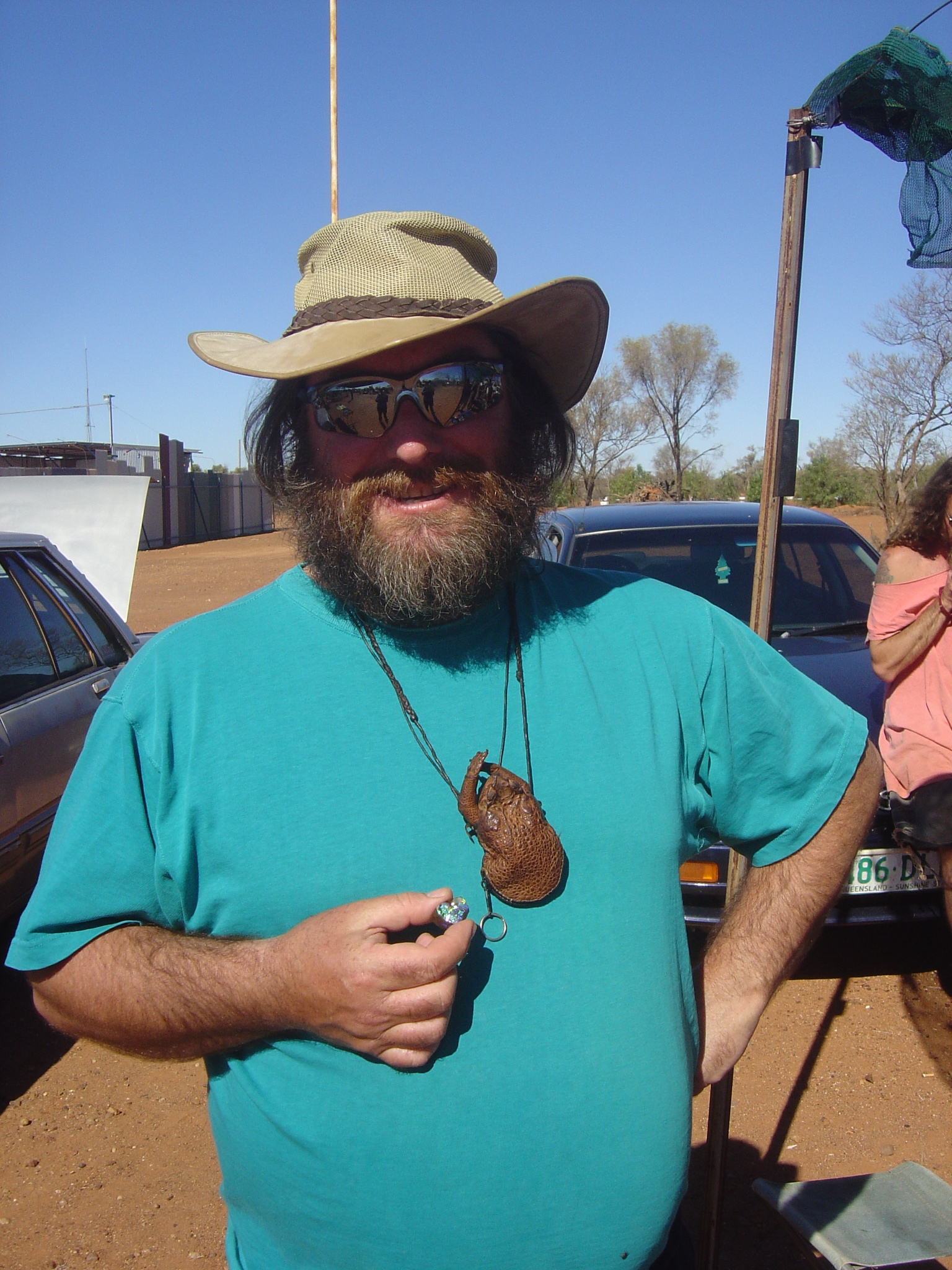 This chap had bought the opal in the rough quite cheaply and when he cut it , it revealed a beautiful stone inside. You can be lucky sometimes.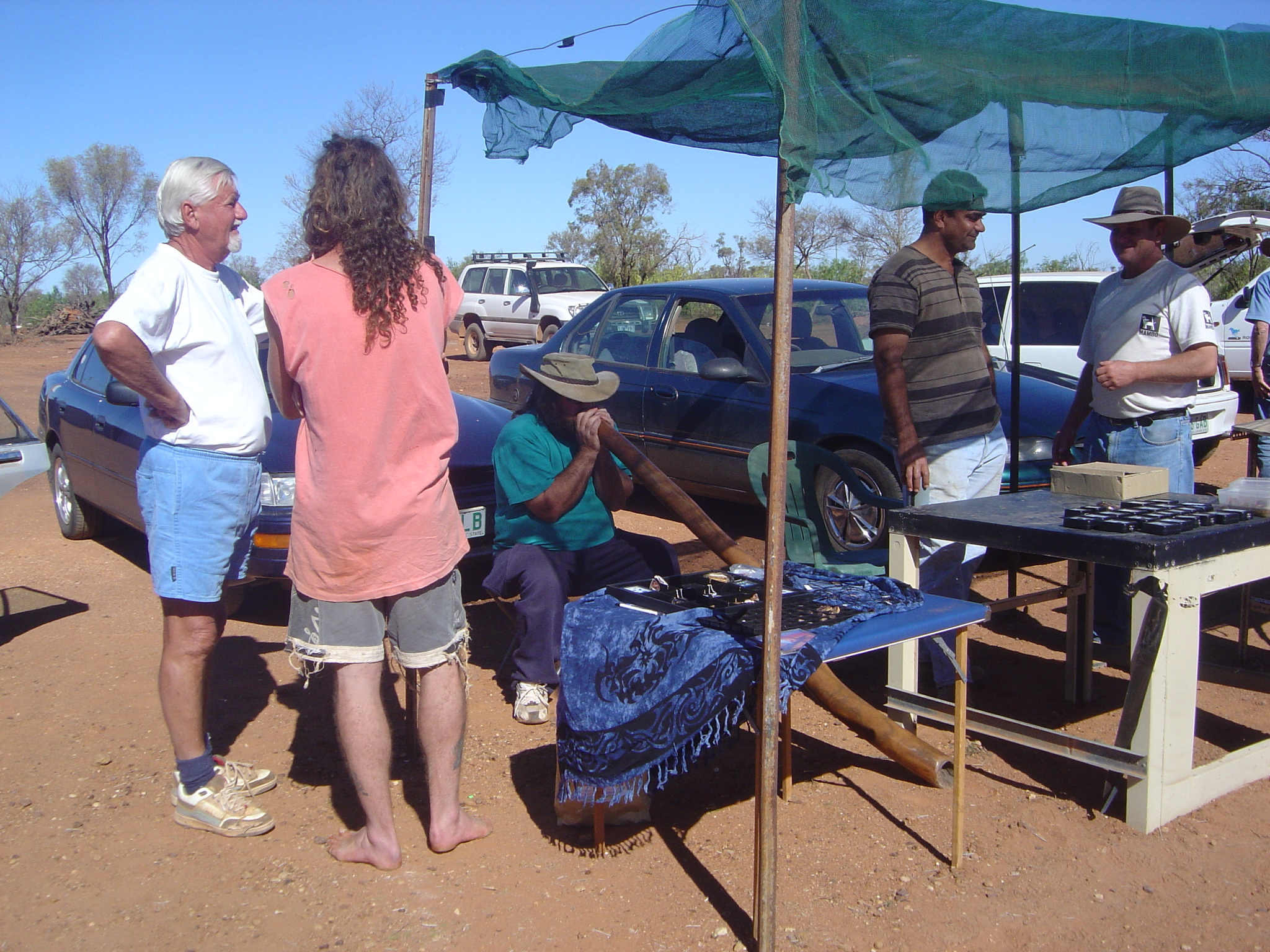 There is also entertainment at the market.
If fossicking is not your scene then there are many other things to see. As in all opal towns there are car and truck wrecks left abandoned where they finally stopped. These are real relics of the past and are worth a photograph at least.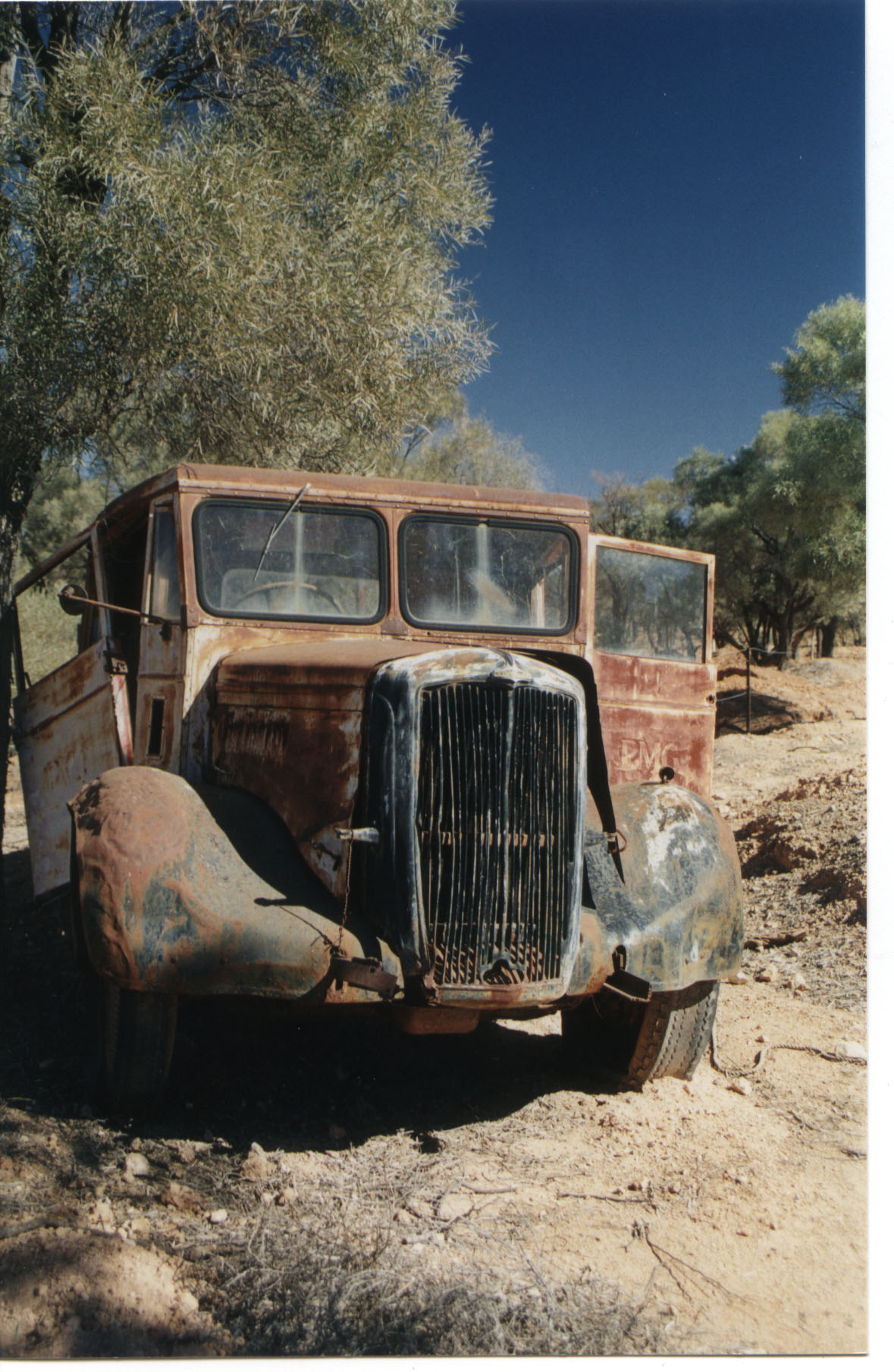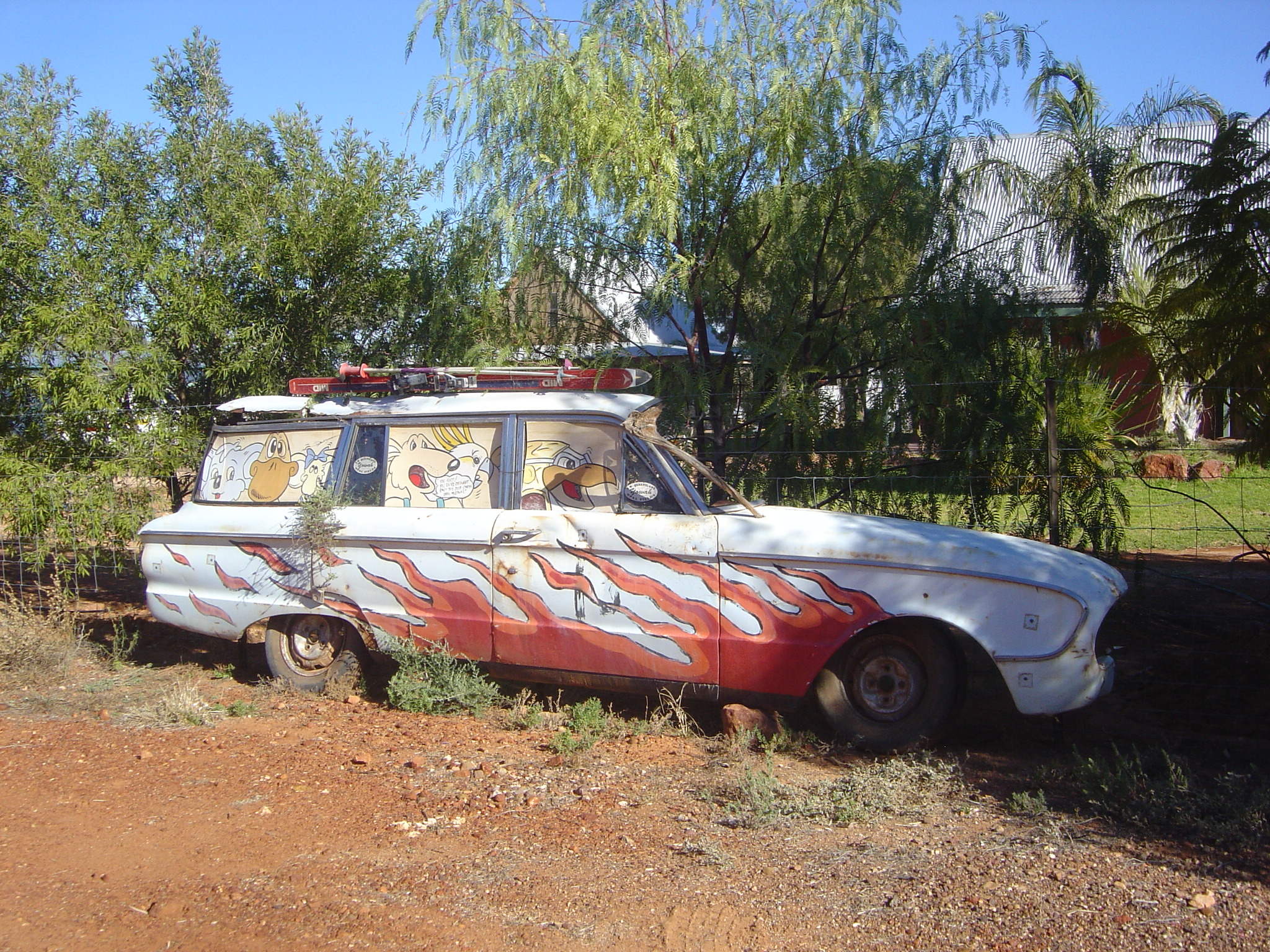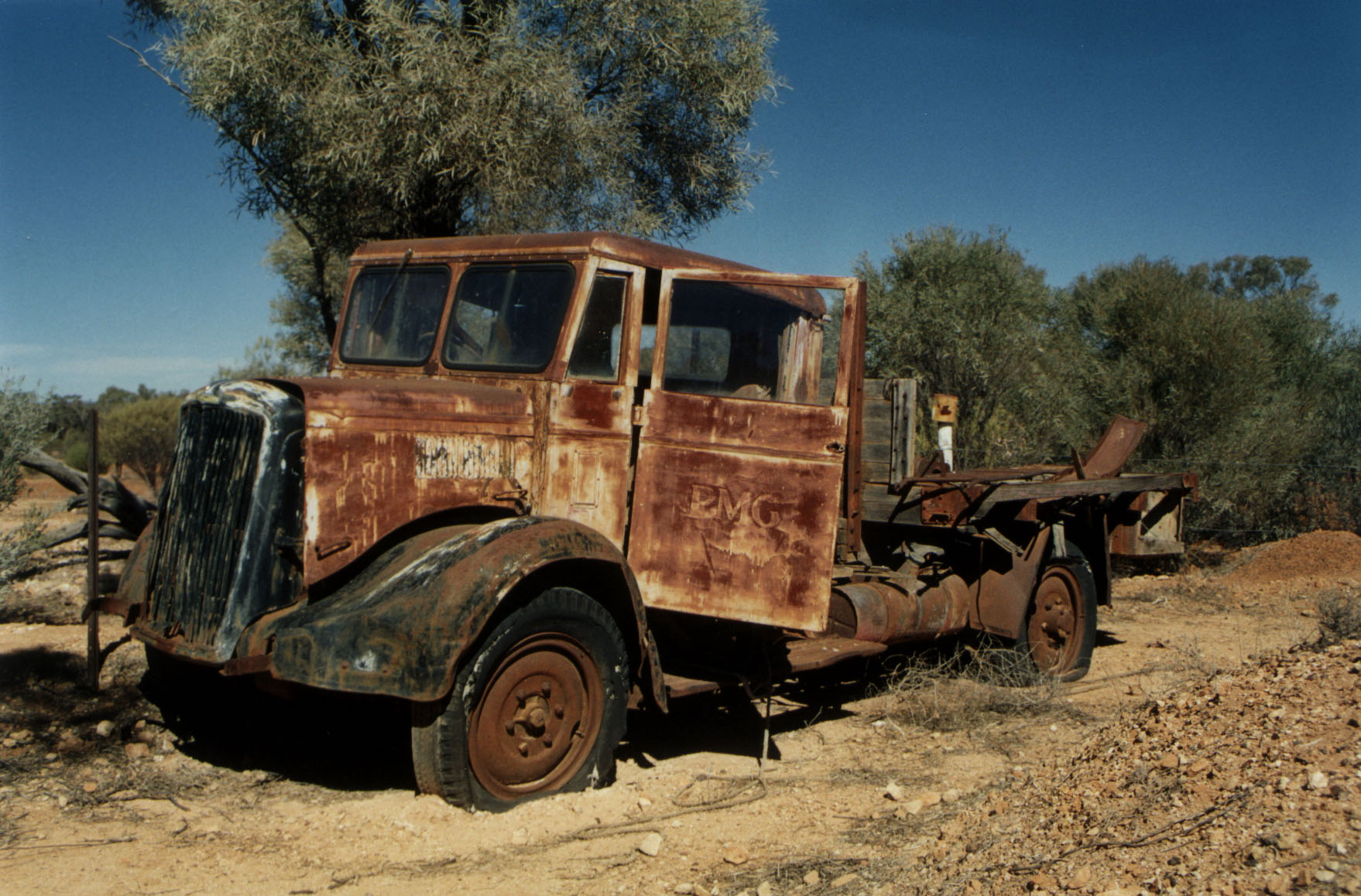 The natural wildlife is also worth a look and you never know what you will find if you look hard enough.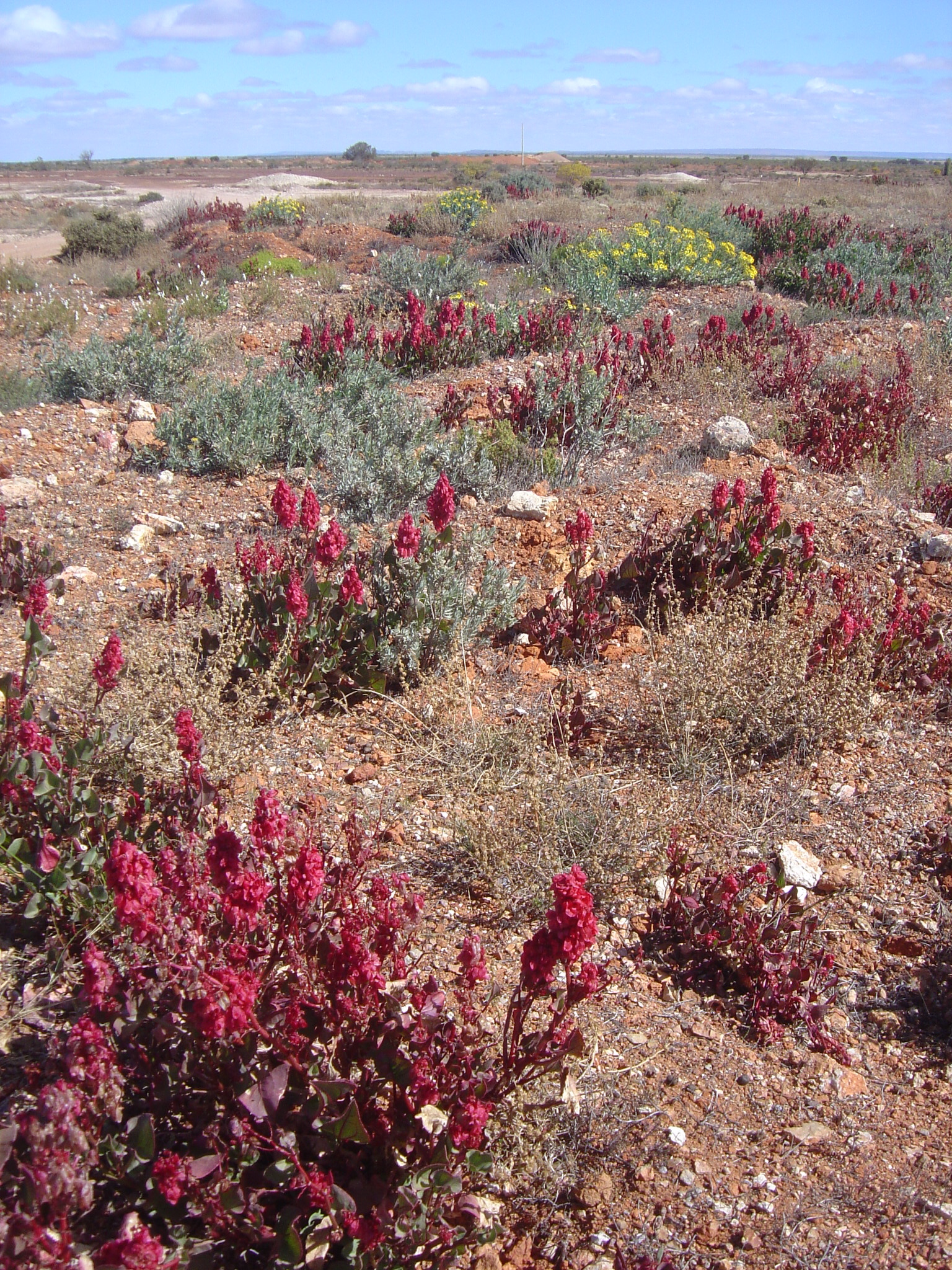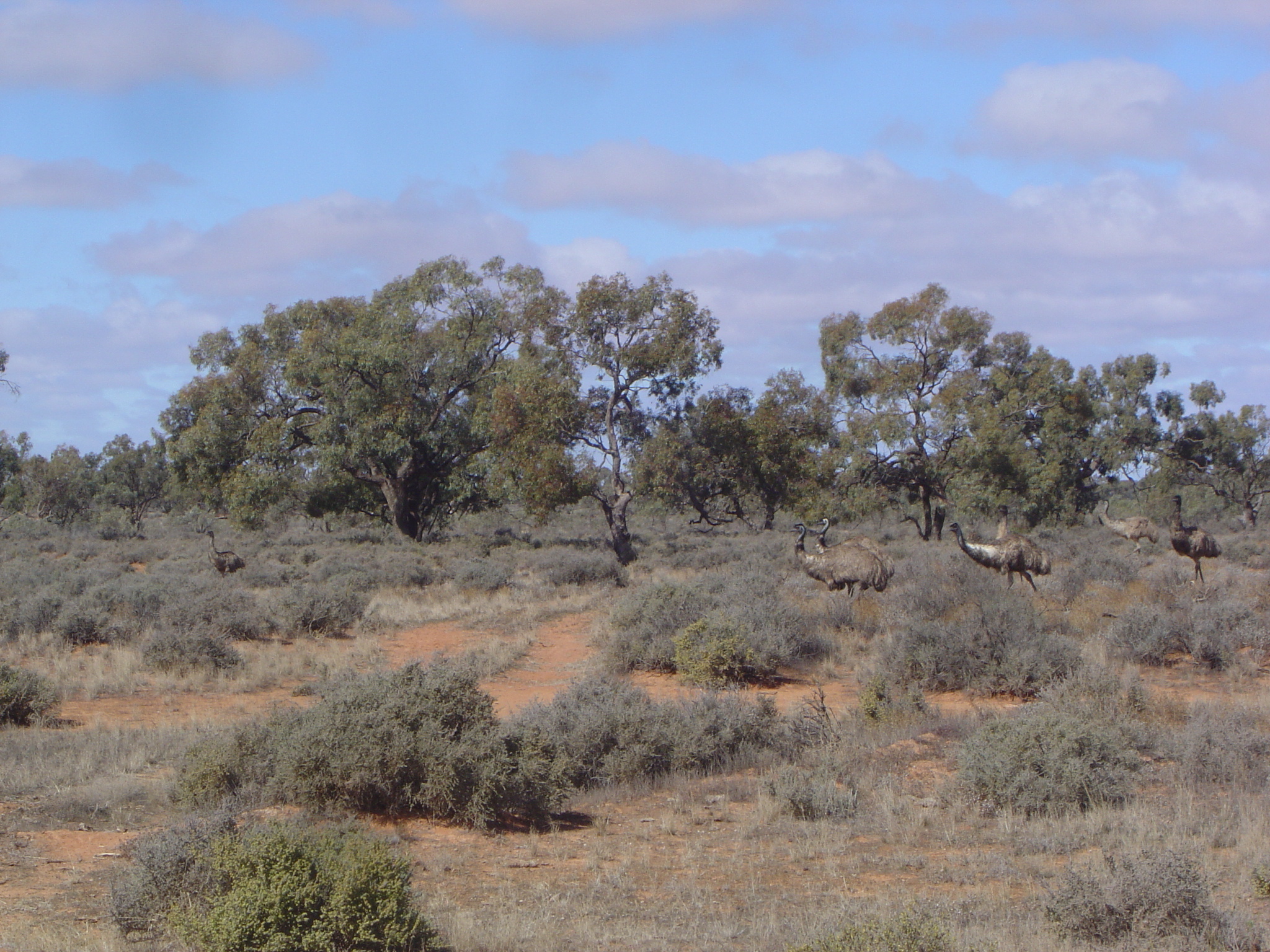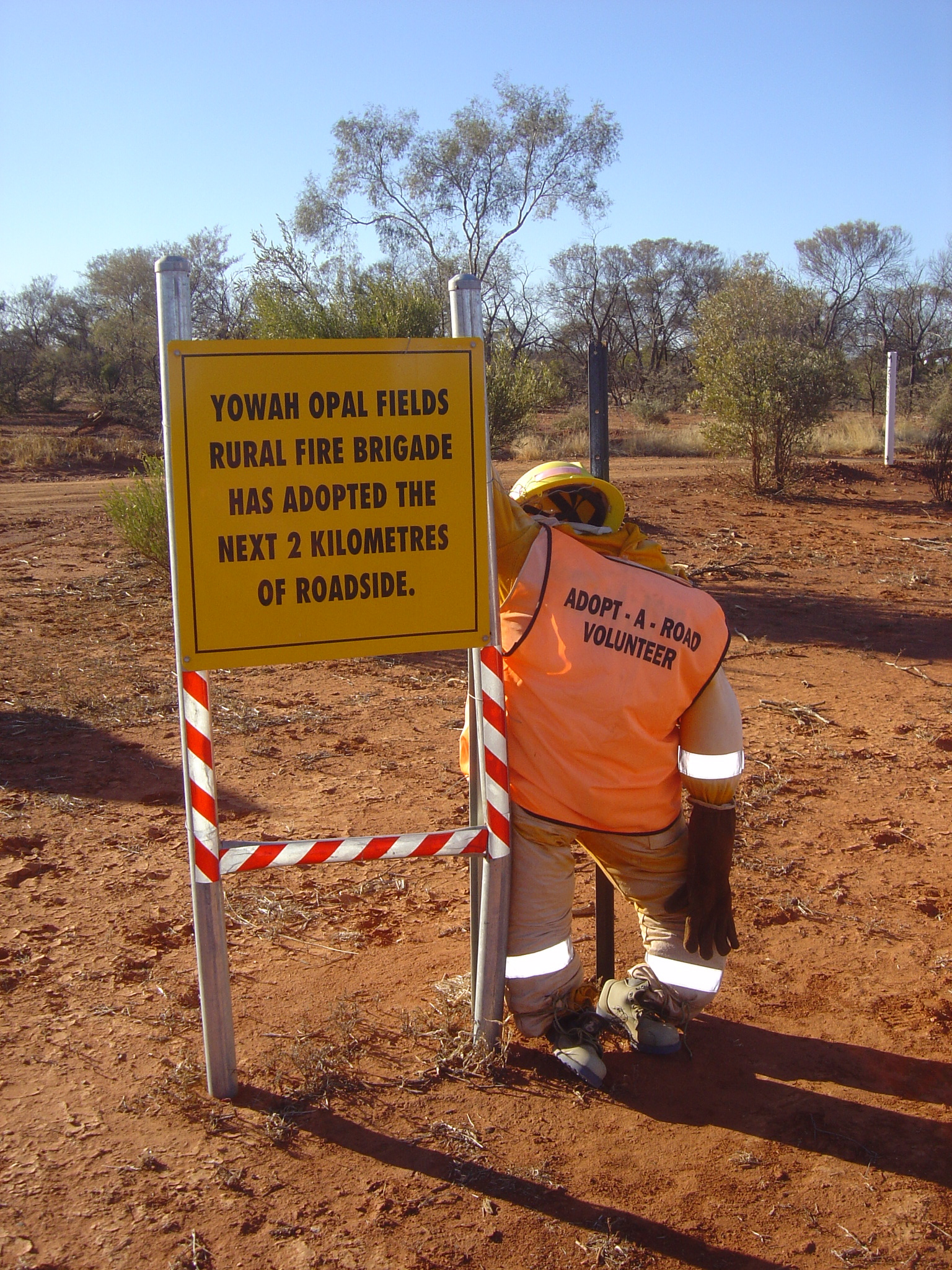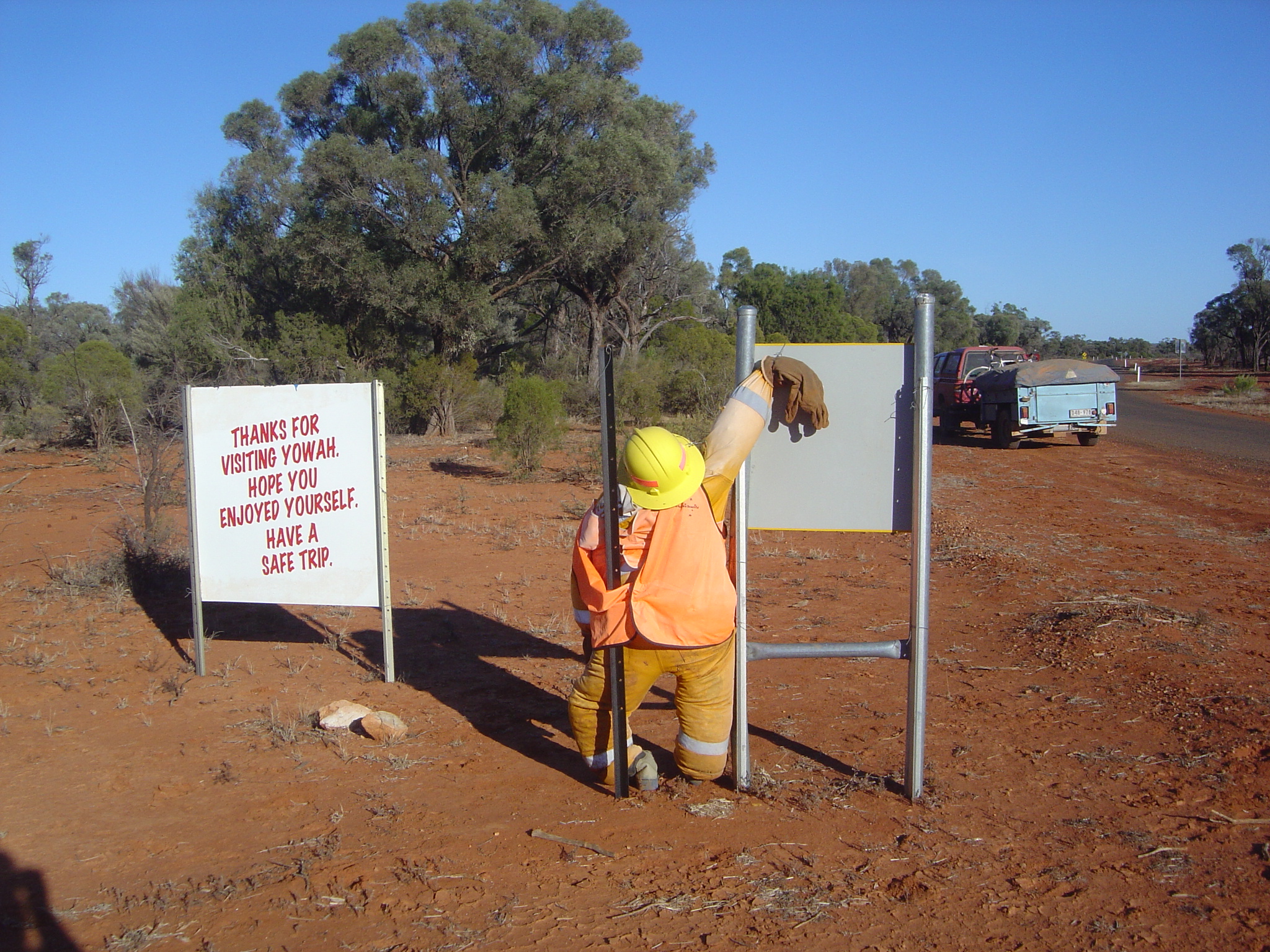 In July each year they have an Opal Festival. This year it is on July 19- 21. They have all sorts of amazing events including a windlass race exclusive to an opal town and everyone can take part. There is a jewellery competition and you will see the amazing pieces that talented jewellers can make with boulder opal. For more information see the Opal Hut site. It is well worth a visit to see the festival if you have any interest in boulder opal.
There is also a golf course where you can challenge yourself against the vagaries of playing golf in a rock strewn landscape where the best placed ball can be deflected anywhere. The upside is that you may find a piece of opal while looking for your ball. The course is challenging but a lot of fun. Don't bring your best clubs though.
We have been to Yowah many times and really love it. It is a bit different but there is still a lot to do and see. There are many photograph opportunities and my wife Barbara has taken some lovely ones which I have used in this and other posts. Hope to see you there sometime.
Johno
---