In the early 1930's there were a few miners working at Andamooka. One of these miners was an old European who lived in an old dugout away from the main centre. He was regularly seen walking across the hill to collect water from the well in the main centre, but he rarely spoke to anyone. At that time there was a tin store near where the school is now, run by Reg Absalom. During a long heatwave it was realised that no-one had seen this miner for several days, which was quite unusual. Reg went looking for him and found him dead on the hill. He'd been dead for about three days.The decision was made to bury him where they found him, and this was the start of the original cemetery.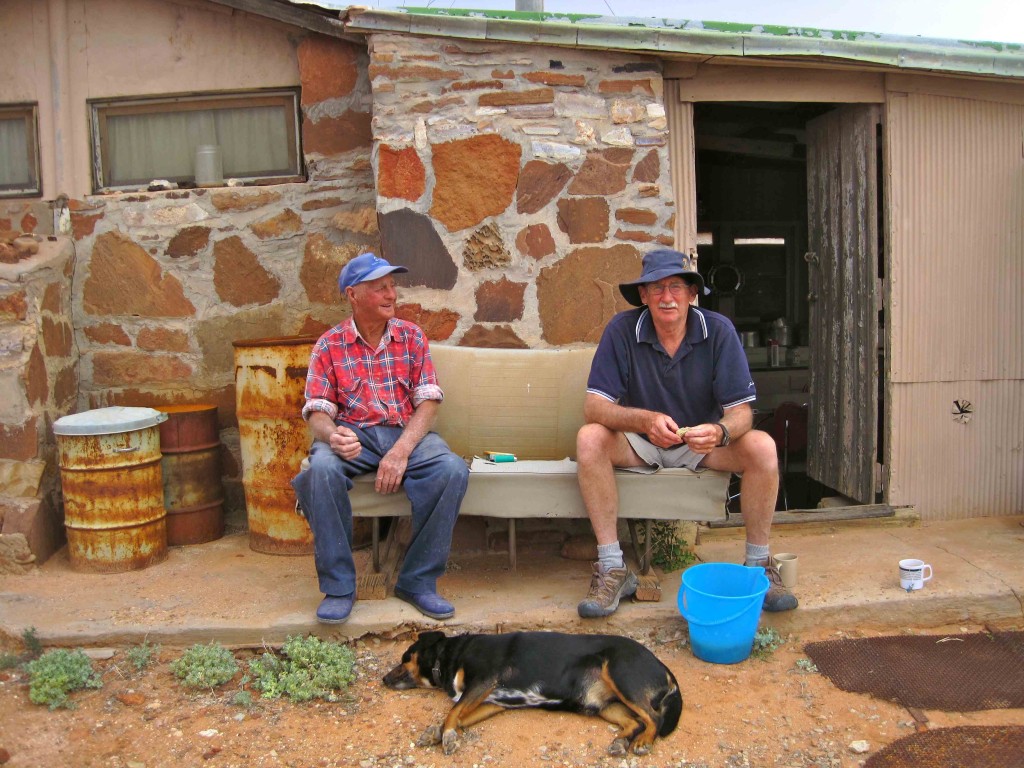 old dogs
Since that time approximately thirty five people have been buried there, with about twenty three graves still unmarked as there were no records kept in those days.The Progress Association has investigated and now around twelve graves do have headstones identifying the occupants.
As this cemetery was very stoney, the Progress Association looked around for a better site, and a new Cemetery was established in 1975. A German and an Italian miner dug the graves by hand and the Police would deliver the body in a coffin, and Priests conducted most burials. Later on, when back hoes became available, local miners would be asked to dig the grave with their machines. This still happens today. If a deceased miner has no known relatives, the Progress Association arranges for a small memorial headstone with the name and date of death to be placed on the grave.
The cemeteries tell the history of the place. The names show the wonderful mix of nationalities of the early miners. The burials performed by mates mean the graves are unique, unlike city cemeteries. Personal items are left there as reminders, and the words on the headstones tell it as it is. It was a hard and isolated life, and mates were valued, and the cemetery reflects that.
There is an article in the Roxby Downs Sun with more information.
---