In looking through some old papers I came across the following article written in the Sydney Mail in 1894. It is an article describing a tourists visit to the White Cliffs Opal Field in that year. I hope you find it of interest.
The article was researched by Rusheen Craig and I reproduce part of it here with Rusheen's permission. Rusheen has carried out a lot of research into people living in western and central New South Wales and anyone interested in such history would be well advised to visit her website "Rusheensweb.com.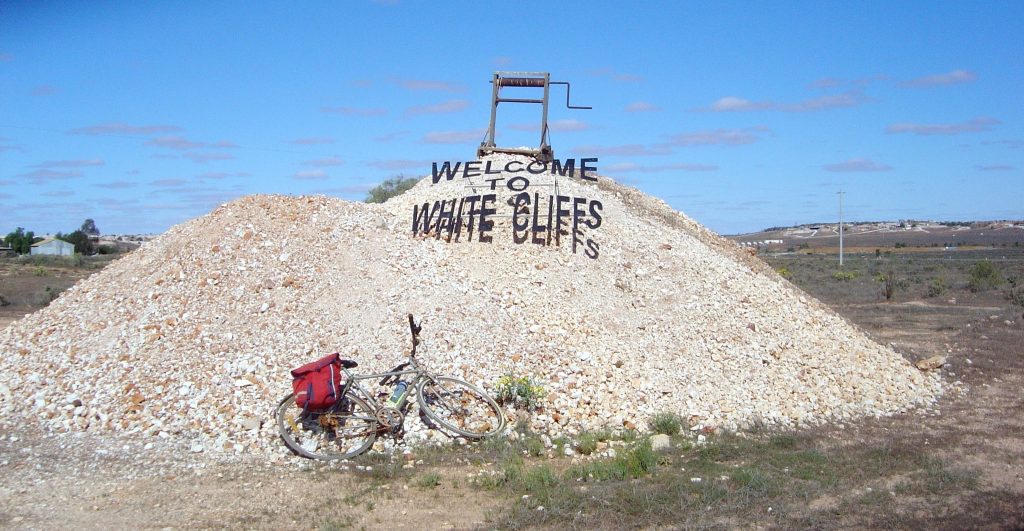 Modern day entry to White Cliffs
"The Tourist"
"On my arrival at Wilcania, after a trip in the steamer South Australian from Bourke down the Darling, a distance of some 500 miles, I found the chief topic of conversation to be about the splendid discoveries of gems in the form of lovely opals at White Cliffs, specimens of which were freely shown by the many residents.
Some of those shown to me were of thick pieces of pure opal of the most beautiful harlequin, and various other lovely tints of indescribable beauty. Some of them resembled magnificent Australian sunsets in miniature form, and looked as if they had been photographed in colours from nature in the very highest art of reproduction, full of brilliant colours and ever changing and fascinating hue, fascinating to all.
I determined to visit the field, going by Cobb's coach. We reached Opalton as I shall now call the town of White Cliff's field about 8pm after a drive of about 60 miles. There was the usual crowd congregated to meet the coach, however, this evening larger than usual, owing to the visit of the renowned labour agitators Messrs Sleath and Ferguson.
There are two fair sized hotels. The one I was put up is kept by Mr Burgess, the other is by Mr Johnston.
They have a very peculiar method of delivering letters here. On the arrival of the mail it takes about half an hour to sort the letters, after which the postal official opens the office door and calls out in a sonorous voice the names of those to whom the letters just received are addressed. If the owner of the letter is there, he calls out "here" and the letter is handed to him. I was informed that this was to save time, instead of having to search the various packets of letters through and through for each caller.
I may as well here state that the opal fields are on one of the largest station properties in the colony, known as Moomba, which comprises four pastoral holdings, containing an area of 1,830,000 acres. In 1890, 7,000 bales of wool were taken off these holdings. The proprietors are residents of Adelaide and Melbourne. Mr W Hogarth is the general manager. The country for miles around the opal country is covered with water-worn boulders of varying sizes and these with other indications such as sea shells,hundreds of which I saw, some being opalised, leave no doubt that an inland salt water sea or lake covered the whole of this country at no very remote date.
There are two large tanks with excellent catchments about three miles from Opalton. These were excavated by the owners of Moomba. Arrangements have since been made that the townsfolk have use of these. One is used for domestic purposes, the other for watering of stock. The Government is excavating a large tank in the township proper. The present population of the township is 700 persons.
The field was first discovered to contain the precious opal in 1889 by two kangaroo hunters named J Hooley and A Richardson in the following strange manner. They were plying their hunting avocation and had fired at and wounded a kangaroo,which however, although hurt, bounded onward at so great a speed that the hunter lost sight of him and endeavoured to track him by the blood stains on the grass and stones over which he had passed. During this search Mr Hooley took up a piece of stone, showing as he thought blood upon it, but was surprised to find it was the red fire of an opal stone of a very brilliant hue. The finders, having had some experience at the opal mines in Queensland, took the stone to Wilcannia and submitted it for examination to the local jeweller and lapidary. Acting upon this expert's opinion, they forthwith returned to the White Cliffs, and, selecting a site pegged out two 80 acre blocks, one of which they leased: the other they held under mineral license. They then prospected the ground with success, and discovered within a foot of the surface many splendid stones rich in opal
They continued working with profitable results for some three years Then they sold a share to Clodston and Turner and some time after , sold the other portion to an opal buyer from Melbourne. The property was subsequently put into syndicate and is now known as the White Cliffs Opal Mining company. The mines are being worked by tributors, and also by wages men.
By this time the wealth of this field was being freely spoken of at Broken Hill, Silverton and other mining centres in the western district, with the result that all classes of people began to flock there and have continued to do so until the present time. Business people then went to work and erected temporary buildings of iron and canvas. The first storekeepers to open were Johnston and Patterson. S Whitfield opened the first butchers shop . Now there are two hotels, two butchers, two bakers, any number of cool drink shops, a dressmakers, wheel-right and blacksmiths, two newsagents for the sale of papers etc.
A good public hall has been erected by subscriptions at a cost of 160 pounds. The first service was held in it on the Sunday following our arrival by the Rev Mr Bradshaw. The hall was comfortably filled , this being the first held in Opalton.
Then they have a cricket club with a turf pitched ground, a racing club etc. There are two members of the police here, so that law and order are fairly well carried out.
The principal workings are carried out by the Oriental Mining Company, who owns leases 5,6,7,8 which are now known as the Wilcannia blocks. Syndicates under the management of Mr E F Murphy, who employs about 80 men as tributors at 50% rates. I may mention that there are also extensive workings carried on at a new find some twelve miles distant, on the west side of the Mt Brown Road,the Prospectus claim, which is owned by Messrs Lloyd and Pierce. Claims here are also being worked by Hall and Davis, a party of chinamen, Jenkins and party, Sidman and party, Collins and Emmett, and on the east side, eight miles from Opalton claims are being worked by harry Pretty, Barclay brothers and several others, all of whom report to be doing fairly well. Here the depth of sinking varies from 3 feet to 7 feet.
The two proprietors sold 300 pound worth of opal, the result of 5 months work. All the other country right up to the township is being prospected and worked. The field is of vast extent and there is enough work in sight for many years, carrying a large population.
The local baths are a short distance from the hotel, and consist of a canvas enclosure,within which are 3 compartments, separated by the same material, in each of which is a shower bath. The water is obtained from a small dam owned by the proprietor. When you want a bath you whistle, or call out "Bath oh" and a woman will go and get you two buckets of water: you provide your own towel: you pour the water in the bath then haul it up to what height you want, hang your clothes on the floor and have your bath, pay your six pence and take your departure.
On the field the people, I am pleased to record are very industrious and appear to have a love for the work. Opal getting is very exciting. There are very large quantities of opal found, but over 90% are of no commercial value, having no fire and are known locally as potch opals. The others range in value from 3 pounds per ounce to 50 pounds per ounce, according to beauty of colouring and thickness and solidity of body.
Opals are found in layers or seams of varying thickness. In these seams everything that the opal silica has come in contact with has become more or less opalised. For instance, I saw large pieces of fossilised wood with many flaws and crevices all opalised, showing in some cases remarkable freaks of nature, with most lovely indescribable varying hues. Then again, I saw shells that had become opalised throughout; again pieces of sandstone had at various cleavages very tiny covering of iridescent silica, which upon being held in various lights displayed charming rainbow tints."
The opals are sent chiefly to Melbourne . Buyers come from there periodically and frequently purchase thousands of pounds worth at a visit."
I will leave the story here as the post is getting a bit long.
I hope you enjoyed the short story as much as I did. It is wonderful to read about the early days at the opal fields from someone who actually visited them when they were thriving. Today the town is much smaller and opal mining is greatly reduced.
Johno
---