White Cliffs
White Cliffs is famous in Australia as an Opal Town but it is also unique for another reason. It was the site for world's first experimental solar station for supplying power to small outback towns.
In 1979 New South Wales was experiencing major political problems. Premier Wran believed that a major environmental project for the state would improve his party's popularity and he had in mind a likely project. The oil crisis in the 1970's had everyone talking about alternative fuel sources so the time was ripe for a solar energy trial.
At this same time a professor Stephen Kaneff, from Austalian National University, had proposed a project to build a solar energy station in a remote part of Australia in order to provide power to a small town. The preferred site was Fowlers Gap but the premiers office preferred White Cliffs and a subsequent grant of $800,000 was made for the project. It was chosen, in part, because it held the record for the most extreme range of temperatures in Australia. Why is it that gems are found in such places?
Being an opal town, the population varied depending on the season and whether opal was being found or not. The 1986 census indicated 207 people in 102 dwellings. There was no power to the town and houses were powered by individual generators. The proposal was to be purely expirimental and was to last only two years, during which time it's feasibility would be tested. It did, in fact, last 11 years.
The power station consisted of 14 parabaloidal dishes each covered with 2,000 small mirrors. each dish was about 20 square metres in size. The dishes were designed to follow the movement of the sun thus producing maximum available power at all time. They could also operate individually or in unison. The mirrors concentrated the suns rays so that water was heated to produce high temperature, high pressure steam which powered an engine to drive the generator. There was also a large storage battery which would also drive a shaft connected to an alternator which generated 50 Hz of alternating current. This was connected to the local grid to supply power to most of the town.
The total power supplied was 25 kw so there was a limit imposed to each customer.
In 2006, the White Cliffs Solar Station was declared a National Engineering Heritage site. It had been decommissioned in 1994.
If you want to know more of the details look at the Express Anu site. It is a very detailed report on this project and well worth the read if you interested in the development of solar energy.
All of this sounds very technical and boring, and it would have been for me too but I was lucky enough to meet the Bill Finney, the New Zealand Engineer , who was responsible for looking after the solar panels after it closed down. I was at the Nunawading Lapidary Club one evening, polishing opals, when I met another opal cutter. We got talking as you do at these clubs and he told me his father lived at White Cliffs and that he often went up there to dig for opal with his father. He also mentioned that his father was Bill Finney and that he had the job of maintaining the solar Panels which were one of the tourist attractions at White Cliffs. I said we were heading up that way soon and he suggested I call in and see his father.
Not long after, Barbara and I headed off on one our trips which often get diverted to at least one of the opal fields. We headed off to Broken Hill, another very interesting town with great mining history as well as artistic merit with Pro Hart having lived there. From Broken Hill there is a very good sealed road all the way to White Cliffs, so it was no real effort to head ther, which we did. There is a nice, though basic, camp ground at White Cliffs so we were quite comfortable in our stay there. There are also all the basic necessities, such as fuel, food and of couse the pub. There is even a golf course which, while a bit different from your normal course, is still worth a game, but don't use your best clubs or balls. It is a bit rough.
Anyway, we went along to the demonstration at the solar power station, which is located in the centre of the town. Bill Finney was running the sow where he lit some rags from the sun's rays focused from one of the mirrors. It was quite spectacular and Bill was very good at showing us all how it worked. We introduced ourselves to Bill after the show and he was very friendly, inviting us back to his dugout to meet his wife. He talked a lot about White Cliffs and his involvement with the power station and we were very disappointed that it was not supplying power to the town anymore. Bill explained it was just not big enough and it had only been an experiment to see if the process would work in outback towns.Below is a photograph of Bill Finney with his dog and the solar station in the background.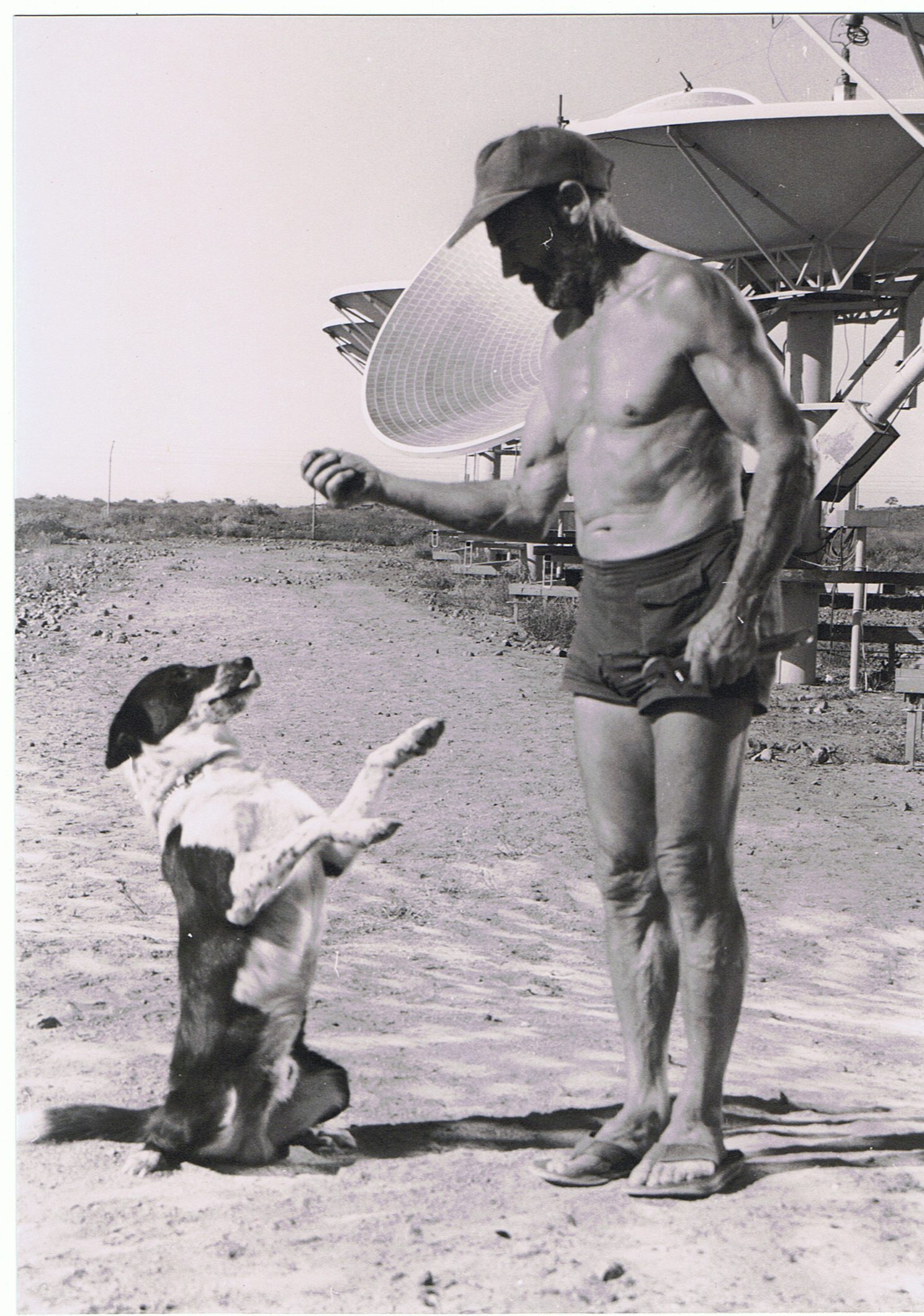 While we were there Bill showed us his latest project. His wife needed a new sewing room so Bill had proceeded to build her one. Living underground has its advantages, Bill used his jackhammer to excavate anther room, carting the excavated material out through the living room in a wheelbarrow and dumping it outside. In no time he had constructed a very servicible room and kept the wife happy. Below is a photograph of Bill excavating the sewing room.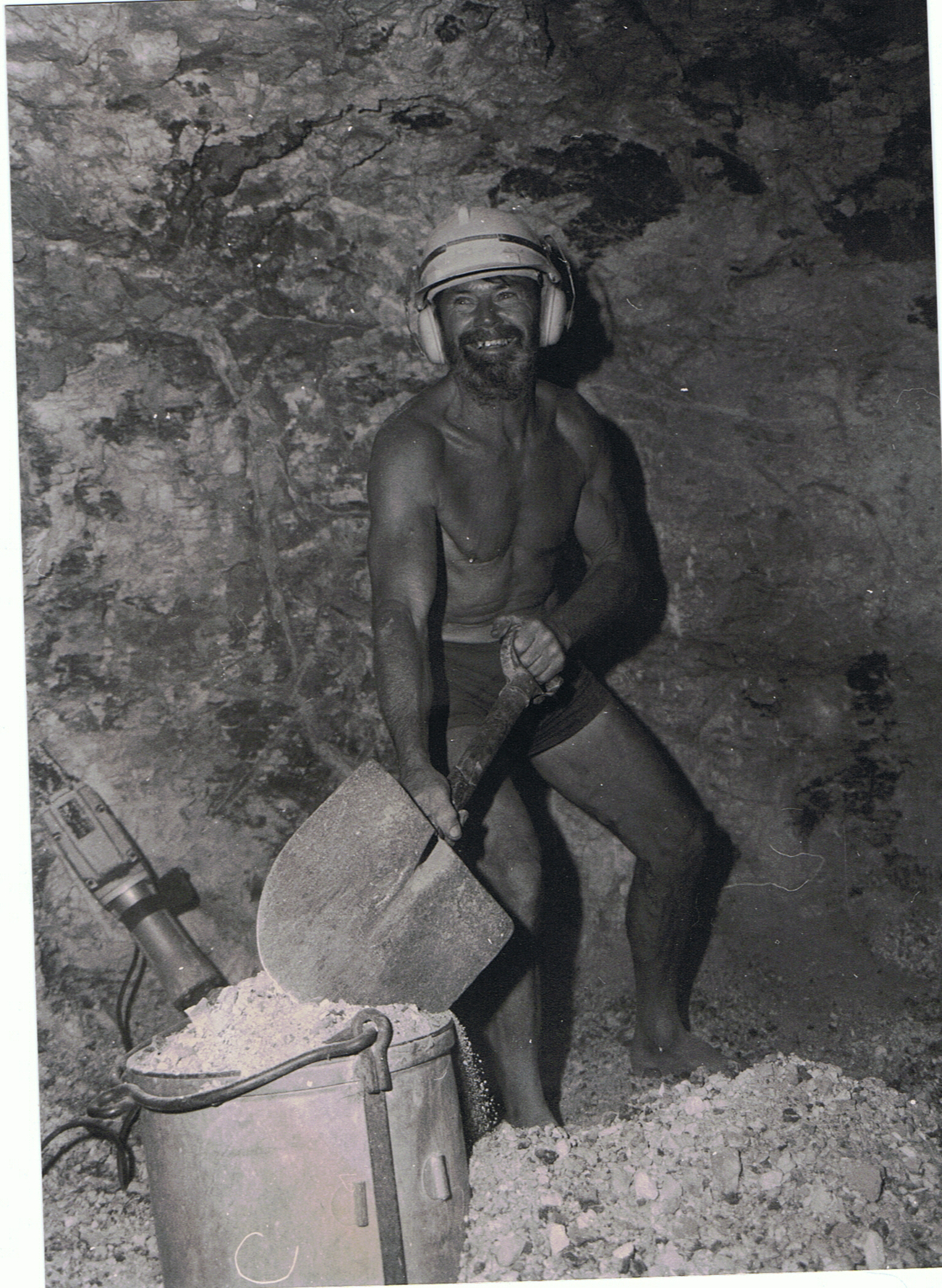 Bill was a very genial man with an amazing body. He obviously kept very fit opal mining in his spare time. he was around 65 at the time we met him but looked much younger.
An interesting hing happened while I was there. A German company was in White Cliffs working on a story about opal mining and wanted to take photos of an opal miner in action. Someone had suggested Bill so they had turned up at his dugout at the same time we were visiting. Rather than taking them to his mine they decided that the best photos could be taken in his partly excavated sewing room, so they set everything up in there as there was plenty of room. After taking several photographs they decide it would look better if there were two opal miners in the photos. So guess who was included? Yes, me. Someone who had never mined for opal in his life and now, somewhere in some German magazine, I am famous as a White Cliff's miner. So never believe everything that is in a magazine. Below is a photograph of "Johno the Opal Miner" as viewed in the German magazine.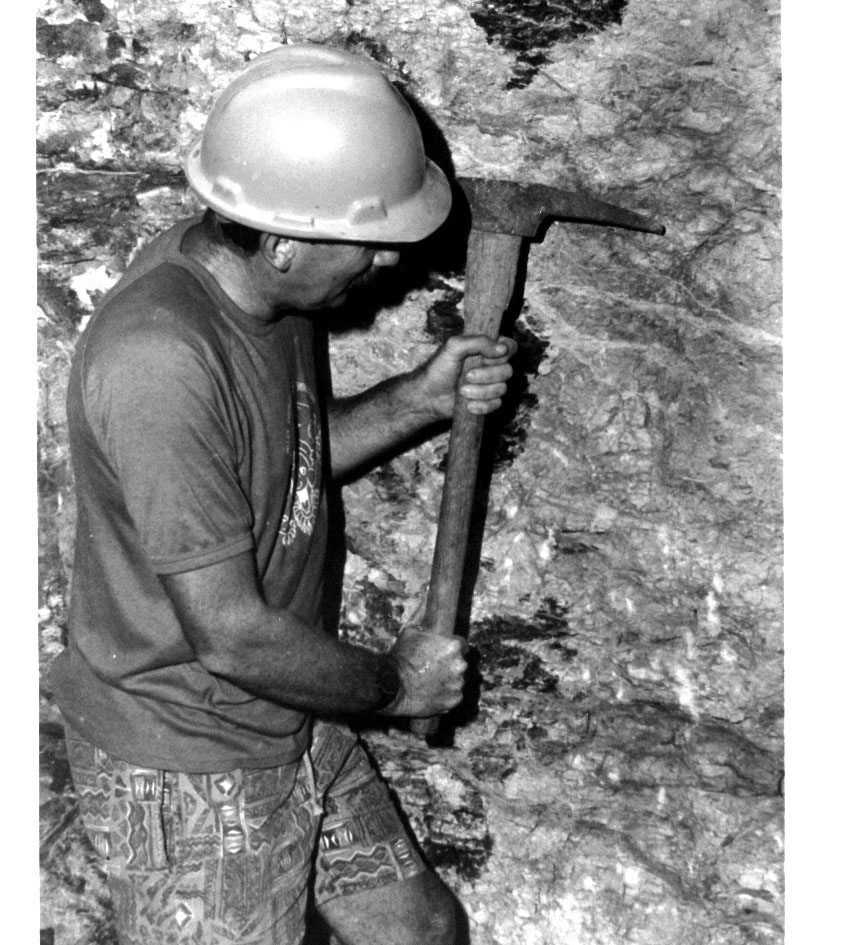 That's how we met Bill and enjoyed his family's company for a short time. We did visit one other time when I bought a small parcel of opal from him but the last time I visited he had gone to Broken Hill to live. I am sure he would have been missed, both for his generous nature and showmanship as well as his knowledge of the power station.
In 2014, a neighbour of Bill's, in Broken Hill, contacted me and advised Bill was still alive and well and planning a trip down the Murray in his improves 33.6 metre long tinney. He has converted his aluminium boat into a mini houseboat complete with toilet, stove and and solar panels and plans to set off in 2014 on his trip. Not bad for an 85 year old. Bill is also famous in the outback as a saxaphone player and apparently is known as "Busker Bill". He raises money for the Royal Flying Doctor Service and will play at functions if requested. I am not sure how you can contact him now as he has sold his house at Broken Hill. Keep your eyes open if you are near the Murray River. You may see or hear him on his new adventure.
In 2016, an article was published by the ABC regarding Bill and the White Cliffs Solar Station. Please see below.
Johno
---