Lightning Ridge Opal Field
There are many interesting things to see and people to meet at Lightning Ridge and indeed at any of the opal fields. These towns are unique and have attracted a great diversity of characters. I don't think we have visited any of the opal towns without meeting people with a different outlook on life. People obviously move to these places to escape the mundanity of life in the cities. Certainly out here you can pursue any lifestyle you want. You can build a castle, you can become a recluse, you can paint, build sculptures, write poetry or even mine for opal. It is all here to inspire you.
Richard Athens
On this trip, following the Green Car Door Tour signs, we met Richard Athens who has created at his camp, unique (forgive me for using this word a lot but there is a lot of uniqueness here) forms of sculpture incorporating tree branches, stumps, other things and opal. These are spread around his camp and mine and he encourages people to stop and check them out and have a chat. The first few photos show some of his creations.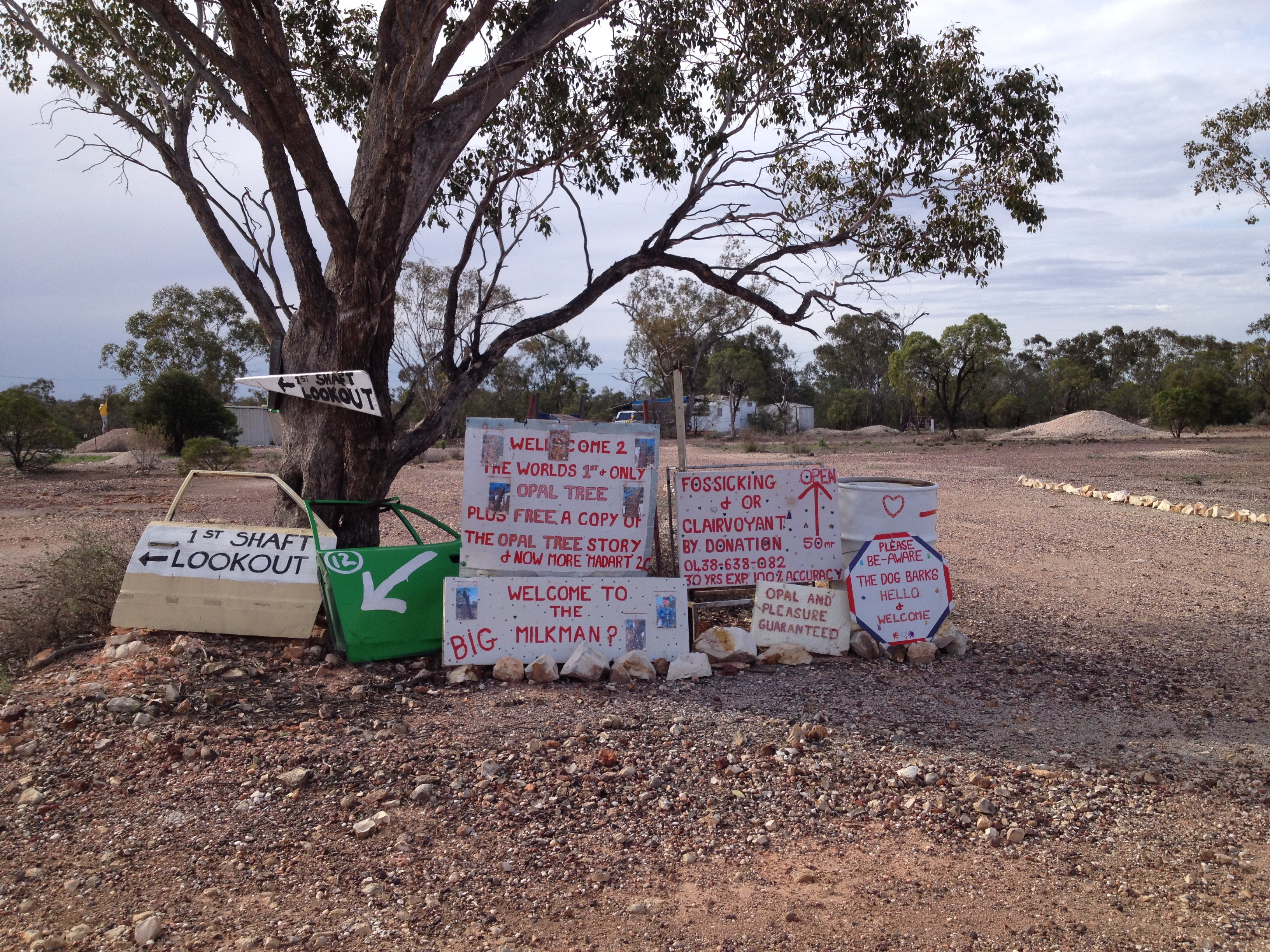 Signs at Richard Athens Camp
You certainly know when you have arrived at Richard's camp. Location 12 on the Green Door self guided tour.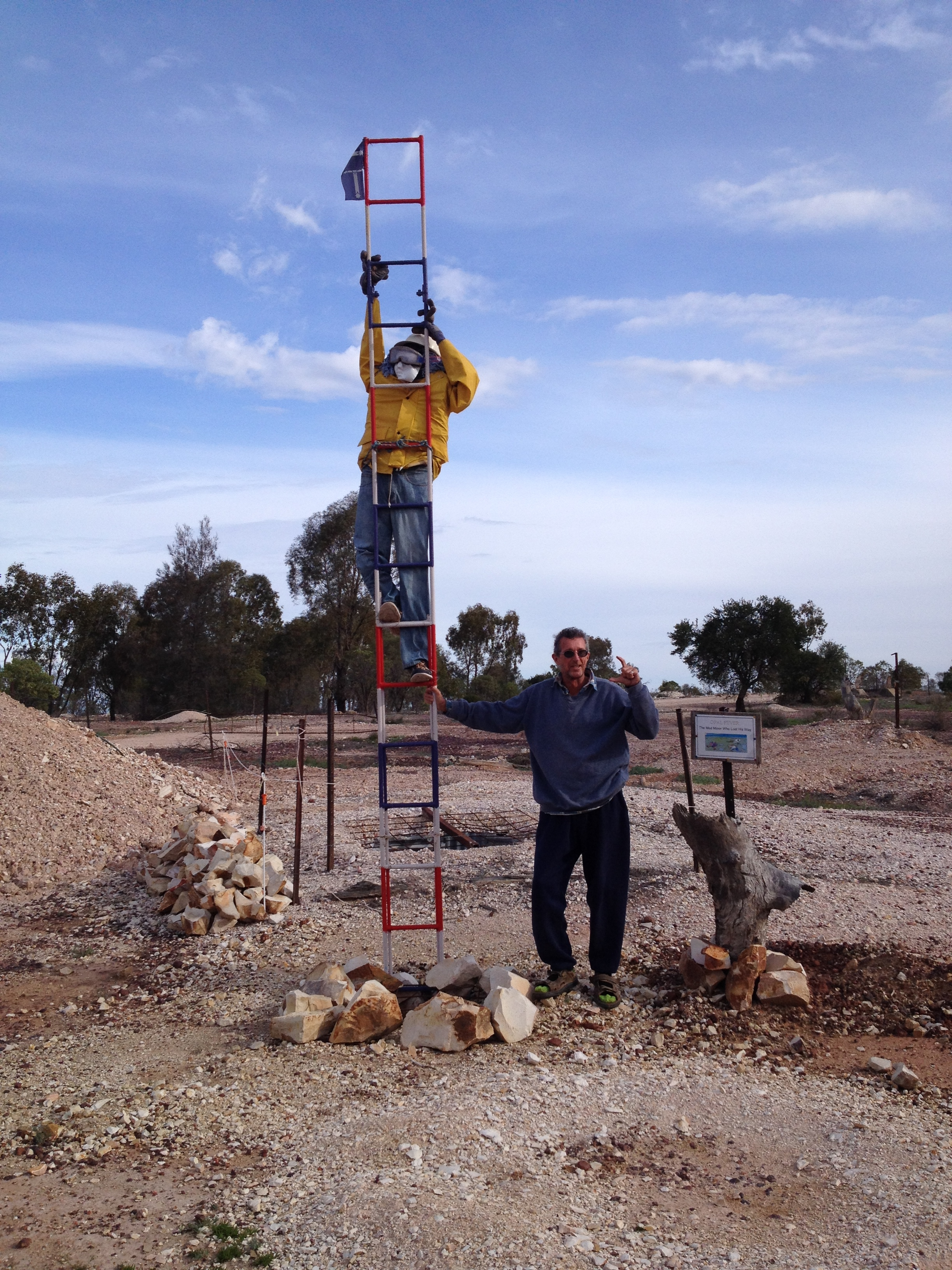 Oops Wrong Way
That's Richard on the ground. Not sure who it is on the ladder but he is there a lot and obviously doesn't know which way is down.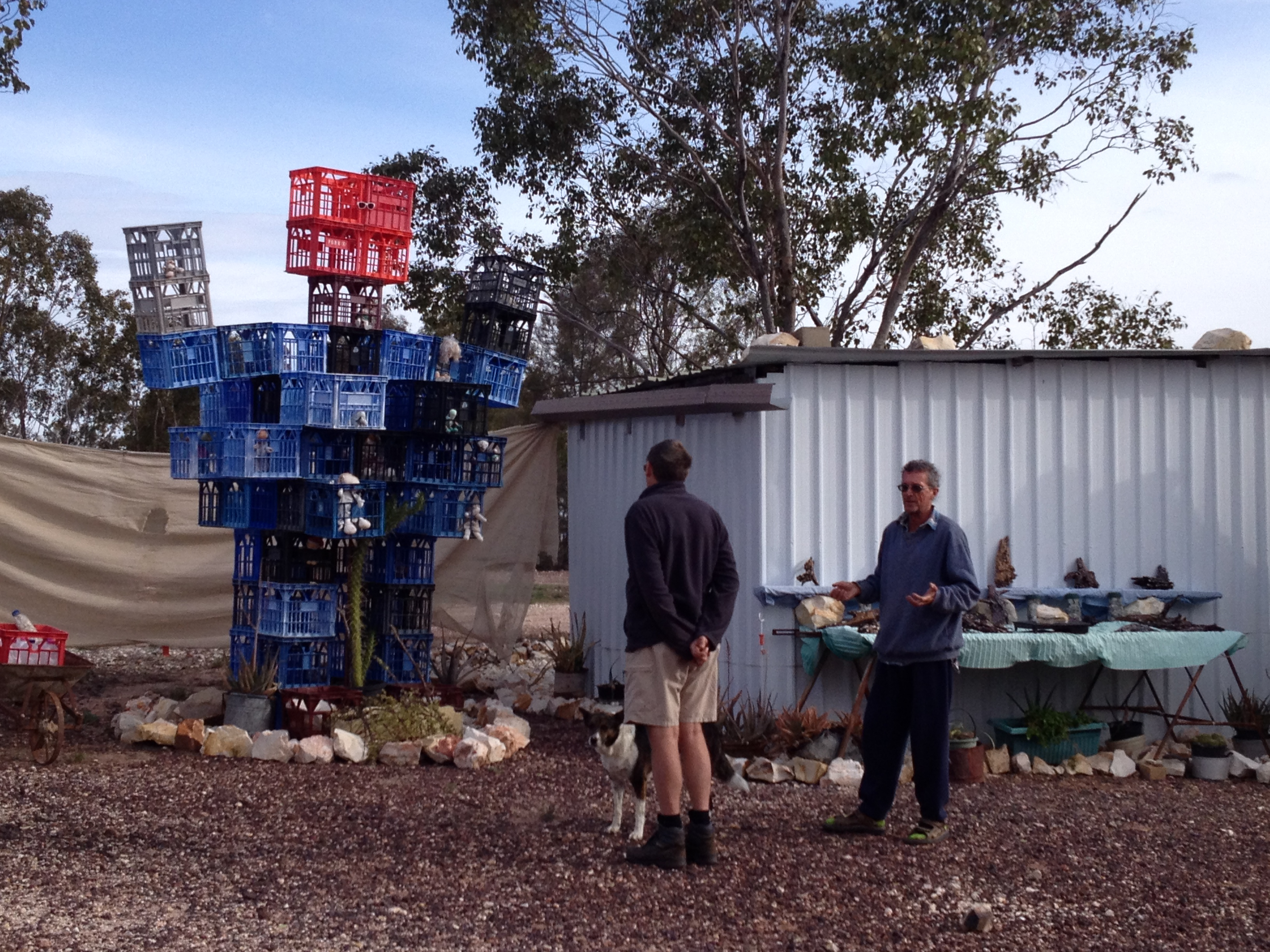 Another fascinating sculpture.
Richard did tell us the story about the milk crate structure but I didn't write it down so you will have to ask him about it when you visit.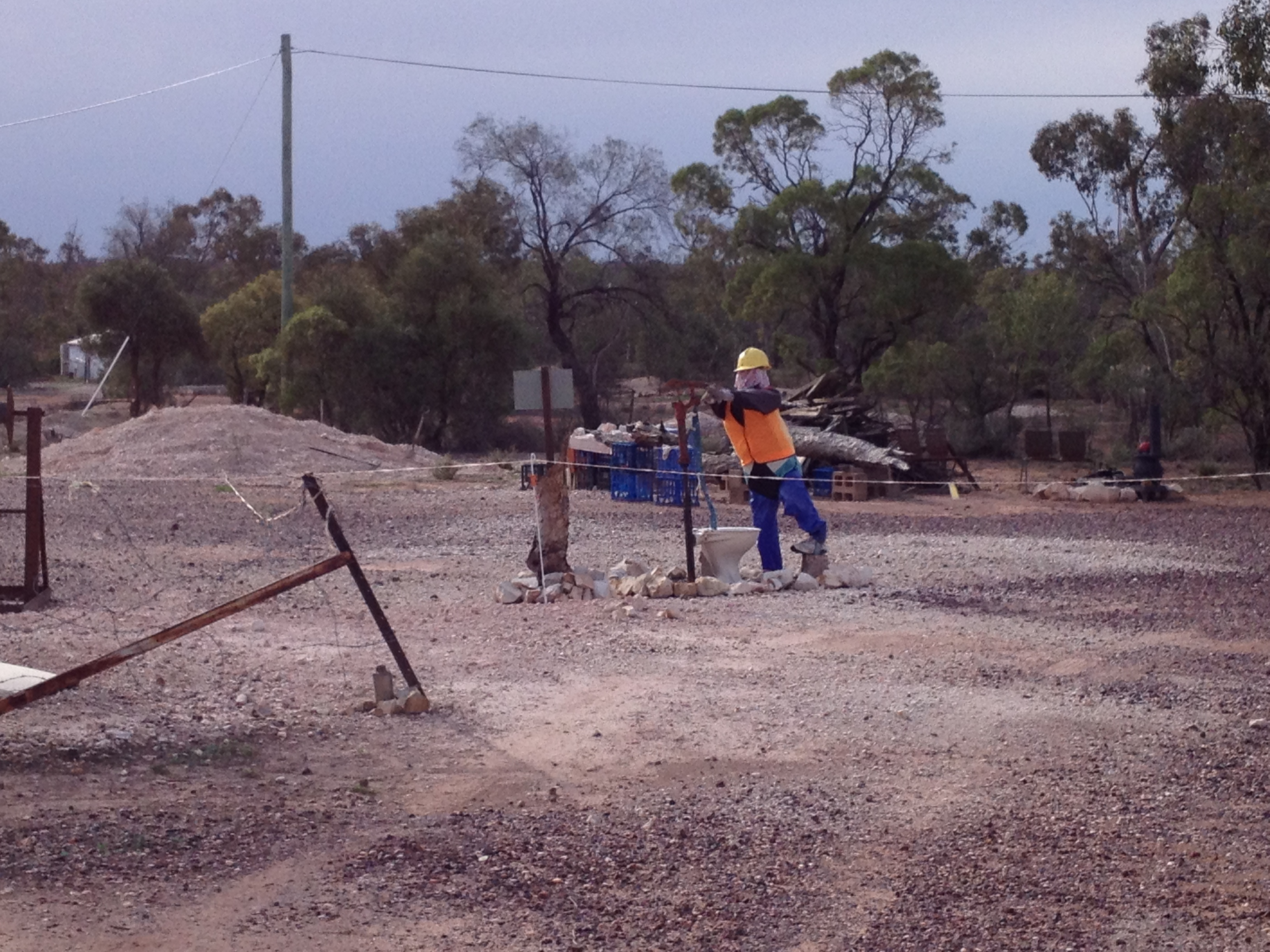 Another strange sculpture
I don't even know if there is a story about this one but I am sure there would be.
Richard is quite a character in himself. Working as an academic he decided he had enough and wanted a different lifestyle. He bought a horse drawn wagon and horses similar to those gypsies use. He then set off on a 3000 km trip around part of northern Australia stopping wherever he felt like. After some time he completed another long trip and then finally decided to settle down. So he came to Lightning Ridge. Unfortunately his wagon was stolen so we didn't get to see it but we did see a newspaper article on him.
Richard spends some time opal mining now but his main passion seems to be in finding suitably shaped stumps and logs and coating them with a resin and pieces of opal. They all have a story and Richard is quite keen to explain their meanings.
Opal Tree
While we were there Richard showed us a publication by Paulina Garces entitled "The Opal Tree". and assured me it would be ok to share it with any of the readers of this post. Here it is.
Once upon a time in the North Western region of New South Wales, in a town called Lightning Ridge, there was a big tree. This tree was a bit different from all the other trees that were around it. The tree had a big heart and it wanted to do something for others. It was usually asking itself what its purpose in life was, because it was not happy to be just another tree in the middle of the opal fields: it wanted to feel complete.
The opal family was composed of little opals and potch of a variety of shapes and forms. Some were dark potch and some were full of different colours in the shades of greens, purples, blues and reds and some of them were crystal.
One night while the place was becoming silent, as everybody was preparing themselves to go to sleep, something strange happened. Suddenly the big tree in their backyard started to talk to them. "Listen for a minute" it said, "I have an invitation to you all. I have plenty of room up here and I thought if anyone wants to be in a different place and change their view, you are welcome to come up".
There was a few minutes of silence as everyone pondered the proposition and then everyone started voicing their opinion in a low voice, until Mr Opal in his grave voice, strongly protested and said: "We have always been left on the ground after the miners dug us out from our primitive home underground, and now that we have got used to living on the surface, you are making us an invitation, so we have to adapt to a new way of life again? I do not think so!" "It is ok my dear?, Mrs Opal said, "This is your opinion and it is fine, if this what you like and you are happy with it"
There was silence after that until one of the little potch said: " I would like to climb up the tree, it must be interesting to be up there". Another one replied: "I agree with you. I would not mind having a change in my life and I feel that I am ready for it". "Life from there must have a different perspective " added another one enthusiastically.
Mrs Opal said: "Ok, we have all had a long day and I want everyone to go to their beds and have a rest." Then all the little potch went silently to bed. That night when they were in bed, although some of them had their eyes closed, they could not sleep. The invitation of the tree was present in their minds and there little hearts were pounding with excitement. For some of them, the thought of being able to see more clearly and broaden their horizons was almost too good to be true. It was a chance of a lifetime and they did not want to waste the opportunity.
In the early hours of the morning, they gazed into their parents room and saw that they were still sleeping soundly. Quietly they had a conference between themselves. Some of them had made up their minds to climb up the tree. They started to discuss how they were going to do it. They decided to ascend up the tree, slowly and consistently. Each of them looked for a place that would accommodate them comfortably.
When Mr and Mrs Opal got up, they heard some of the little potch talking about what the others had done. They both ran out to check for themselves and there they were up in the tree. Mr Opal was upset and cried: "What have you done? " Mrs Opal said: "Calm down dear, they have the right to choose what they want to do with their lives. They are growing up very well and have to take responsibility for themselves. They have to follow what their hearts tell them to do. Why not ask them how they feel up in the tree?"
Mr Opal was quiet for a few minutes, and then he exclaimed: "How do you feel up there in the tree?" "I am fine here" said a little one, "I feel safe and secure". " I'd rather be up here than down there" replied another. "This tree is full of peace, full of joy and full of love. Can I stay up here dad?" asked one of the older ones.
After listening to the feedback of the little potch, Mr Opal was feeling more relaxed. He remembered when once upon a time, he was young and his heart was full of adventure. He also reflected that he was not doing anything that he really loved to do. He wanted to sing, but never did because he thought he was good enough. He did not do it also because he had a lot of fear and he did not know how to deal with it. At the time he was not even aware of how much fear had stopped him from turning his dreams into reality.
Suddenly a sense of pride embraced him as a father. His little potch were doing what he had not. Now he understood that they had initiative and courage. They were not focusing on limitations and he had to help them to achieve their goals. Somehow he had support their independent spirits and see them grow. Then he gently added "Ok, if you are happy living in the tree I will respect your wishes. I will let you follow your dreams and bless your lives. I know that if you are happy and content , I will have fulfilled my role as a father".
Mrs Opal walked towards Mr Opal, gave him a big hug and said "I knew that you would see the truth my dear. I'm so proud of you" Holding hands together, they looked up into the tree they saw the little potch happily smiling and shining. They had achieved something great by being there.
This is the way that the tree who wanted to help others became the Opal Tree. It felt that it had found its purpose in life by helping little potch to change their lives. It looked looked quite different to other trees around it as well. At sunrise and during the day its coat was brilliant and full of colours, like a rainbow. Many people came to look at it and they were amazed by its brilliant light. In all of Lightning Ridge or anywhere else in the whole world, there is no other tree, like the magnificent Opal Tree.
The opal tree takes pride of place in Richard's yard and would have taken ages to create unless you believe the above story. See for yourself.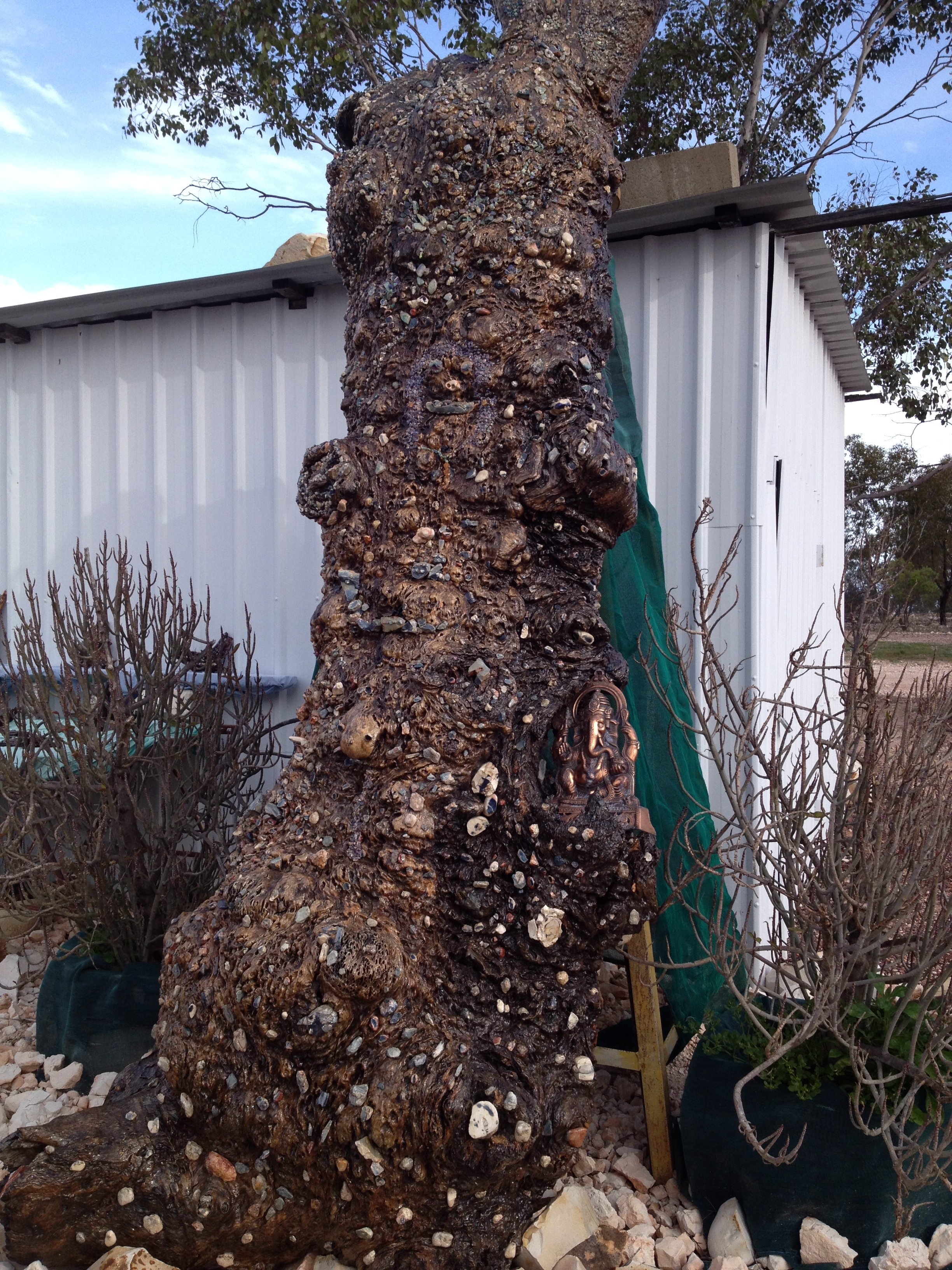 The Opal Tree
This is "The Opal Tree."
I can see all of the little potches and bits of colour but can't make out Mr and Mrs Opal. Maybe you can.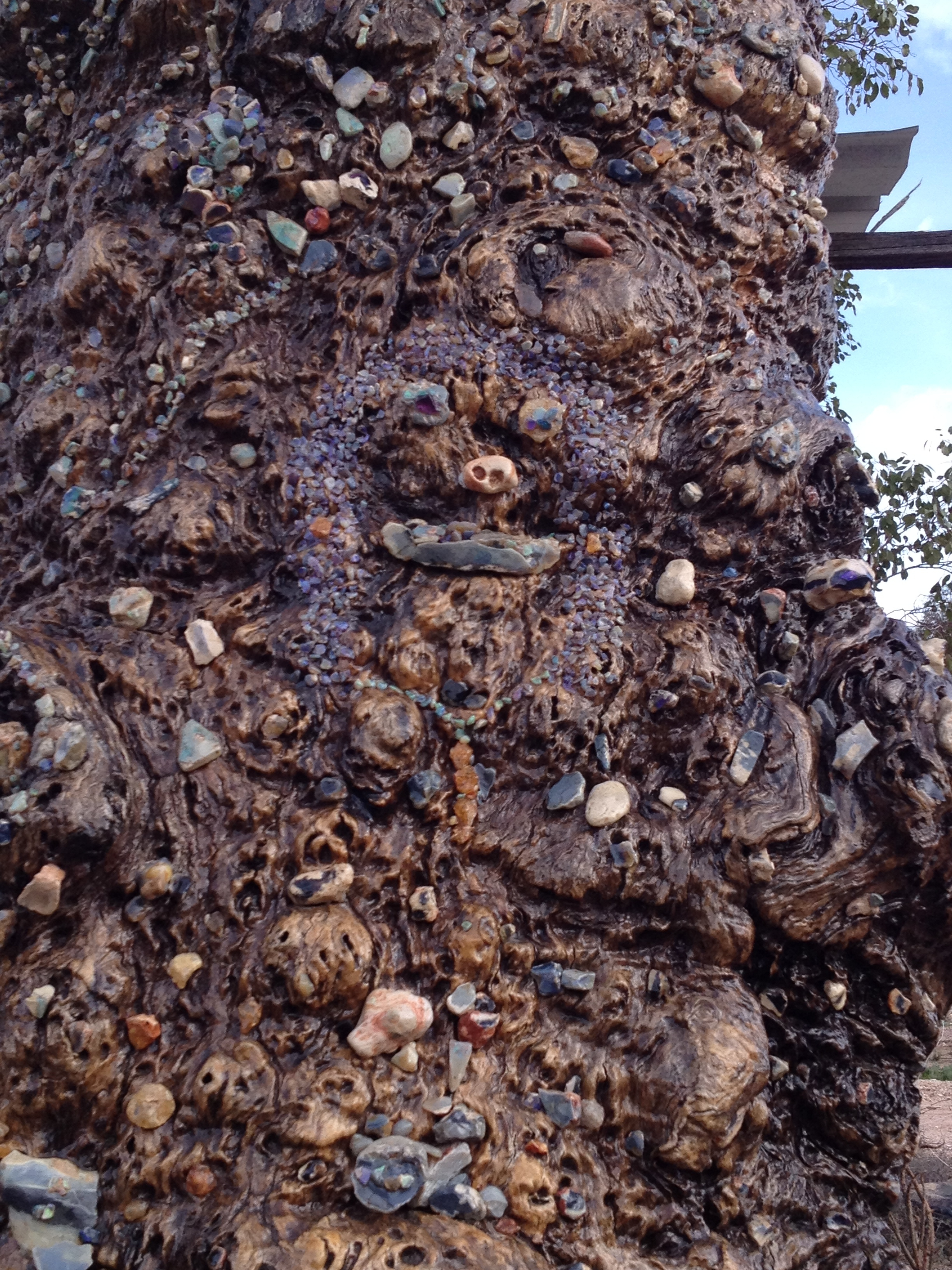 A closer view of "The Opal Tree"
That's a closer view but still no luck.
Richard was not satisfied just with the creation of his Opal Tree. He is now in the process of creating other fantasies from pieces of wood and opals. Here are some.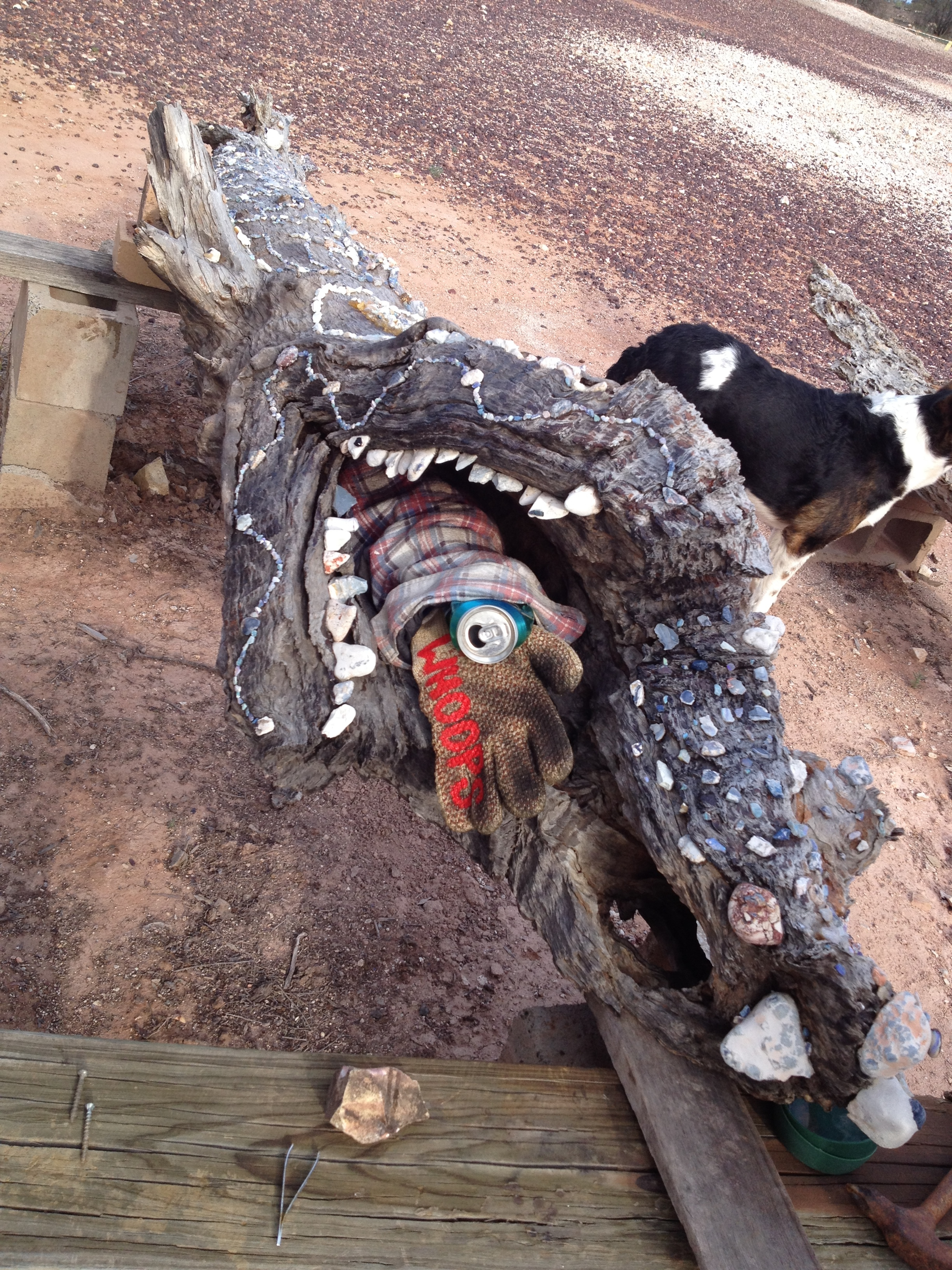 Crocodile following a meal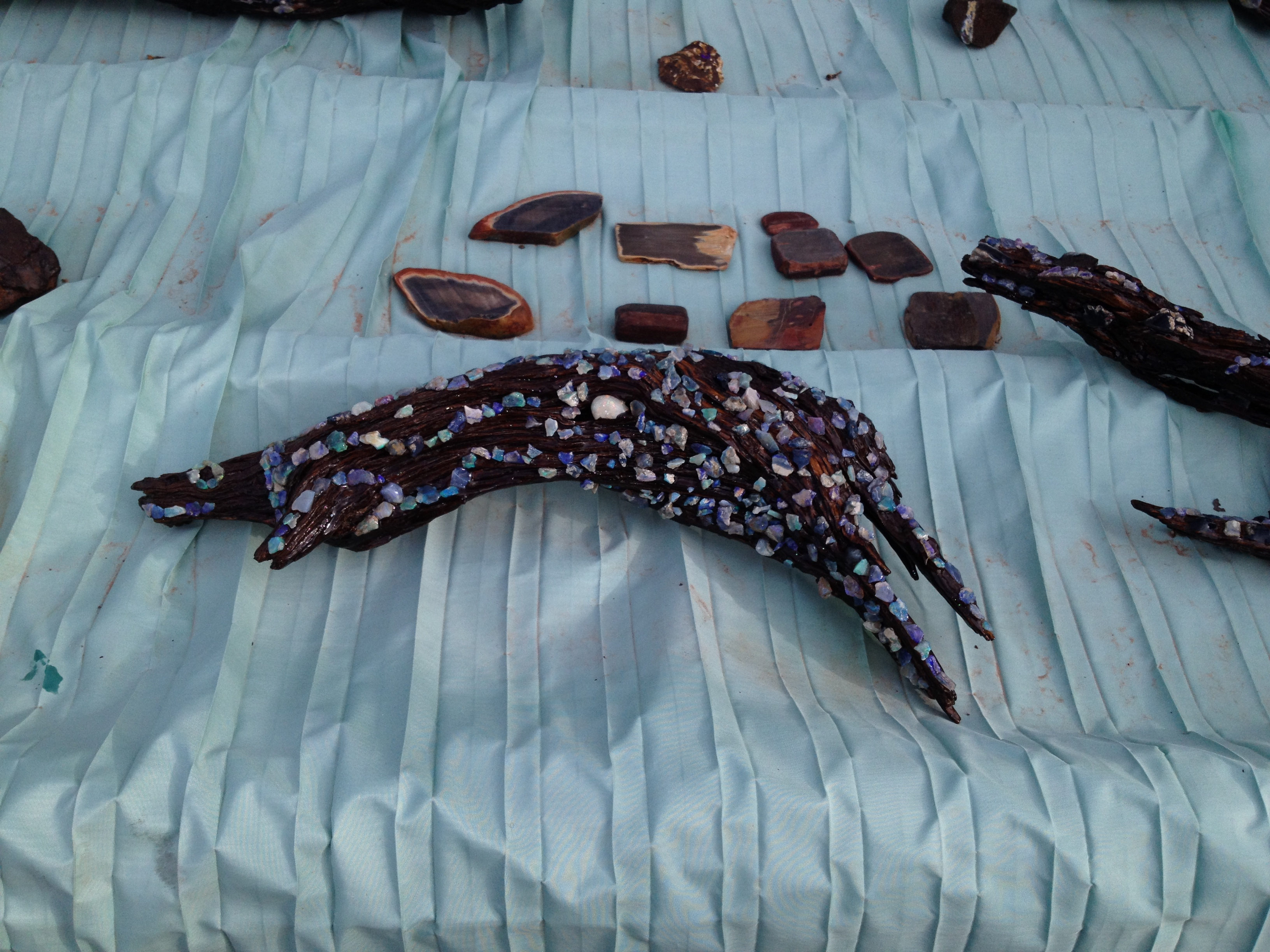 Miscellaneous sculpture
If you are a believer in Paulina's story or if you just like Richard's art work you can purchase them but there is no pressure.
We enjoyed meeting Richard and having a yarn. I am sure he has many more stories than he told us so it is worth a visit and chat.
Johno
---