It was October and we were off on another trip to Andamooka. Normally we wouldn't go there at this time of the year as the temperature can be well into the thirties but there was to be a memorial service for Brian Tansell, an old time miner at Andamooka, and we did not want to miss it as we had got to know him over the past 6 years.
We headed off along the Western Highway in the Hilux but without the caravan this time. We travelled light with a tent for shelter as we were going to stay with friends at Tickera and at Andamooka. The first night we stayed at Murray Bridge, a town on the Murray River in South Australia. We stayed at a nice old pub in the middle of town as we did not want to put the tent up until we had to. The next night we stayed in a cabin at Port Pirie and then headed off to Andamooka the next day. I love it when we leave Port Augusta and the vista of the Australian outback opens up. There is a vast view of red sand, mesas and buttes, and salt lakes and you seem to be able to see forever.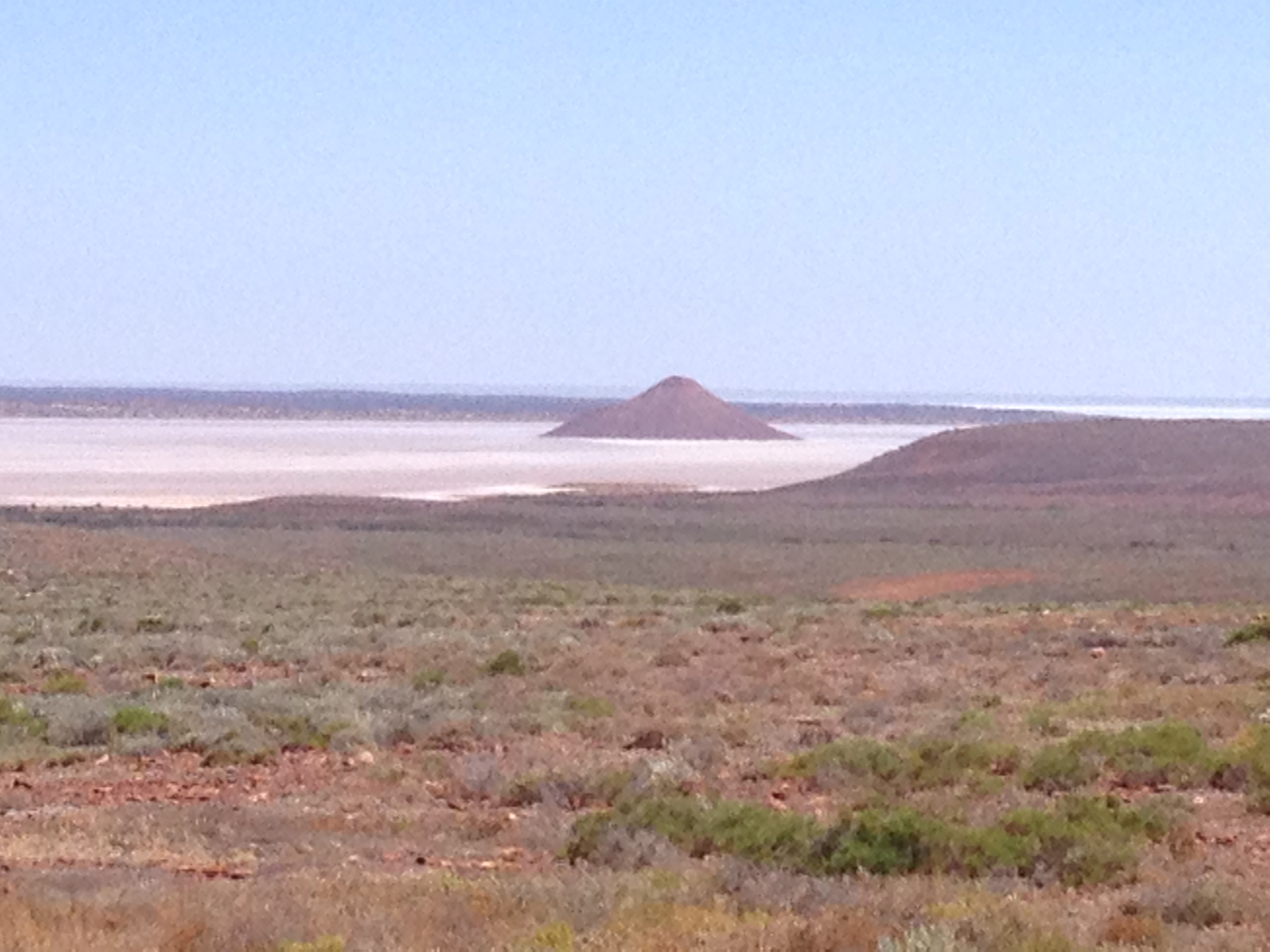 From Port Pirie it was only a four hour drive to Andamooka. Andamooka is changing slightly with the addition of extra parks and a soon to be completed water play feature for children, but the attraction of large areas of mullock heaps and ramshackle houses still remains. It is still one of the most different places you can visit in Australia with much of it built with no building regulations and a lot of imagination. Attached are a few shots around Andamooka today.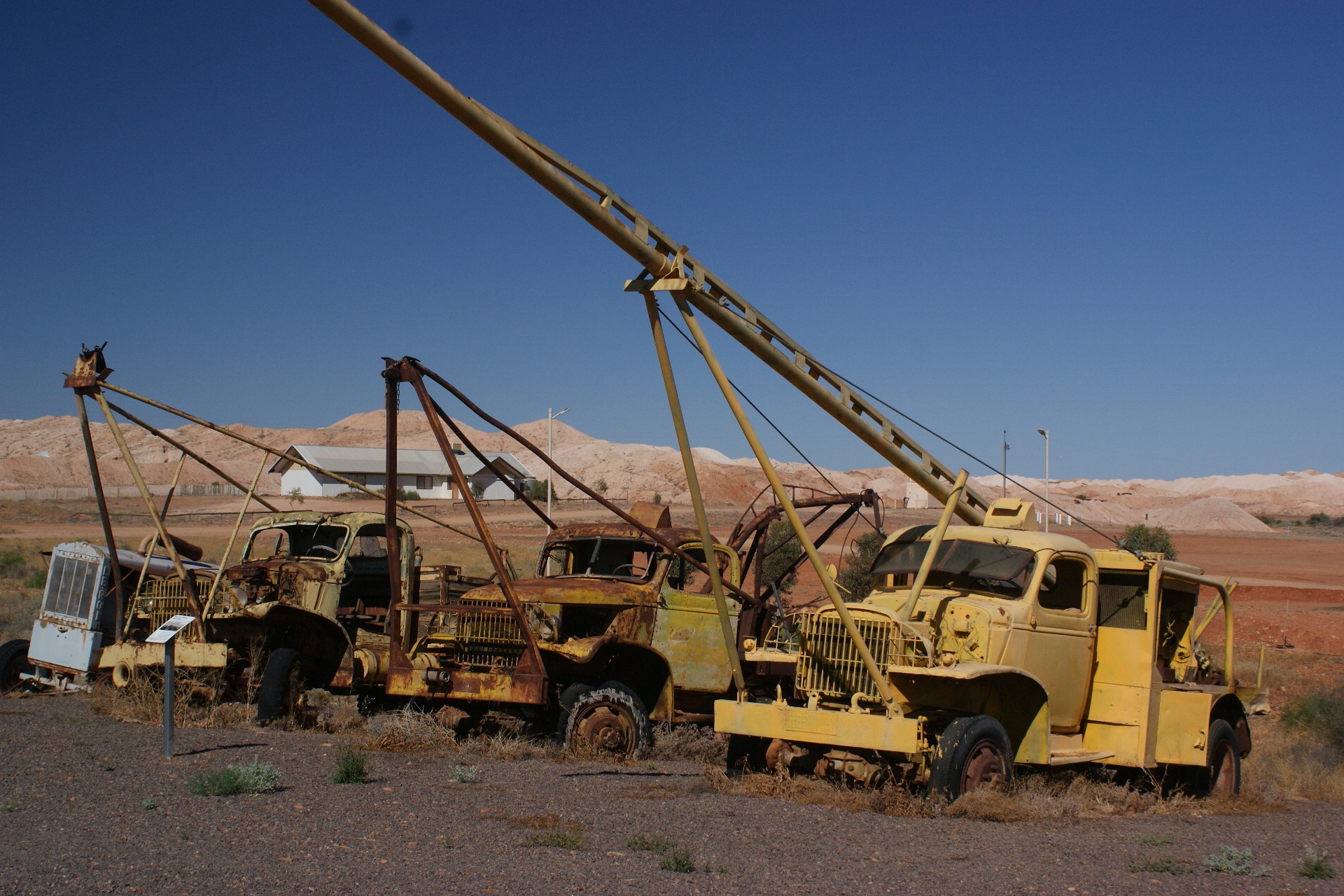 This is a photo of a camp just out of the Andamooka township showing the mullock heaps in the background and machinery used in more modern opal mining.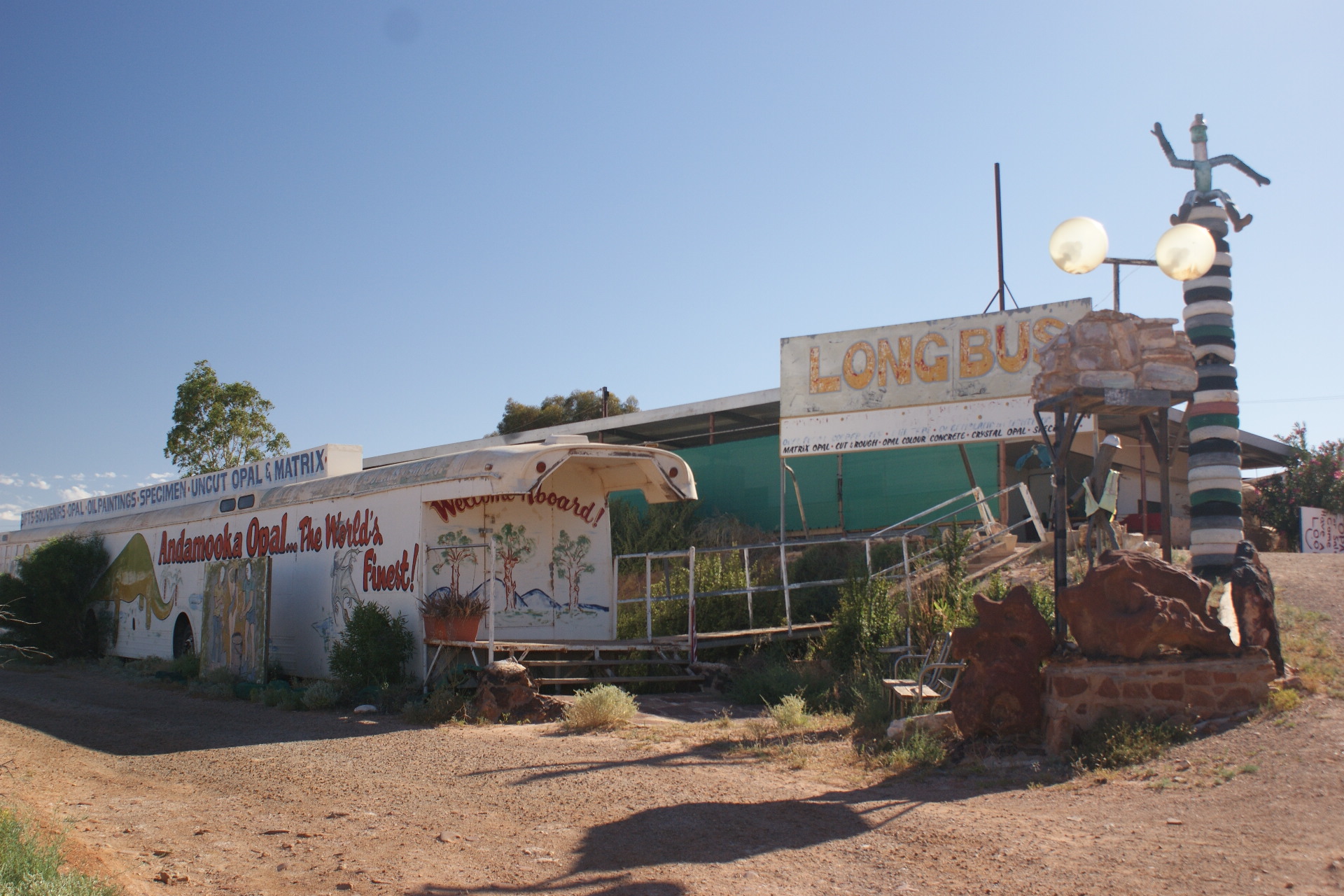 The Long Bus is still one of the main attractions here. You can inspect it and buy opal here as well.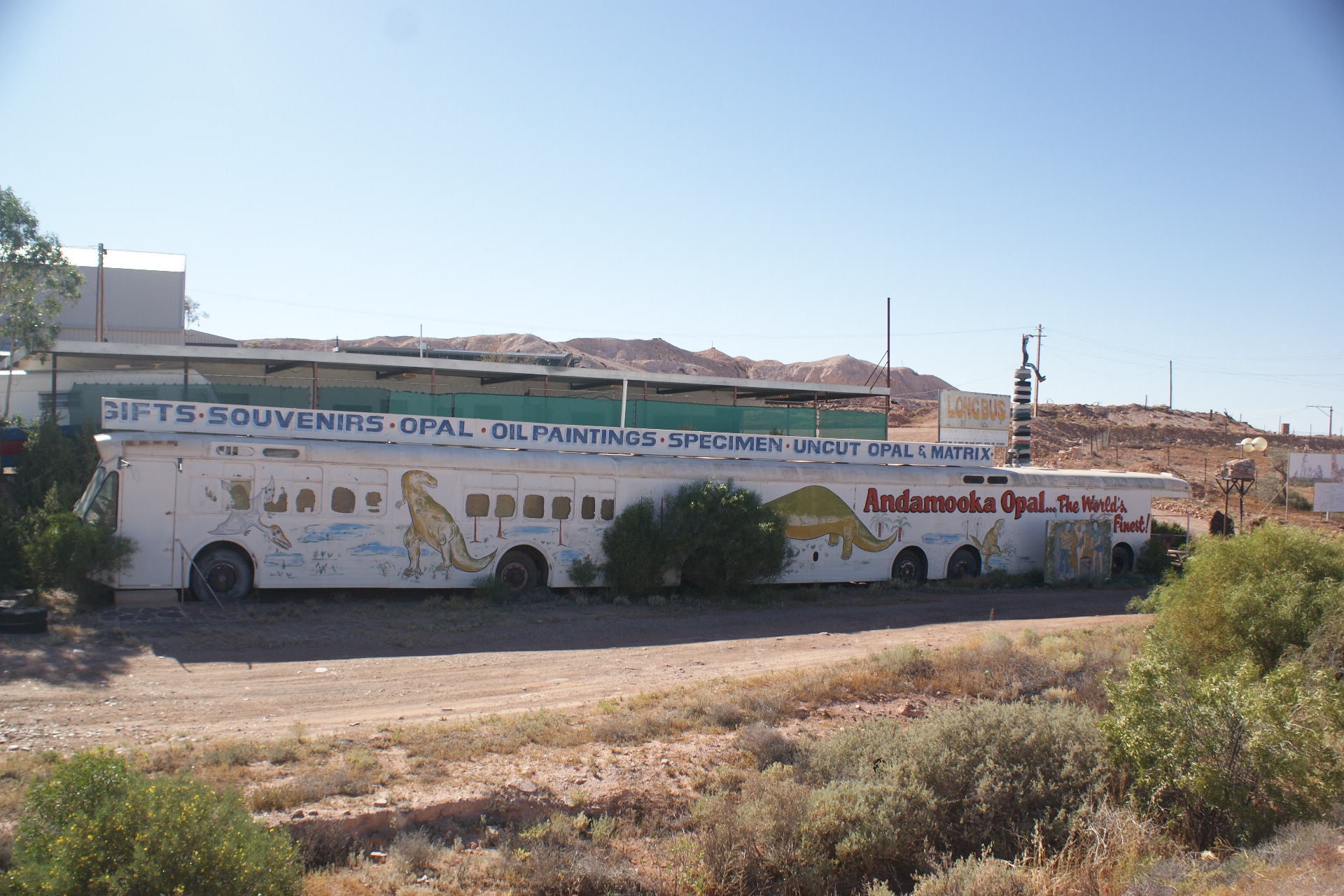 I don't think they drove it here.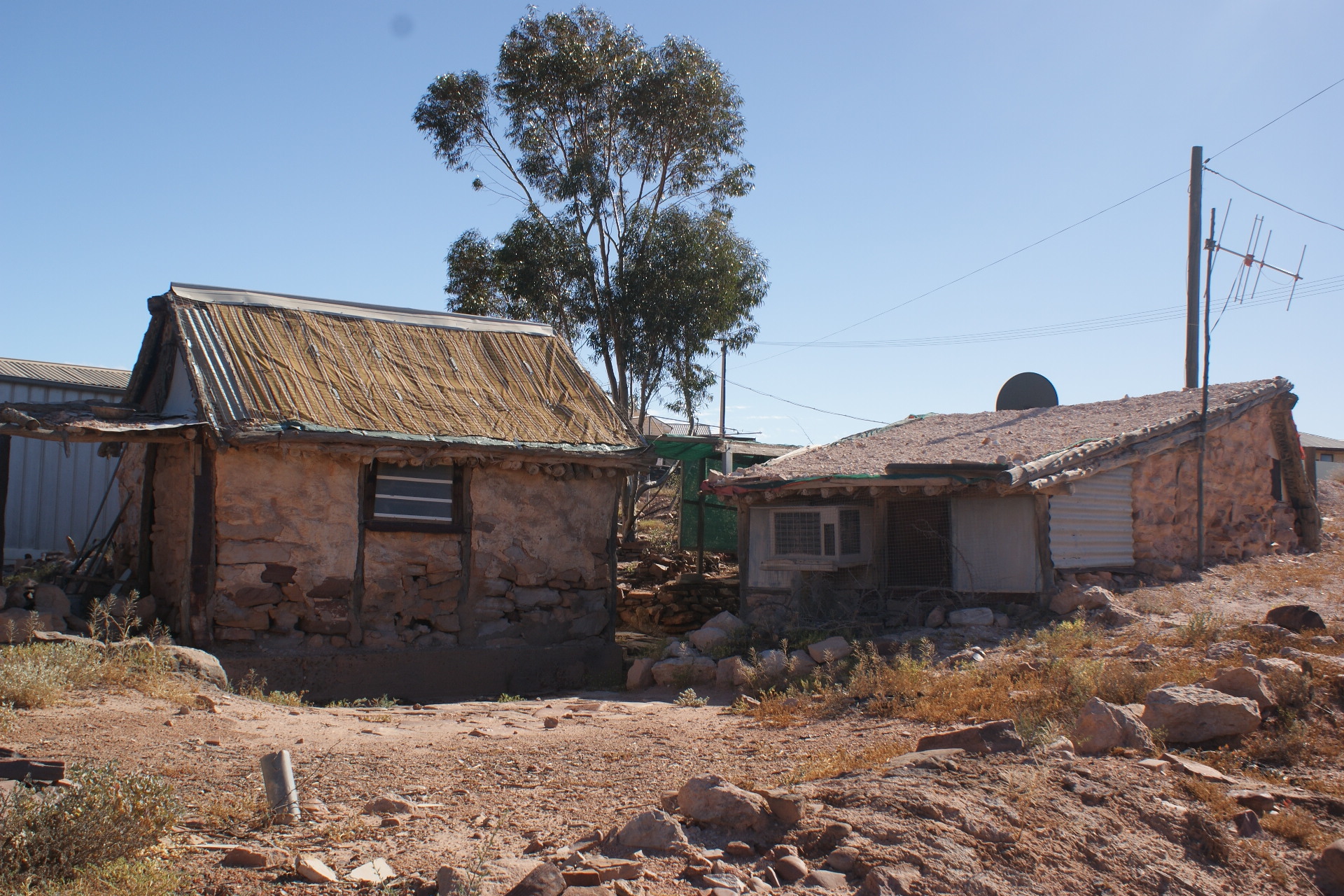 Some of the old houses still have a lot of character but I am not sure how comfortable they would be to live in especially in the summer, but the early miners survived quite well.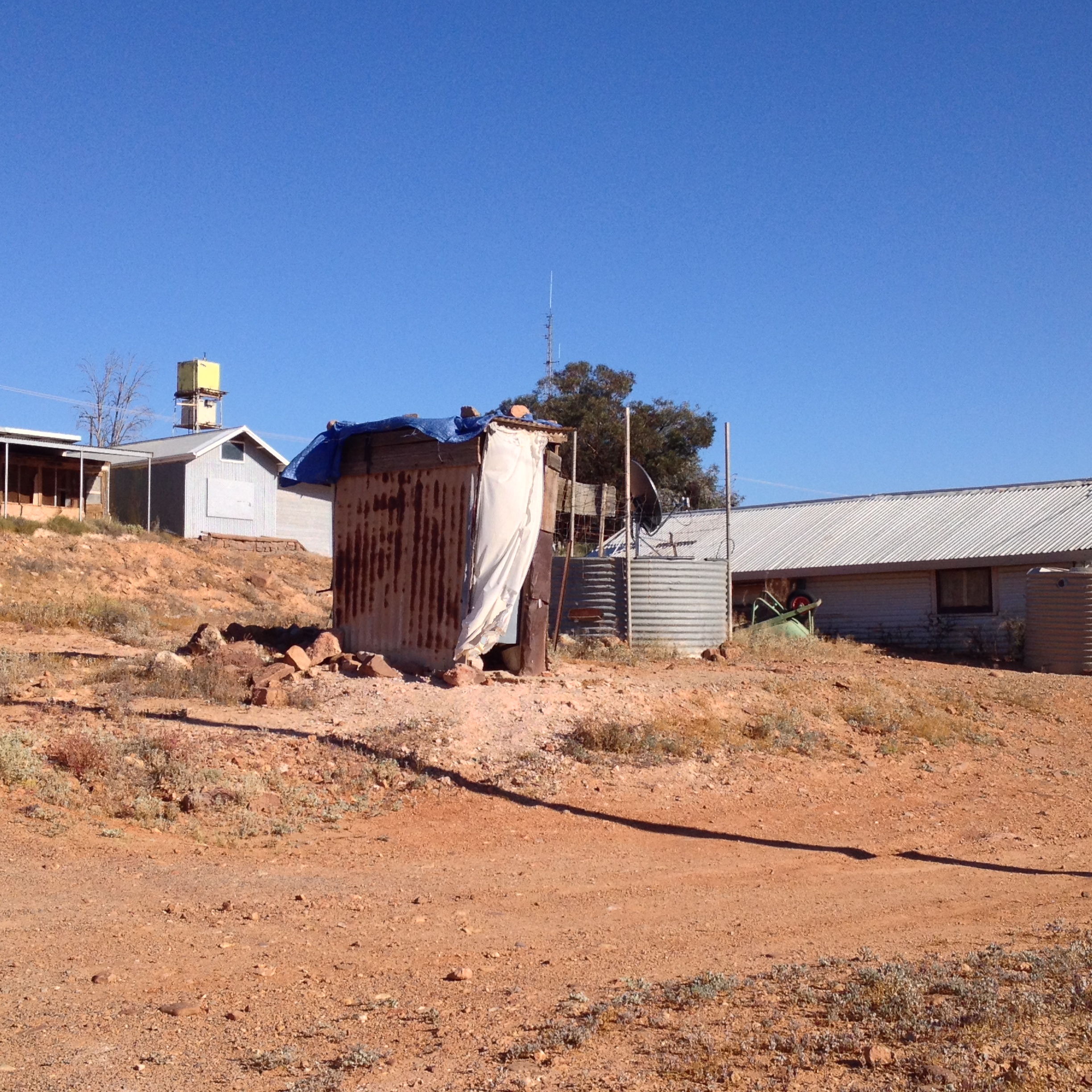 Some of the old dunnies (outdoor toilets) have seen better days but they are still standing despite the extreme weather conditions. Who says we need building regulations?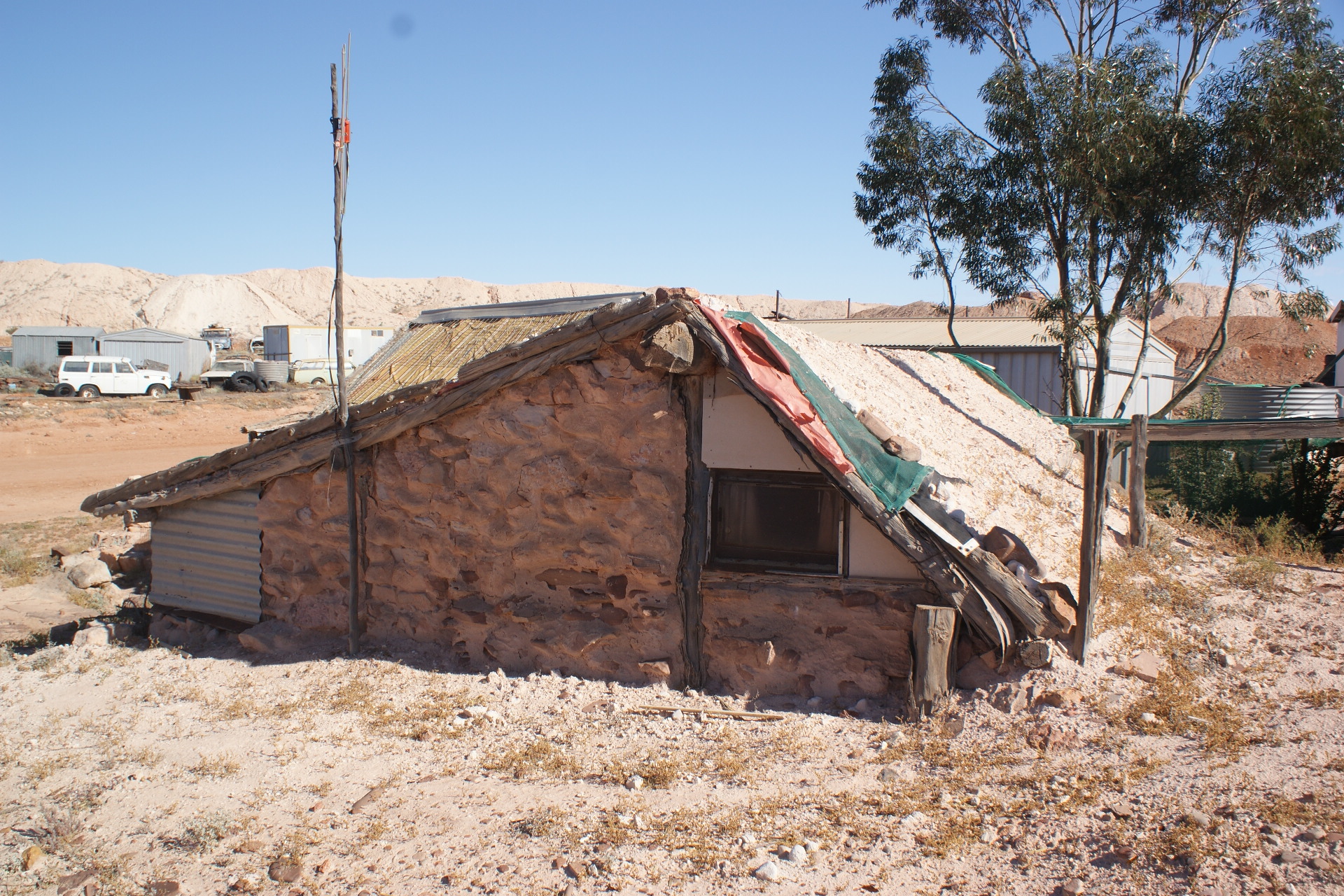 This is another of the old houses spread throughout the town. There are, of course, many newer houses in the town, many with all the mod cons including air conditioning and there are even a few sealed roads here. The charm to me is the fact that the new homes are interspersed everywhere with the old and often surrounded with old mining equipment and no-one seems to care. You can't see that in many places in Australia today.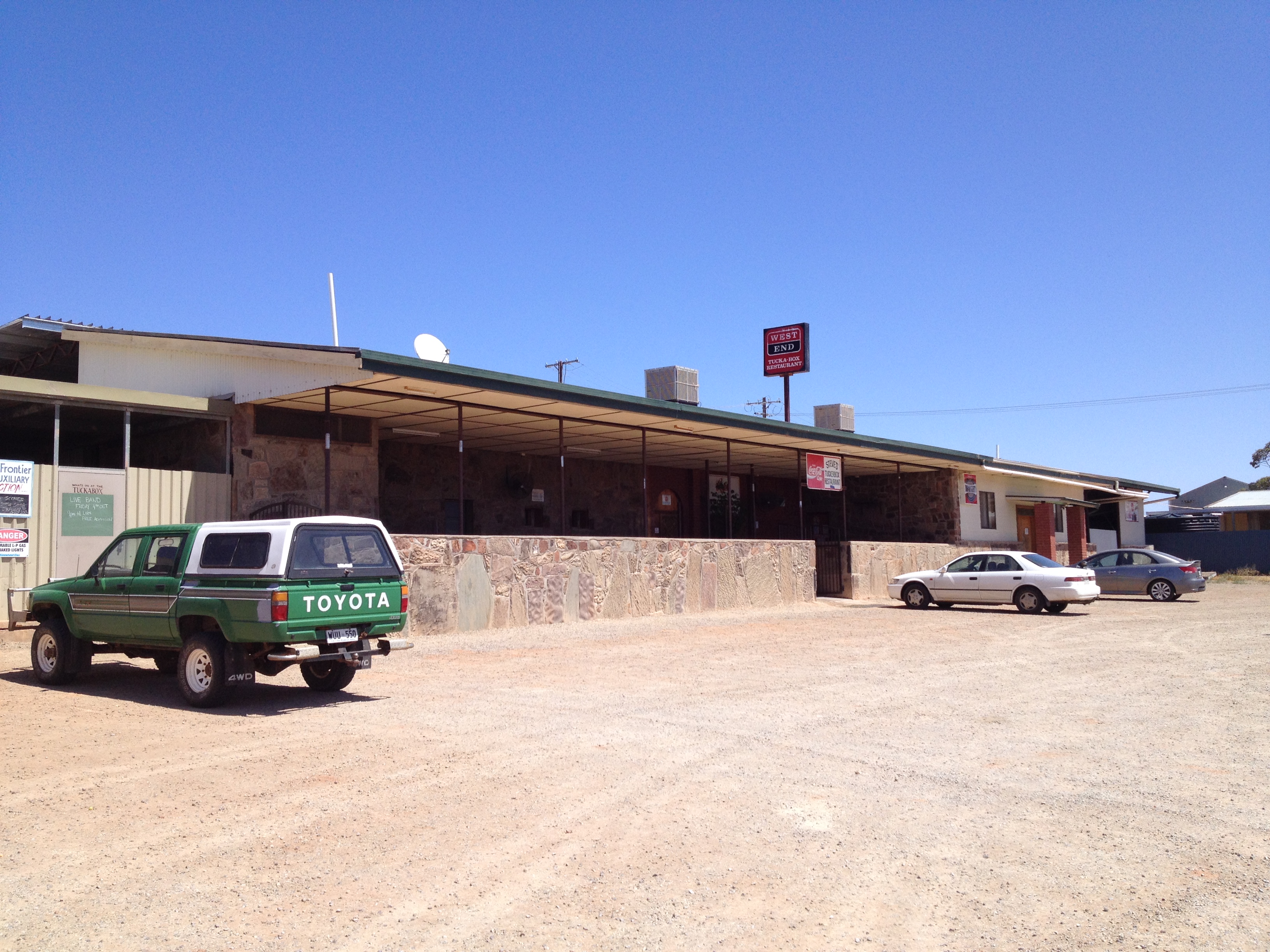 The Tucker Box Restaurant and Bar is still open but the Pub has now closed. The downturn in BHP's mining venture at Roxby Downs has had an effect and together with rising costs this operation is not viable at present. You can still get a meal (very large) and a drink at the Tuckerbox as well as getting food and drink at the Supermarket and a cafe near the campground. Fuel is generally cheaper in Andamooka than at Roxby Downs and Pimba.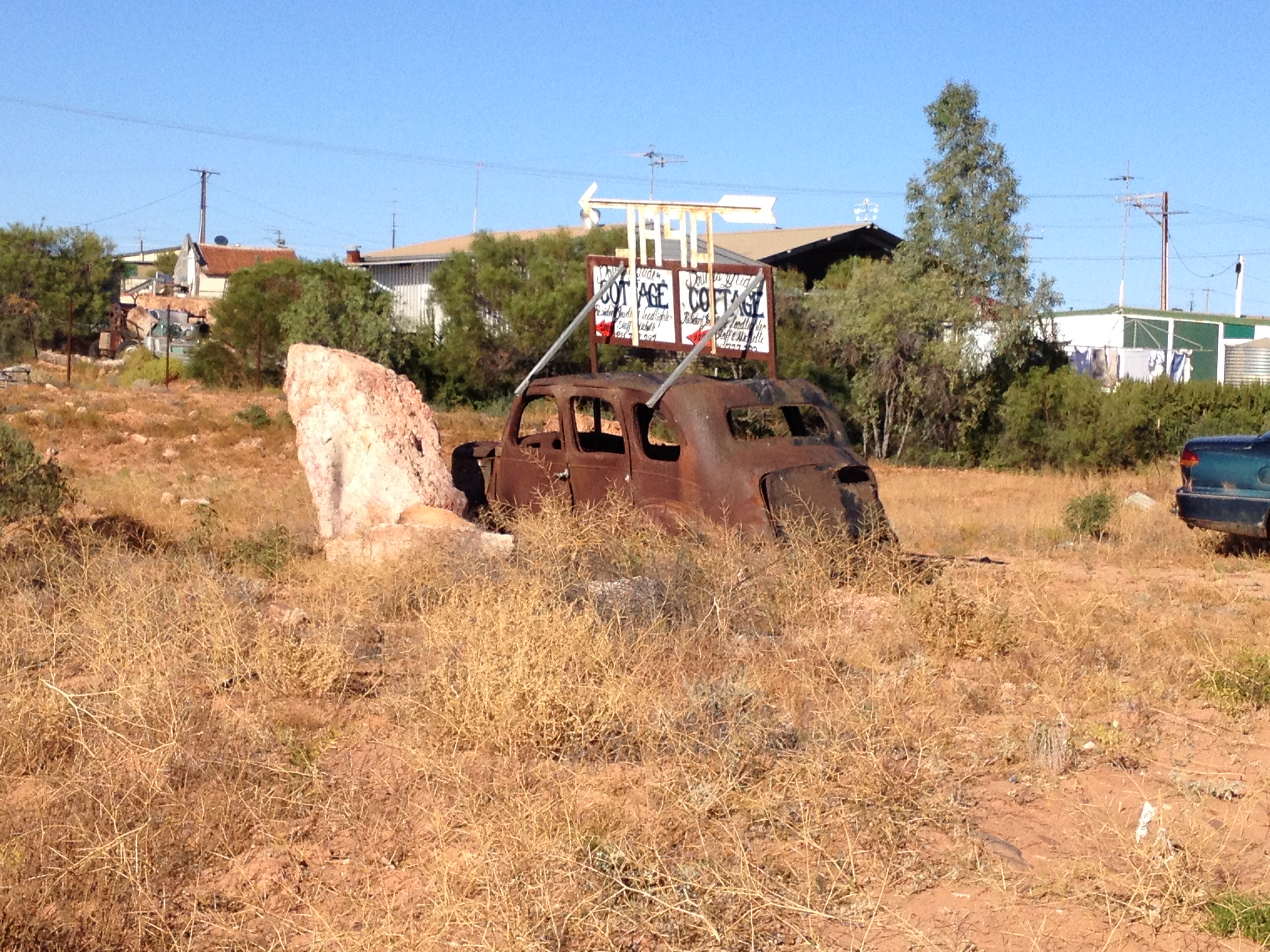 This is another of the relics at Andamooka. In some ways the town is deteriorating as the number of miners has shrunk. Mining now is done by large bulldozers which are being used to remove the overburden from previously mined areas, down to the opal level in the hope of finding pockets of opal left by the original miners. Huge amounts of material are being moved and on one claim I saw three massive bulldozers working together to shift this overburden. I really hope they find something as the cost must be huge. There are a few others working in older tunnesl and shafts hoping to find some opal but it is nothing like the older days. There is little hope of finding opal on the dumps but you can still find some matrix and concrete on the unsealed roads. I spent some time specking the roads and found several pieces of matrix with good red colour and I am sure they will cut nice stones. You have to look very carefully to see the colour but it is there.
The main reason we had come to Andamooka this time was for the Memorial Service for Brian Tansell. We met Brian several years ago and had been back a few times to see him, look for opal and hear his stories. He and his wife Veronica, made us very welcome each time and it was very sad to hear he had passed away on April 6 this year. I have written a post on Brian and you can see it with a few photos on this website. Brian was a bit of a legend here. He was the first person any campers would see if they stayed at the cheap campground. He would drive up, introduce himself and tell visitors what they must see in Andamooka. Given half the chance he would then start to recount some of his stories and would still be there talking for a long time.
Brian always had a smile and usually a self rolled cigarette in hand. He took on the responsibility of finding out the details of all of the unmarked graves at the cemetry and helped organise plaques for those who were in these graves. At the memorial he was referred to as "Partner, son, father, brother, uncle, grandfather, opal miner, jeweller, guide, comedian, keeper of the graves, animal whisperer, barista, story teller and legend". I would agree with all of these except for barista. He made the worst coffee I have ever tasted and I am sure many would agree.
It was a lovely memorial attended by family and friends and Brians ashes are now spread throughout the cemetry where he spent a lot of time ensuring no-one buried there would be forgotten. Friends have costucted a lovely memorial stone dedicated to Brian.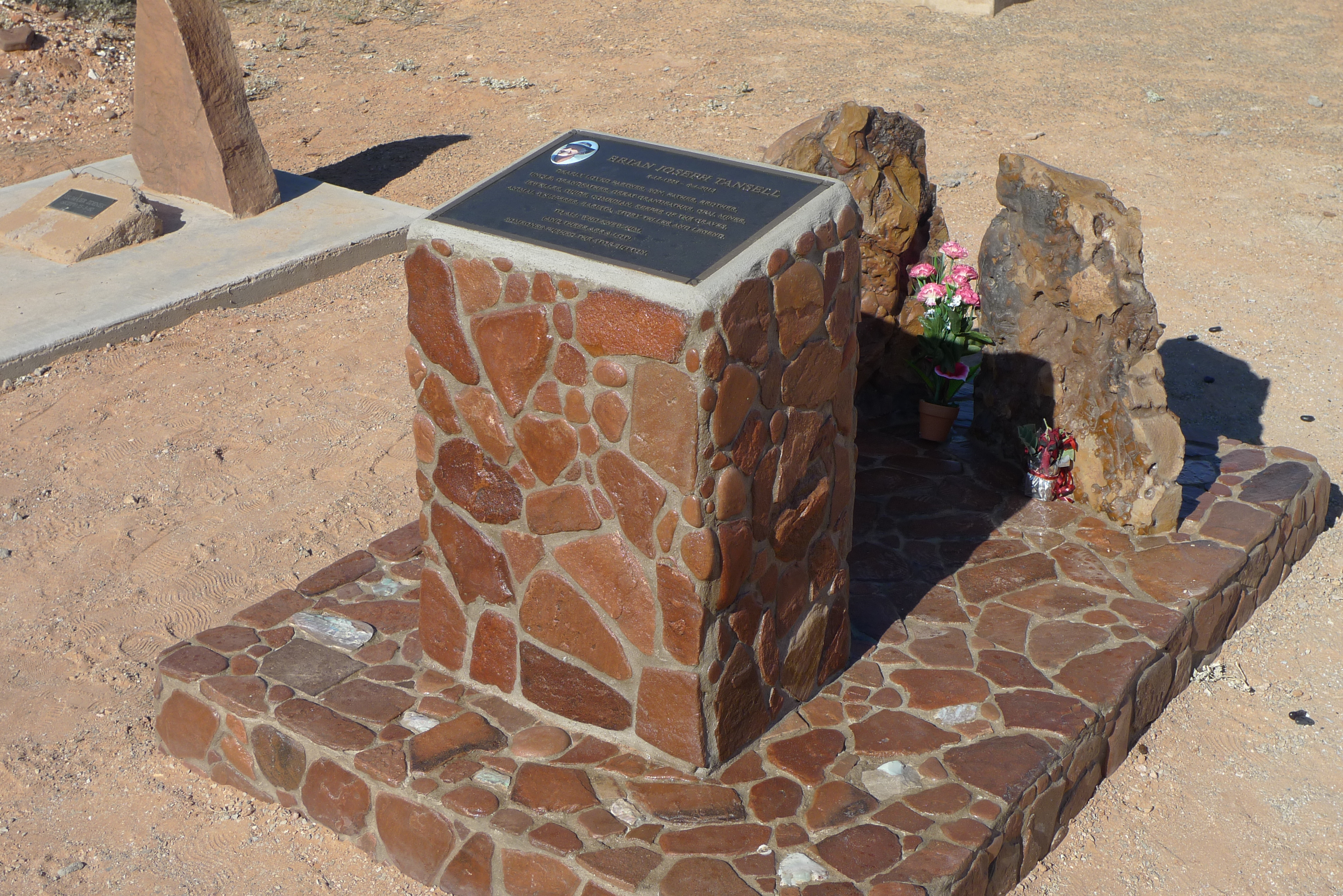 We stayed for a few days after the memorial service and then headed to Tickera on the Spencer Gulf to stay with friends for a few days. It was then off to Wilpena Pound in the Flinders Ranges and then to Hall's Gap in the Grampians where we were washed out by torrential rain. I must relate one of the funniest things I have ever seen. At Wilpena, an emu came strolling through the campsite. This often happens here as they are quite tame. Anyway this emu was suddenly "bombed" by a magpie. Well the emu took off weaving its head in all directions with the magpie continually swooping near its head. The emu can be graceful at times as it struts around but this one was really comical. Its legs were going in all directions, as was its head and how it did not trip over itself I do not know. It was certainly one of the funniest things I have seen.
It was a sad but enjoyable trip and I will have a lot of good memories and a few pieces of matrix and rainbow matrix to rememember it by.
Johno
---