In 2012, my wife Barbara and I went on a trip into central Australia to escape the wet and cold of Melbourne. As with most of our trips we tend to get diverted into at least one opal field. On this trip I was lucky enough to get to visit three of the fields namely, Coober Pedy, Mintabie and Andamooka. I have described the Mintabie trip on another Post so this one is about our Andamooka Opal Field trip. We have been here several times before and always enjoy the visit.
Andamooka seems to be declining as an opal producing town every time we go there. This time was no exception. We met several miners who had spent a lot of money excavating holes but not finding anything. This is quite sad but the area is still worth visiting as a trip back into a very interesting part of Australia's history. Andamooka is now mainly a suburb of Roxby Downs. It is situated about 30 km from Roxby and quite a few of the residents live here and commute to Roxby. A few years ago it appeared that Andamooka would expand and provide a lot more accomodation for the Roxby workers and land prices went up accordingly. BHP then advised plans to upgrade the airport and to build large accomodation blocks next to the airport so they could bring workers in on a "Fly In -Fly Out" basis. Work started on this about a year ago but is now on hold due to financial reasons and a delay in expanding the huge Roxby project. Andamooka will obviously suffer from this.
We arrived in Andamooka and set up our camp in the old caravan park on the outskirts of town. There is a nice playground and toilet block next to the camping area but it is fair to say it is still a bit primitive. It is only $2 a night each to camp here and the views are quite amazing if you like looking at opal dumps, which I do and hence the reason for being here.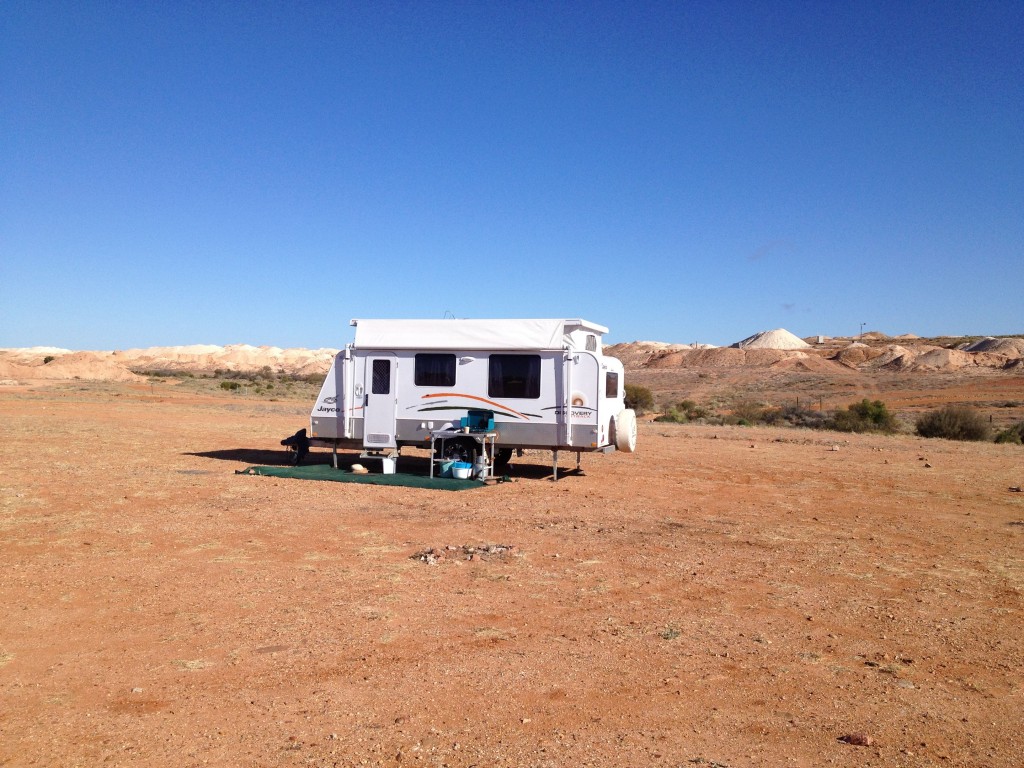 As you can see the caravan park is not exactly crowded but that means you do have some privacy. While the weather is good it is not a bad place to camp but if it rains it would be best to leave as the ground gets very muddy. One of its attractions is that there is always the chance of picking up a bit of opal so keep your eyes on the ground.
One of our reasons for coming was to see Brian Tansell, a local miner whom we had met on previous occasions. Brian spends most of his winters in Andamooka and then goes back to Port Lincoln in the summer when the temperatures get too hot in Andamooka. Brian's wife Veronica also spends some time here in winter. Brian has quite a collection of Rainbow Opal Matrix which he treats in Port Lincln and sells at markets around that area. We met up with Brian again and he showed us a large piece of matrix opal which he had found on his claim at German Gully. Brian paid for a dozer to level his claim down to the opal dirt level and it was here that he picked up this lovely piece.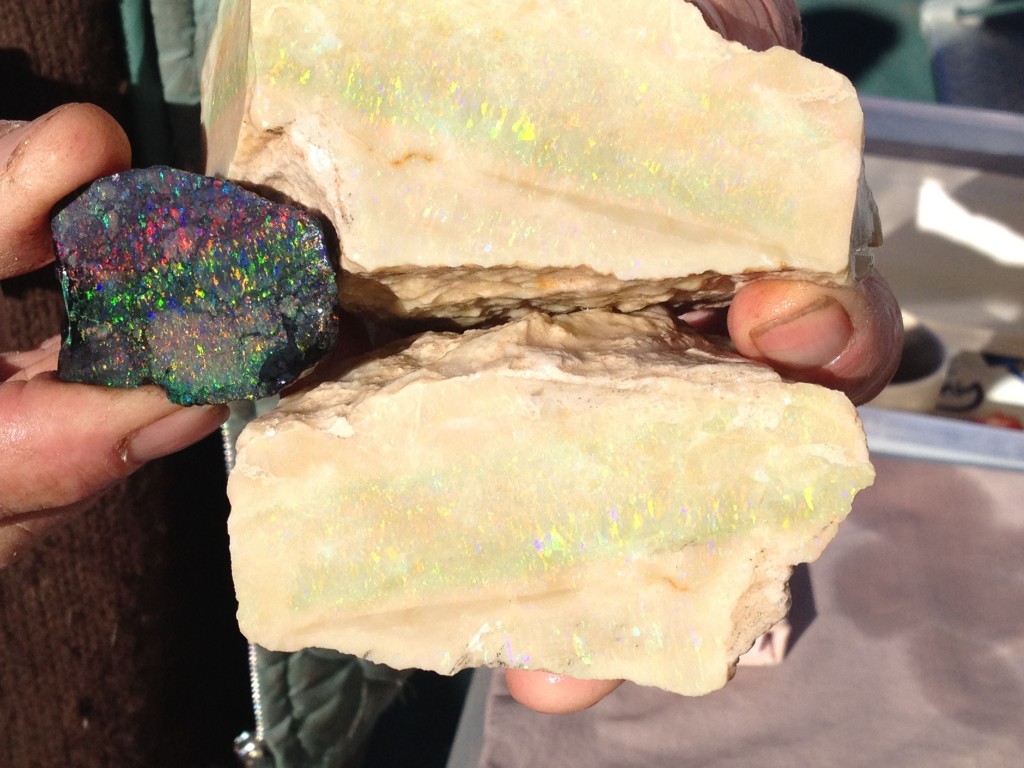 The smaller piece is part of the stone he cut off and treated to see how it would come up. The larger pieces are all part of the one stone which weighed over 2 kg. Brian has since sold the the stone. It shows you can still find opal at Andamooka but it does seem harder each year. Much of the field has been levelled to the opal level and the ground noodled to pick up all the pieces left by the old miners. This means there is a lot of overburden mixed with any opal and is much harder for fossickers to find.
While we were with Brian he was visited by one of the local miners, Lester Rowley. We were introduced and Lester invited us out to his open cut mine at White Dam, about 11 km from Andamooka. Lester's Company is called "Far King Mining" and his motto is"Can't find much opal but dig a nice hole". The latter turned out to be true as his opal mine was the neatest I have ever seen. Most miners, in my experience, are very messy people with machinery, parts and general rubbish littering the place evreywhere. But not Lester.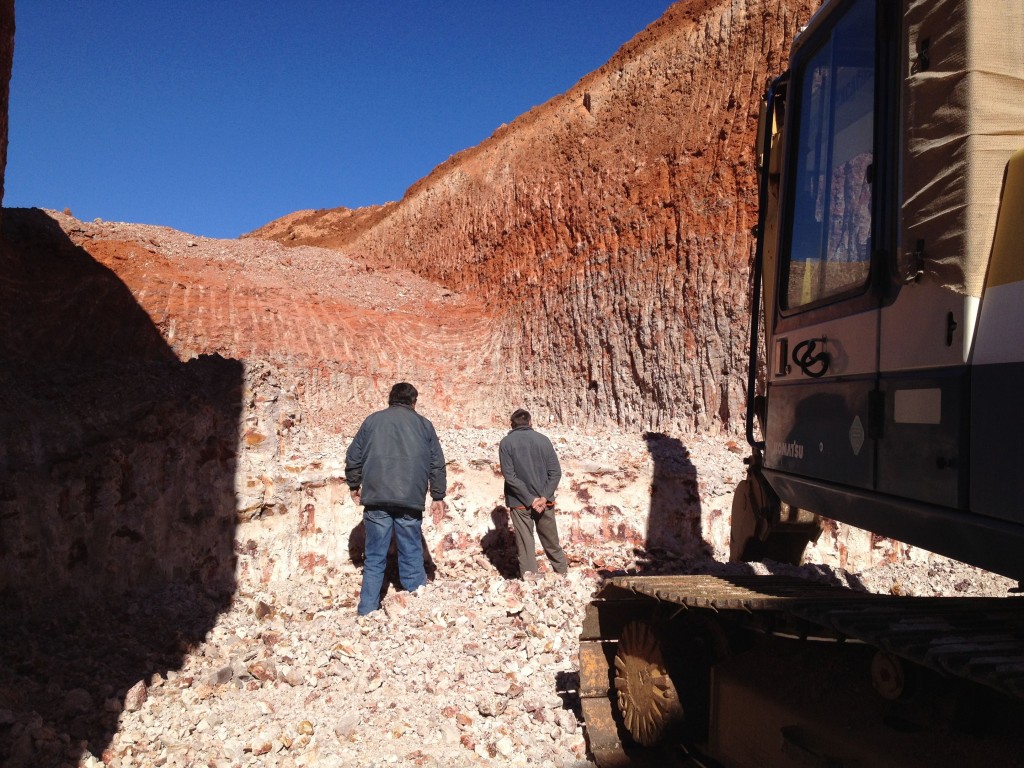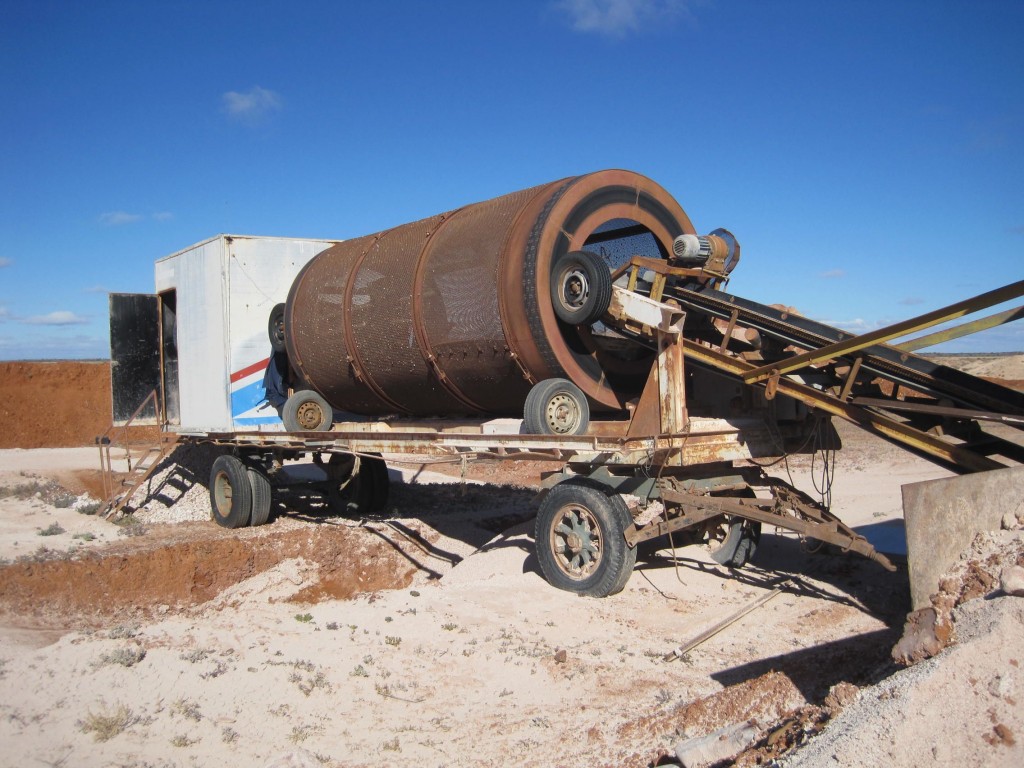 You can see by the way yhe excavation has been completed how neat Lester is. This hole had been excavated down to the opal level and he was then hand digging the thin opal level looking for opal. He hadn't had any luck to date but is continuing on. When you see the amount of work involved in looking for opal it is amazing that it is so cheap. The machine shown in the 2nd picture is a noodling machine. It sieves the dirt after removing all the larger pieces and then the smaller pieces pass on a conveyor belt under an ultra violet light where the opal glows and can be removed by hand. This is a tedious job but does ensure that most of the opal is retrieved and with the great cost of excavation and machinery running costs this is necessary.
It was quite an experience to visit Lester's mine as you could see along the face of the excavation exactly where the opal level was and could also see any slips or dips in the level. Miners believe there is more chance of finding opal if there is a slip. You can read more about this idea in my post "How opal is formed".
Having visited Lester's mine and being inspired by Brian's matrix find I headed off into the opal fields to spec for opal. This involves walking slowly ,bent over at the waist lookin for any glint of colour or any different looking rock. It is slow and sometimes painful on the back but occasionally you do find something. I find it very relaxing with always the hope you will find something left behind. I found a few small pieces of Rainbow Opal Matrix and a 1934 threepenny piece. None of this will pay for the trip but that was not the reason for being here.
The other attraction Andamooka has for me is to see how miners lived in the 1930's to 1950's. It is not that long ago, but when you see the houses they lived in and the conditions they put up with in such a harsh environment while digging for opal using picks and shovels in hard sandstone, putting up with dust, flies, heat, lack of water and then floods and thick mud when it did rain, it is hard to imagine how they coped. There are not many of us that would cope today.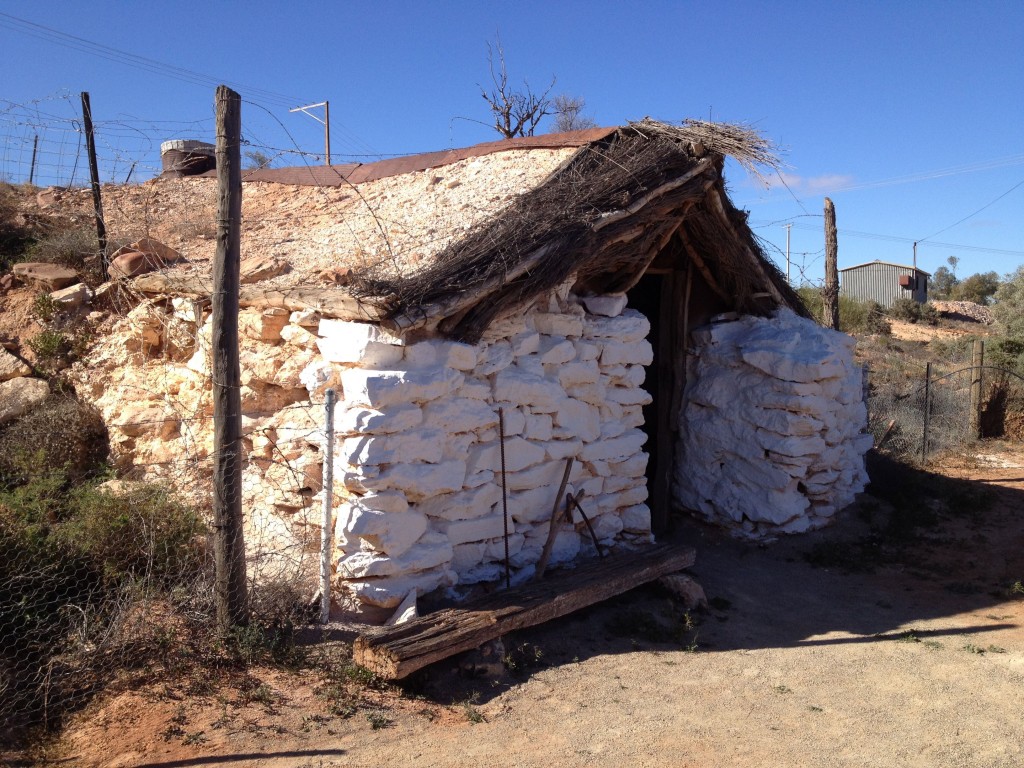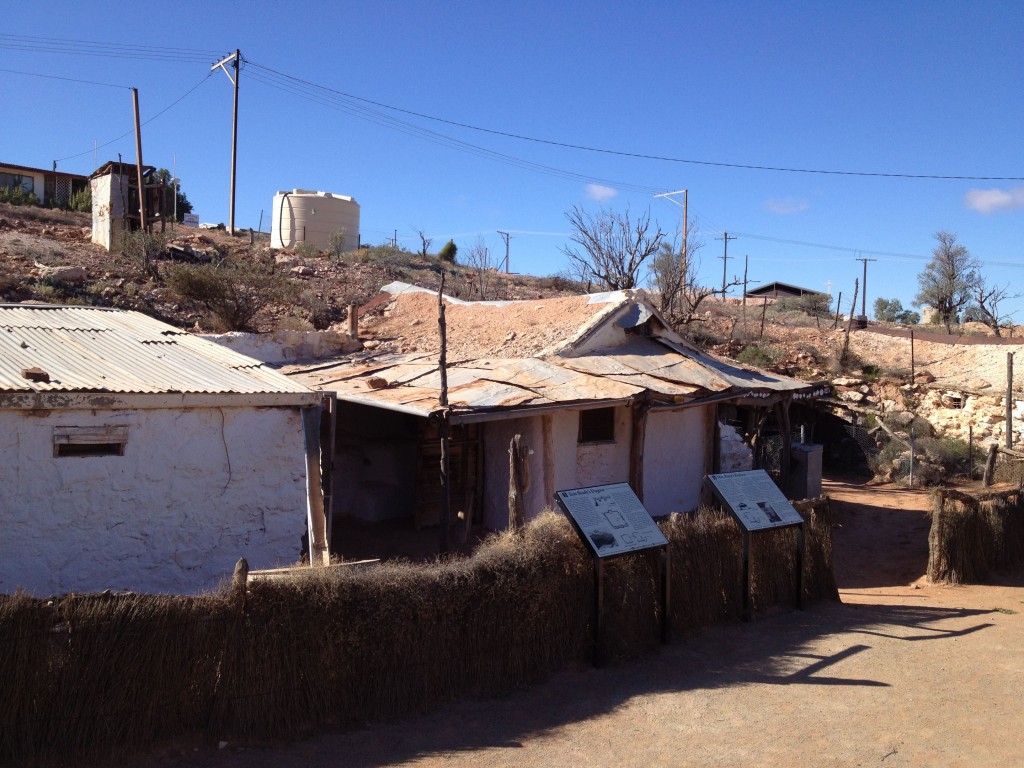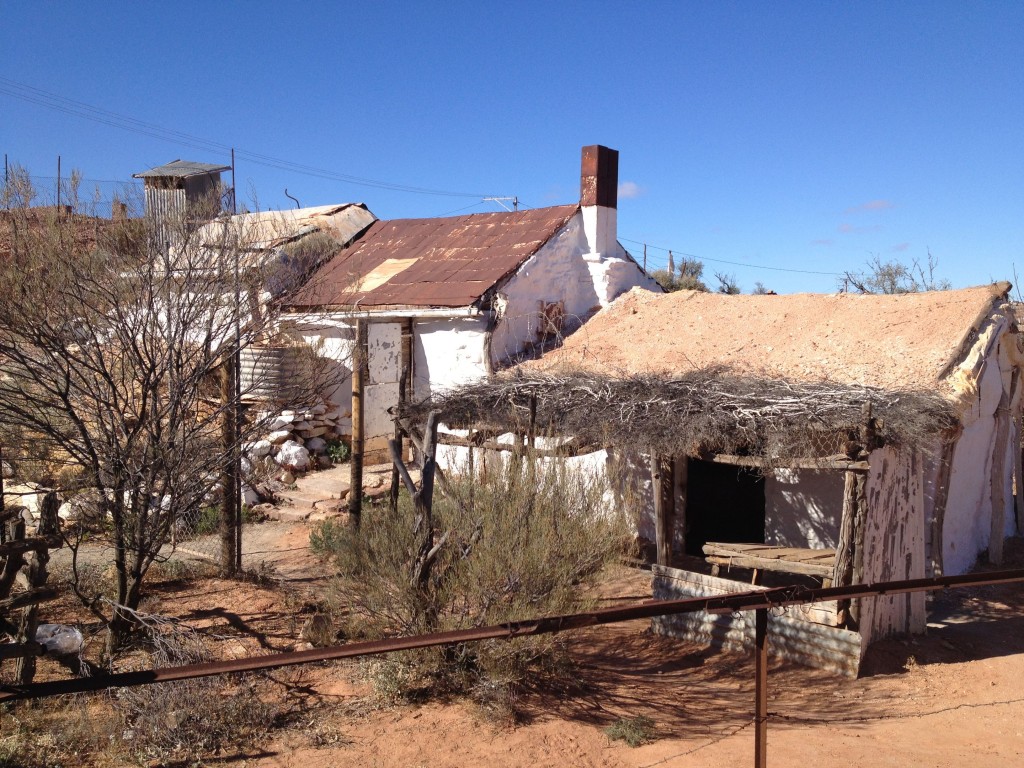 These are a few of the old houses used by the early residents. They are in the main street and have been looked after by the local residents of today as a reminder of the past. They are well worth a look.
The rest of the town is a mish mash of derelict homes obviously built with very little Local Government control mixed with quite comfortable homes wth all mod cons. There are two Hotels and a Bottle Shop as well as General Store, Motel, Airport, Fuel Supplies and of course the Camping Ground. Also you are only 30km from the township of Roxby Downs which has everything you could want. The road is sealed all the way to Andamooka .
A little way out of Andamooka is Lake Torrens. Many of the locals will tell you it is not worth the trip but we found it very interesting. The road is a bit rough but in good weather is quite passable. Like all roads in the area I would not use them after heavy rain as the surface would get very slippery and you could quite easily get stuck. Lake Torrens is quite a large lake and is salty. When we were there there were large salt crystals growing in the rocks along the edge. These were reflecting the light and showing beautiful rainbow colours. Unfortunately Barbara could not get this to show on any photographs but it was certainly beautiful to see.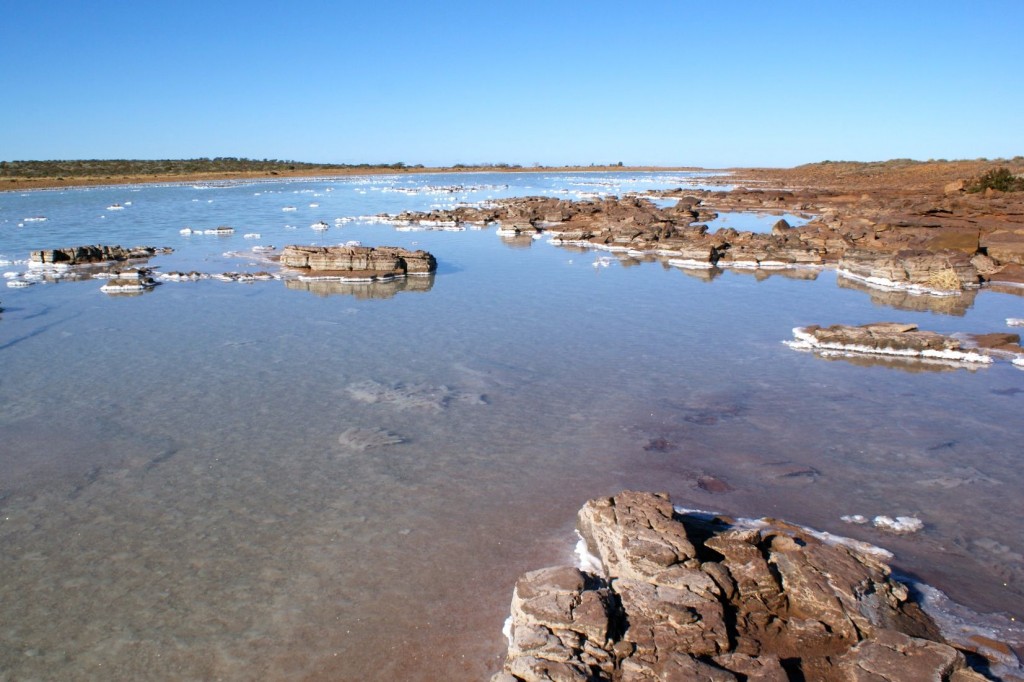 In this photo you can see the salt along the edge of the lake. If you do visit don't drive or even walk on the mud flats near the lake. The salty water makes it very wet and slippery and there is evidence where cars have been bogged. The other interesting features are the rock formations near the edge of the lake. Large flat slabs of rock exist with all sorts of patterns in them. Well worth a look.
We thoroughly enjoyed our trip here as we always do. There is always something new to see and do if you are interested in opal. In the Bottle shop they have on display some large pieces of matrix opal which are amazing and the Post Office and other shops also have displays of the beautiful Andamooka Opal. This is getting harder and harder to find and will be extremely rare in the very near future.
Johno
---