Lightning Ridge Opal Field 2014
As with many of our trips to the opal fields we did not really intend to go there. We set off to escape Melbourne's winter with our destination as Wooli, near Grafton, on the New South Wales coast. We took the kayaks and the fishing equipment and actually settled in for three weeks of active recreation. Unfortunately the weather turned and we were faced with heavy rain and strong winds which affected the fishing and restricted the kayaking to some extent. We stoically sat it out for the three weeks during which we had a few day trips to Ballina and Coffs Harbour. At Coffs Harbour we visited the Opal Shop located about 500 metres north of the Big Banana on the Pacific Highway. We only dropped in for a visit because the weather was bad and we had to fill in a bit of time. There was a lovely display of opal there and we had a chance to talk to the owner about opal. She and her husband had a mine at Lightning Ridge some time back and had spent many years mining for opal. There were photographs of their mine in the shop and she was very informative. It is well worth a visit.
As the weather deteriorated, an idea formed in my mind that the Lightning Ridge Opal Field wasn't far away (only 600 km or so) and the weather there would be much better than on the coast. I broached the idea with Barbara and was pleasantly surprised when she readily agreed that, as it was sort of on the way home, it would be nice to drop in for a few days. We hadn't been to lightning Ridge since the 1990's so it would have been bound to have changed. It would also give me a chance to upgrade my website with some current photographs and also give me a chance to maybe buy some rough opal.
So it was agreed and off we headed for "The Lightning Ridge Opal Field". We stopped at Moree which is a large town in northern New South Wales famous for it's artesian spa's. We stayed at the show ground where you can get a cheap camp site. The facilities at the showground aren't that great but as we were only staying for one night it was bearable. As it turned out there was a gathering of "Alcoholics Anonymous" that night in the showgrounds and a group of members gathered around a campfire and encouraged each other to fight against their addiction. They were quiet but we did catch a few snippets of their stories as the night went on. We did miss out on a spa this time because I was in a bit of a hurry to get to Lightning Ridge.
The next morning I was getting itchy feet as I always do when not far from an opal field. I am not sure why as I rarely find anything valuable but I do like being there and imaging what it would be like to find a beautiful gem.
Arrival at the Lightning Ridge Opal Field
Anyway we were up early and on our way and arrived at the Lightning Ridge Opal Field in the early afternoon. Things had changed a bit since our last visit. Before you hit the town there is a large 'Emu" sculpture on the side of the highway to welcome you.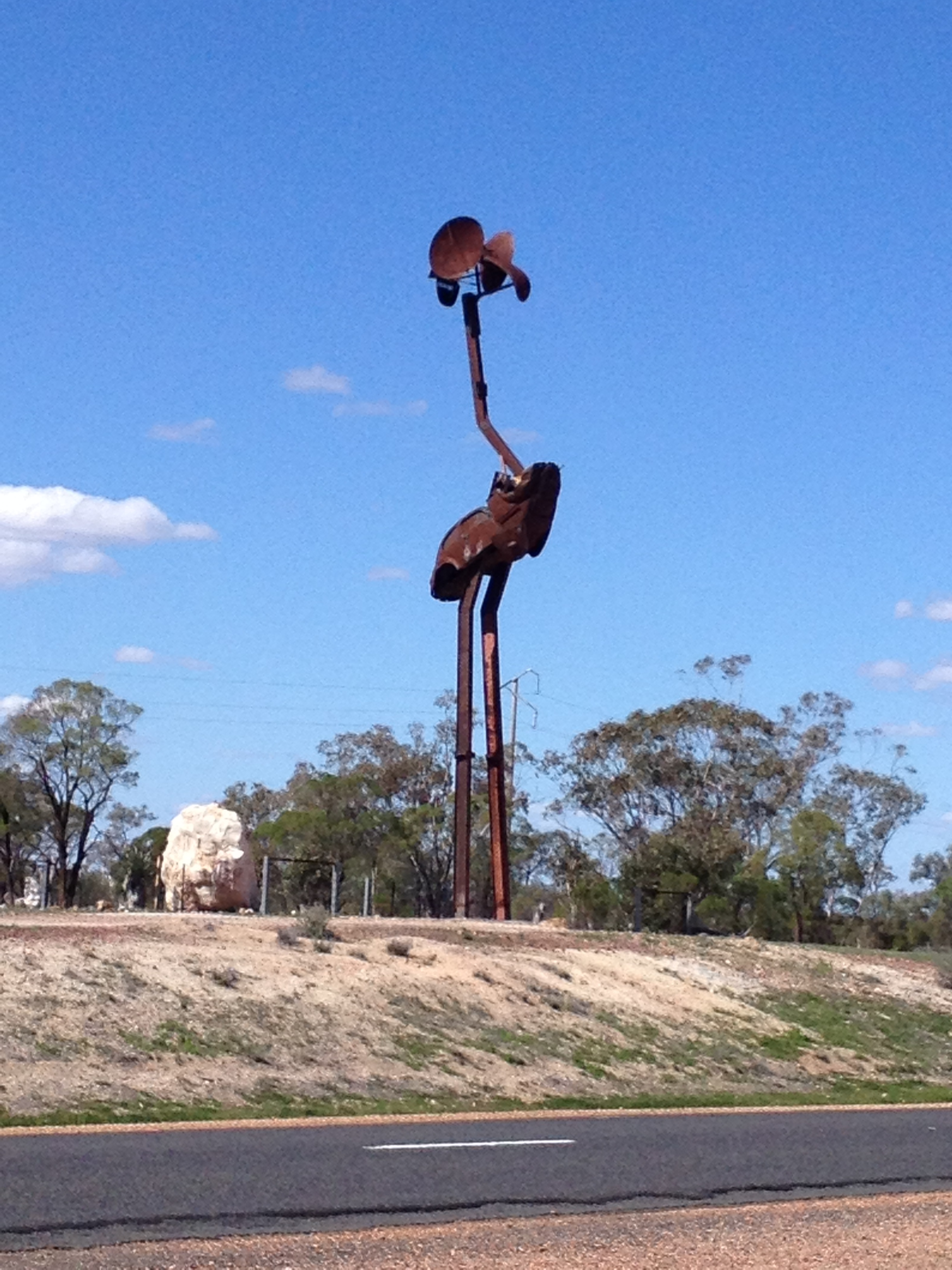 Large Emu just outside the Lightning Ridge Opal Field
The Large Emu
The emu which has been named"Stanley " by the locals was designed and constructed by John Murray, a local artist from Lightning Ridge. It was originally to go to Birdsville but they were going to paint it in XXXX beer colours and use it to advertise the beer. John Murray was not keen on this so it ended up near the entrance to Lightning Ridge.
It is made from VW Beetle car bonnets and doors and is perched on giant steel girders. For more information on Stanley check out Stanley the Emu.
A bit further along the highway you come to the turnoff to the township of Lightning Ridge and there is another entrance sculpture.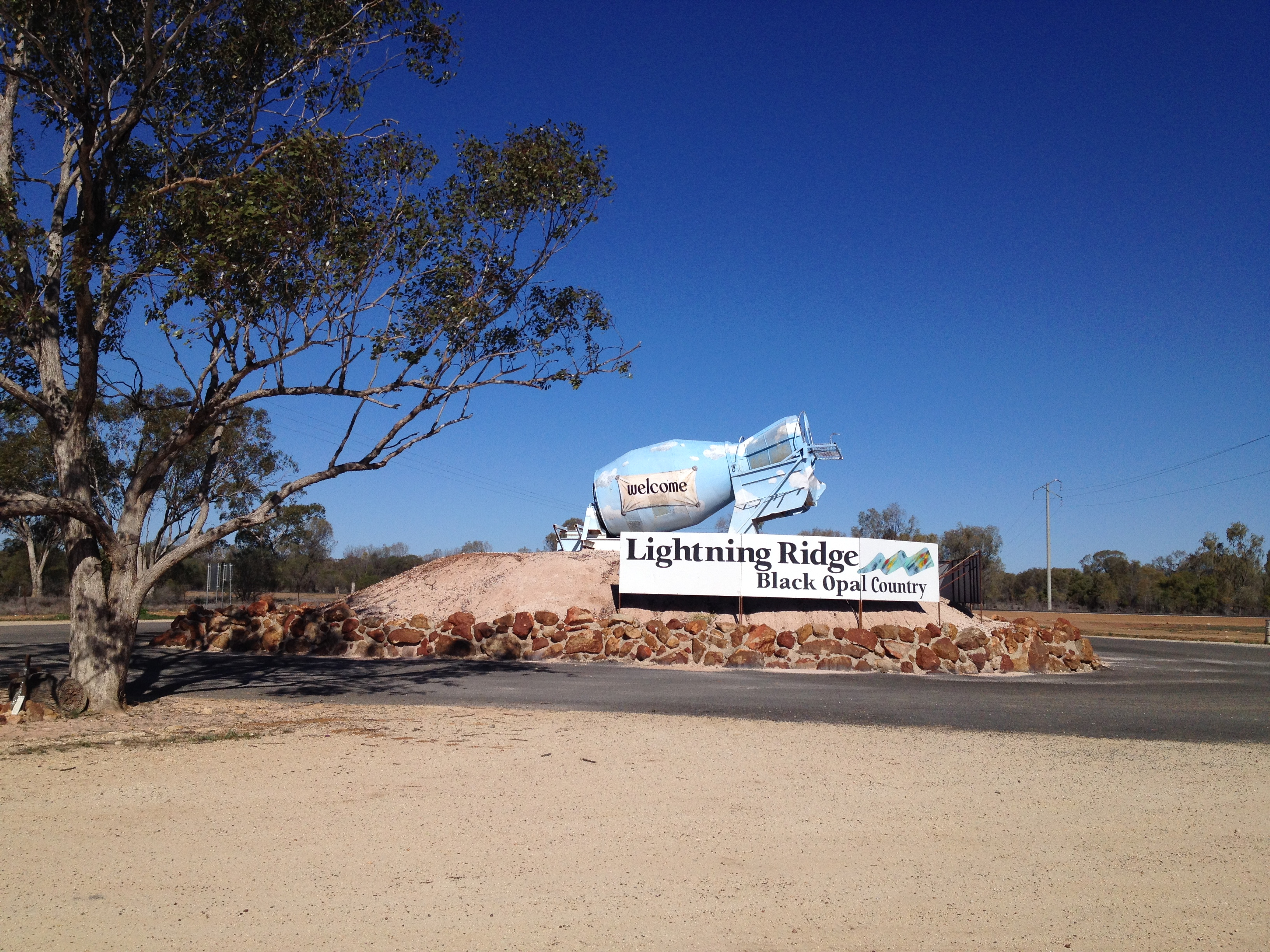 Lightning Ridge Opal Field Entrance
This is a large concrete agitator now synonymous with modern Lightning Ridge. These are modified and used to wash the opal dirt until it forms a slurry when it is discarded leaving any opal behind where it can more easily be found. This form of opal recovery is not used at other opal fields because of a lack of water but has been used at Lightning Ridge for some time as they do usually have enough water. This entrance feature certainly stands out and lets you know where you are.
Diggers Rest Hotel
Perhaps the next great change was the absence of the old Diggers Rest Hotel in Morilla Street. This was burnt down on 24/04/2006. It was originally built in 1909 and named the "Imperial Hotel". The original structure was burnt to the ground in 1927 and rebuilt in 1929. In 1963 it was renamed the "Diggers Rest" hotel in honour of the opal miners and the returned soldiers, many of whom came back to Lightning Ridge after the Second World War.
You can view pictures of the Diggers Rest Hotel by clicking on the link.
Car Door Tours at the Lightning Ridge Opal Field
Something else that had changed was the introduction of the "Car Door" self guided tours. Previously tourists used to drive aimlessly around the diggings looking for points of interest. It was a very hit and miss way of exploring Lightning Ridge. Now they have blue, red, green and yellow car door tours. All you have to do is follow the car door signs and they will lead you to all of the quirky points of interest around the Lightning Ridge Opal Field.
One of the Car Door Tour signs at the Lightning Ridge Opal Field
These signs are very prominent and guide you around reasonably maintained tracks though-out the Lightning Ridge Opal Field. They ensure you will not miss a thing. For more information on their routes see Car Door Tours. This site gives great information on the car door tours and other areas of interest as well as an interesting video.
The rest of the town looked quite familiar. It is a well appointed town now with its large supermarket, olympic sized swimming pool with indoor heated diving pool and many different places to buy opal if you so desire. There are also a number of caravan parks which are needed for the large number of tourists who visit each year. We stayed in the local council park near the centre of the town and while the facilities were not the greatest they were adequate. The friendliness of the managers and the other guests more than made up for the facilities. We gathered around a campfire each night for a drink and a yarn and this made the trip very interesting. We met opal miners, past and present as well as other travelers passing through and all had a story to tell. One of these was Bob Foster who had found a number of dinosaur bones which were put on display at the Australian Opal Centre at Lightning Ridge. You can read more about this at dinosaur link.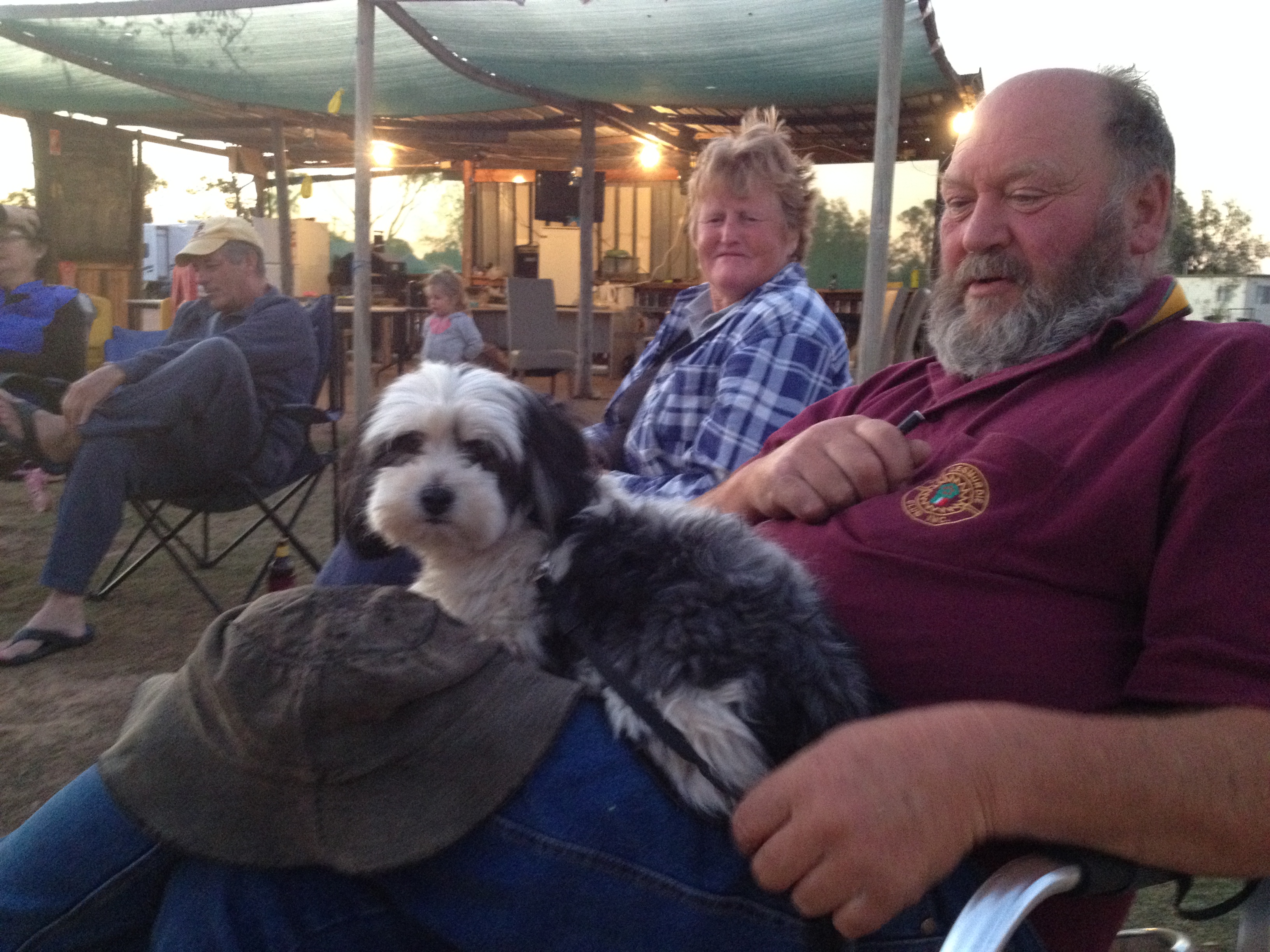 Happy Campers at Lightning Ridge
This is part of group sitting around the fire late in the afternoon.
One night we heard fire engine sirens sounding and the sky lit up not far from the camp ground. We could just make out the flames and hear explosions as gas bottles went up. One of the unattended mining camps not far from town was burnt to the ground with luckily no casualties.
The old artesian spa has been upgraded a bit and is open 24 hours a day (except when cleaning). You can sit out under the stars in 40 degree water and feel the good it is doing you. You also meet all sorts of characters here. You have to be careful getting into it as it is very hot but one old miner was complaining it was too cold and was usually much hotter. It is a great place to meet other travelers and locals and swap a story or two.
Once again we really enjoyed our time at Lightning Ridge.
Johno
---